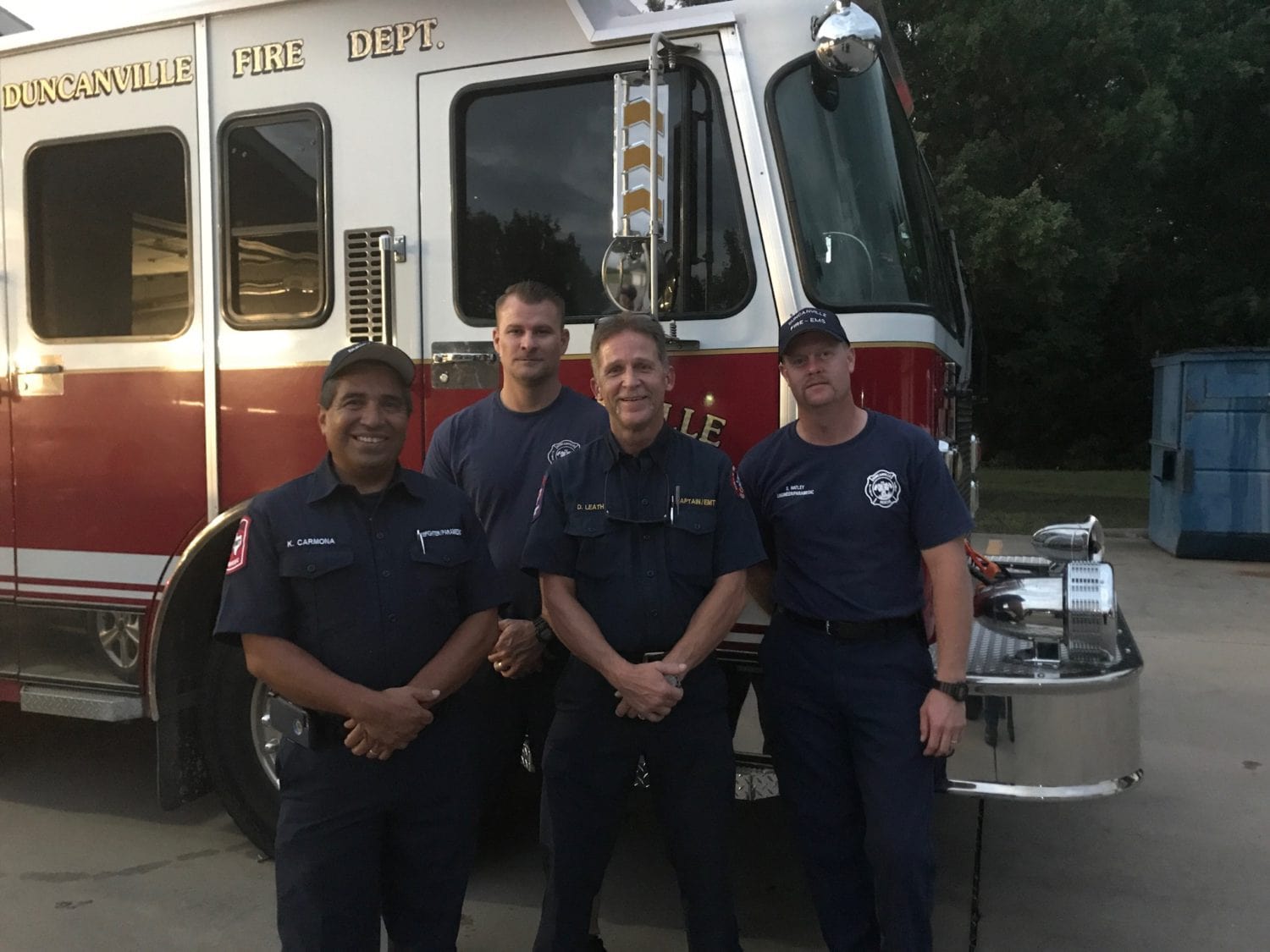 Four Duncanville Firefighters Headed To Montgomery County To Assist With Harvey Relief Efforts
Four Duncanville firefighters are headed to Montgomery County to assist emergency workers with Hurricane Harvey disaster relief efforts. Conroe is the county seat of Montgomery County, one of the fastest growing counties in the U.S. Its part of the Houston/Woodlands/Sugar Land metropolitan area.
Duncanville Fire Department sent an engine crew consisting of Captain David Leath, Driver/Engineer Steven Hatley, FF/PM Ken Carmona and FF/PM Dan Kendall to Montgomery County.
Duncanville's Assistant Fire Chief Greg Chase said Duncanville is happy to offer assistance to the beleaguered community located northeast of Houston.
"The Duncanville Fire Department is glad we are able to send crews to assist with this catastrophic event," Chase said. "This is where all of our training, emergency medical knowledge, firefighting knowledge and decision making skills come together. During disasters, the situations these crews are faced with change on a minute-by-minute basis, and we rely on our learned skills and experience to have a successful outcome. We are extremely proud of our firefighters for stepping up and accepting this challenge to provide their skills to anyone or any community when called upon."
The Duncanville crew will merge with emergency crews from the Wichita Falls Fire Department. They will form a Task Force team to provide fire protection and emergency medical services to that community. The expected deployment could be as long as seven days.
The Task Force team will provide emergency services coverage that currently have their local services assigned to water rescues and evacuation assistance. The team may be reassigned at any time to other areas that have a greater need for those units.
Duncanville sent one fire engine with four personnel to Montgomery County. Wichita Falls sent three brush trucks, two boats, a utility vehicle and a Task Force Leader. Duncanville Fire Department is also prepared to support the evacuation shelters in Dallas if necessary.
The Fire Department serves a population of 39,000 in Duncanville and covers over 11 square miles. It has automatic aid agreements with DeSoto, Cedar Hill and Dallas that increase the response area to over 85 square miles with a population of 166,000.
For more information about Duncanville's Fire Department, visit www.duncanville.com.