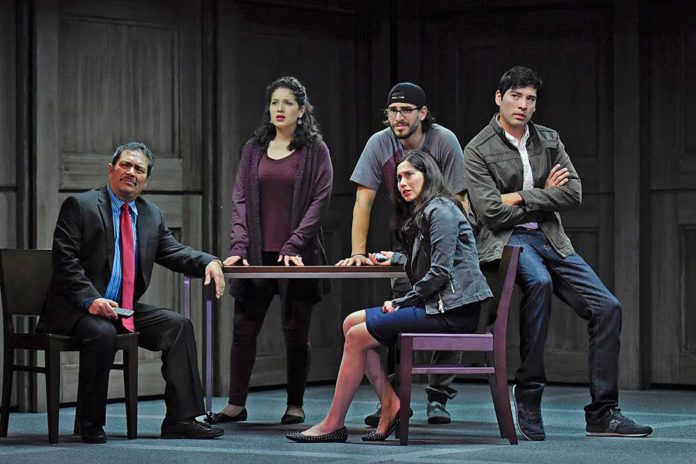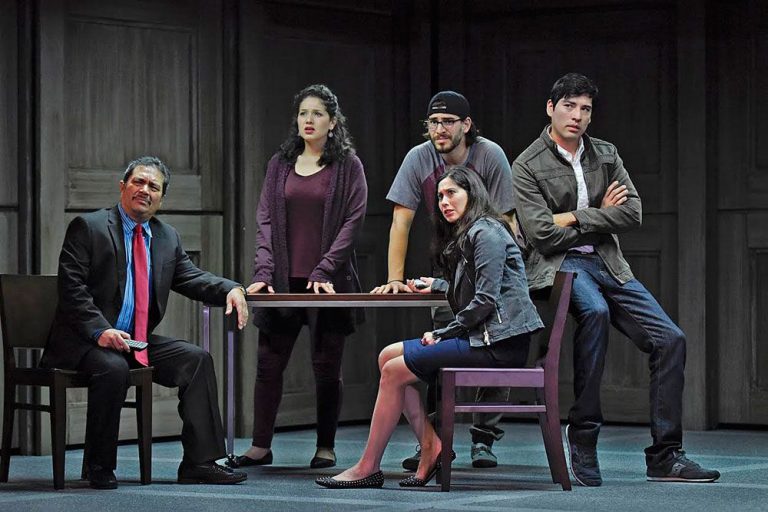 Dallas Theater Center and Cara Mia Theatre Co. are co-producing the world-premiere of "Deferred Action." Directed by Cara Mía's Artistic Director David Lozano, Deferred Action is written by Lozano and Lee Trull, DTC's Director of New Play Development.
"It's a great honor to be a part of developing 'Deferred Action'," said Lozano. "Cara Mía's productions stir dialogue within our community and I am excited to partner with Dallas Theater Center to bring a play that speaks to the heart of issues that directly impacts our Latino community. This play gives both of our theatres and our audiences the opportunity to talk about what I think is the civil rights issue of our times – immigration reform for undocumented immigrants who need basic human rights while living in this country."
The new play introduces audiences to Javier Mejía, one of the immigrants called "Dreamers" who first came to the U.S. as an undocumented minor. After years in the states, he is caught in the tangle of existing immigration laws, new presidential policies, and living in the shadows. With hopes that temporary administrative mechanisms like Deferred Action will be the answer to their dilemma, the play follows the lives of those "Dreamers." Democrats. Republicans. Activism. Politics. It's all just another border to cross.
"Deferred Action" is now playing at the Wyly Theatre through May 14. It features company members from both DTC and Cara Mía. Tickets are on sale now at www.DallasTheaterCenter.org or by phone at (214) 8800202.
"It is a joy for all of us at DTC to collaborate with artists from the dynamic and inspiring Cara Mía Theatre Co.," said DTC Artistic Director Kevin Moriarty. "David Lozano is as smart and passionate about politics as he is about making theater. Deferred Action speaks to our current world of electoral politics in ways that are more powerful and surprising than we could have imagined several years ago when we first started creating this play.
David and Lee have created an original story that reflects the choices facing us in this election cycle: to seek immediate change whatever the cost, or to compromise and delay while working within the system. When the stakes are literally life and death – as they are for many undocumented people living in the United States – American politics isn't just a game or a reality TV show, but rather either a hopeful path forward or a heartbreaking setback for their families and our own understanding of 'liberty and justice for all.'"
Cara Mía's Artistic Ensemble member Ivan Jasso will play the role of Javier Mejía, alongside fellow ensemble members Frida Espinosa Müller as Abue, Stephanie Cleghorn Jasso as Ximena, and Rodney Garza as Carrasquillo.
Brierley Resident Acting Company members Chamblee Ferguson (All the Way, Medea, The Rocky Horror Show) will play the role of Jim, Brandon Potter (All the Way, A Christmas Carol, King Lear ) as Jerry, Christie Vela (Romeo and Juliet, Les Misérables, King Lear) as Nancy Rodriguez, and Steven Michael Walters (All the Way, Les Misérables, Clybourne Park) as Dale Jenkins. Additional cast members are Elizabeth Ramos as Lisa and Arturo Soria as Robby.
Set designer is Timothy R. Mackabee, costume designer Niki Hernandez-Adams, sound designer Aaron Mecht, lighting designer Clifton Taylor, projection designer Caite Hevner Kemp, and wig designer Valerie Gladstone.
DTC's Come Early sponsored by Wells Fargo will take place one hour before every performance and DTC's Stay Late presented by Dr Pepper Snapple will take place after each performance.
Presented by Performing Arts Fort Worth, Benny Andersson and Björn Ulvaeus' MAMMA MIA!, the smash hit musical based on the songs of ABBA, returns to Bass Performance Hall for a limited engagement May 20-22.
MAMMA MIA! is one of the most successful musicals of all time, the eighth longest running show in Broadway history and one of only five current musicals to have run for more than ten years on Broadway. The West End production is now in its seventeenth year. The international tour has visited more than 81 foreign cities in 37 countries.
Inspired by the storytelling magic of ABBA's songs, from "Dancing Queen" and "S.O.S." to "Money, Money, Money" and "Take a Chance on Me," MAMMA MIA! is a celebration of mothers and daughters, old friends and new family found.
MAMMA MIA! is produced by Work Light Productions, whose other touring productions include Rent 20th Anniversary Tour, Irving Berlin's White Christmas, Vocalosity, and Crazy For You.
The original production of MAMMA MIA! was produced by Judy Craymer, Richard East and Björn Ulvaeus for Littlestar in association with Universal, the creative team responsible for bringing MAMMA MIA! to theatrical life includes some of the most gifted and celebrated talents of musical theatre and opera. With music and lyrics by Benny Andersson and Björn Ulvaeus, MAMMA MIA! is written by Catherine Johnson and directed by Phyllida Lloyd. MAMMA MIA! has choreography by Anthony Van Laast, production design by Mark Thompson, lighting design by Howard Harrison, sound design by Andrew Bruce and Bobby Aitken, and musical supervision, additional material and arrangements by Martin Koch.
Tickets start at $55; to charge tickets by phone, call (817) 212-4280 in Fort Worth; 1-877-212-4280 (toll free) outside Fort Worth; or order online at www.basshall.com.