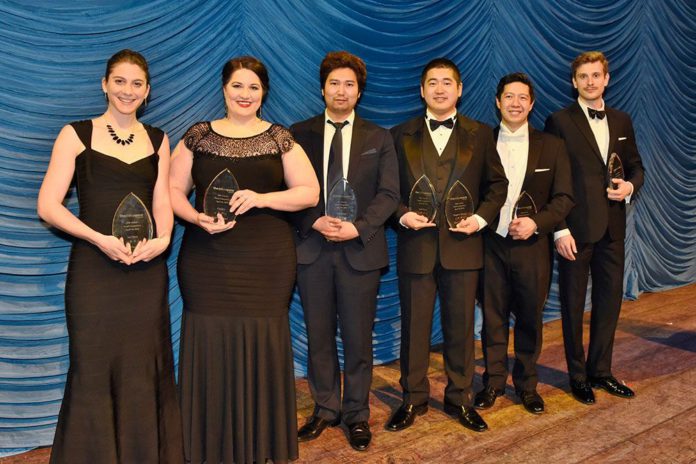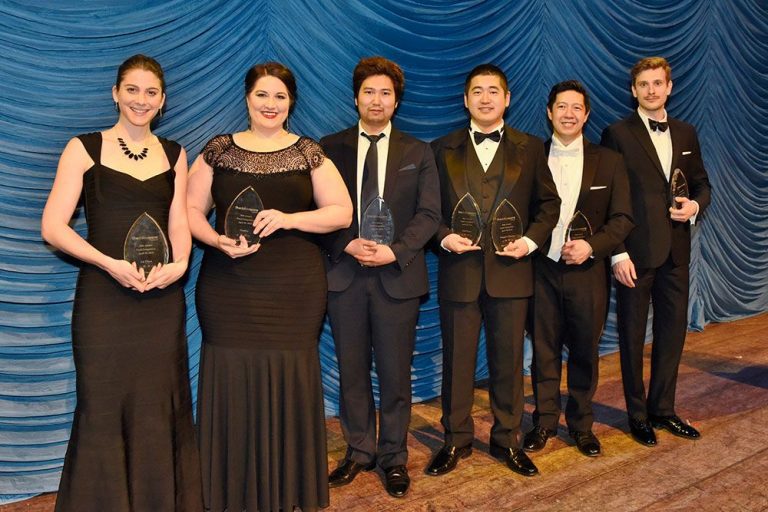 After two days of intense competition by some of the most talented young singers in the country, the winners of the 28th Annual Dallas Opera Guild Vocal Competition were announced late this evening from the stage of the Margot and Bill Winspear Opera House at the AT&T Performing Arts Center:
The $10,00 First Prize, presented by Dallas Opera Guild 2016 Co-Presidents Jana and Mac Irwin in memory of Bessylee Penland, went to French mezzo-soprano Virginie Verrez
The $5,000 Second Place Prize, presented by 2015 and 2016 Dallas Opera Guild Vocal Competition Chair Ketty Fitzgerald, went to Australian-Chinese tenor Kang Wang
The Third Place Prize of $2,500 was presented by Patsy and Bob Brooks, the Chairs-Elect for the 2017 Vocal Competition, to Korean baritone Sol Jin
The $1,000 "People's Choice Award," presented by Katherine and Michael Phillips (underwriters of the popular award) to tenor Kang Wang
A total of 336 applicants from 39 states applied to compete in this year's competition, from which 20 semi-finalists were chosen. These singers competed on Friday, April 29 for the coveted position of finalist. That group consisted of Polish bass Daniel Miroslaw, soprano Alexandra Loutsion and bass Adam Lau, in addition to Mr. Jin, Mr. Wang, and Ms. Verrez.
"What stood out to me from the beginning of this competition," explained the Kern Wildenthal Dallas Opera General Director and CEO, Keith Cerny (a member of the judges panel), "was the extraordinarily high level of candidates we attracted this year, and the phenomenal singing and acting talent each of these young men and women brought to the Winspear Stage. These are polished performers with great futures in their chosen field."
The six finalists performed earlier this evening in the Margot and Bill Winspear Opera House at the AT&T Performing Arts Center with The Dallas Opera Orchestra under the baton of acclaimed Mrs. Eugene McDermott Music Director Emmanuel Villaume.
"As Co-Presidents of the Dallas Opera Guild, Jana and I count it such a privilege to participate in this nationally significant competition and are ecstatic for today's winners," said Dallas Opera Guild Co-President Mac Irwin. "We congratulate all of those who took part in this highly competitive event. The talent exhibited this weekend was truly remarkable. Our hope is that the prize money, accolades and awards will greatly assist these young, dedicated singers as they continue to strive for successful careers as performers."
Third Place winner Sol Jin was recently selected by Opera News as one of the magazine's "25 Rising Stars." He made his opera debut two years ago with Long Island Opera Company, singing the role of Germont in their production of La traviata. He has a degree from Yonsei University and earned his Master's from The Manhattan School of Music. He is a 2016 winner of the Metropolitan Opera National Council Auditions and will join Houston Grand Opera as a Studio Artist next season.
In the Finals Round, Mr. Jin performed "Avant de quitter ces lieux" from Gounod's Faust, followed by "Sacra la scelta" from Verdi's Luisa Miller.
Second Place winner (and winner of the 2016 "People's Choice Award") Kang Wang is in his first year of the Lindemann Young Artist Development Program. Previously, he was a member of the opera studio at Theater Basel in Switzerland and performed at the International Vocal Arts Institute in Virginia; the Royal Northern College of Music in Manchester, England; and the Queensland Conservatorium at Griffith University in Australia where he earned a Master of Music Studies in Opera.
In tonight's Finals Round, Mr. Wang charmed the audience with renditions of "Fra poco a me ricovero" from Donizetti's Lucia di Lammermoor and "Che gelida manina" from Puccini's La bohème.
First Place winner Virginie Verrez, a member of the Lindemann Young Artist Development Program, made her Metropolitan Opera stage debut as the Madrigalist in a new production of Manon Lescaut and will return to the Met as Stéphano in a new production of Gounod's Roméo et Juliette under the baton of Maestro Emmanuel Villaume.
Last season, Ms. Verrez portrayed Clytemnestre in the Met/Juilliard production of Gluck's Iphigenie en Aulide, as well as Cherubino in Mozart's Le nozze di Figaro; she was also a 2015 prize winner in the Metropolitan Opera National Council Auditions. In 2014, Virginie Verrez sang Lola in Cavalleria rusticana with Avignon Opera and Mercédès in Bizet's Carmen for Wolf Trap Opera.
During yesterday's Semi-Finals, accompanied by pianist Adam Nielsen, Ms. Verrez performed "Deh, per questo istante solo" from Mozart's La clemenza di Tito and "Dieux puissants…Jupiter lance la foudre" (a selection repeated during tonight's Finals Round with The Dallas Opera Orchestra) from Gluck's Iphigénie en Aulide. She also thrilled the Winspear Opera House audience this evening with her rendition of Handel's "Stà nell'Ircana pietrosa tana" from Alcina.
THE 2016 FINALISTS FOR THE DALLAS OPERA GUILD VOCAL COMPETITION
Sol Jin, baritone, 29, winner, Licia Albanese, Gerda Lissner, Merola, HGO Studio
Adam Lau, bass, age 31, winner of George London Competition, Merola Opera Program
Alexandra Loutsion, soprano, age 32, AZ Opera, Wolf Trap, Central City, Pittsburgh
Daniel Miroslaw, bass, age 29, Marcus Institute for Vocal Arts at The Juilliard School
Virginie Verrez, mezzo-soprano, 26, winner, Met Opera Nat. Council Auditions
Kang Wang, tenor, age 27, Metropolitan Opera Lindemann Young Artist Program