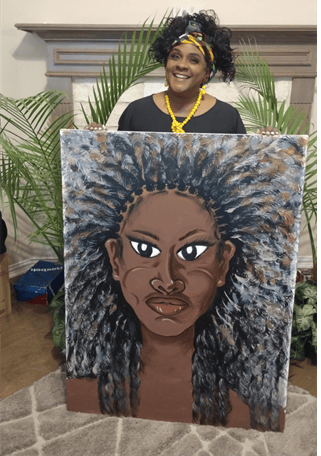 Dona Gassaway Mitchell is an award-winning local artist, born and raised in Dallas Texas. She has a Juneteenth Art Exhibit going on now until July 2023. The kick-off is at Highland Hills Branch Library, 6200 Bonnie View Rd, Dallas, TX 75241.
"Growing up in Texas celebrating Juneteenth was so exciting for me and my family. My father and his identical twin brother had a softball team and planned a Juneteenth Softball Tournament every Summer," said Dona.
"Teams across Texas came near and far and participated in this marvelous event. It was held at Dallas Parks and Recreation, Kiest Park in 1975. My family enjoyed the music, picnics, dancing, and softball games. I helped pass out the trophies to the winning teams. My best moment ever was enjoying the barbeque, watermelon, and strawberry soda," said Dona.
Because of this great moment in Dona's life, she wrote poems, monologues, and created several art pieces to celebrate Juneteenth.
"Most of my Juneteenth art pieces were created during the COVID-19 Pandemic because the world shut down. It was therapeutic and a time to reflect. I needed that," concluded Dona.
Dona's artwork consists of beautiful drawings and paintings of black beauty and culture on canvases.
Attached is the original artwork by Dona Gassaway Mitchell
Photo name: MY PRESENT MY POWER
MY PRESENT MY POWER
The piece illustrates the power of a black woman's existence.
For ways to see more of Dona Gassaway Mitchell's artwork, email: donagassawaymitchell@gmail.com or follow her on Facebook @Donagassawaymitchell.