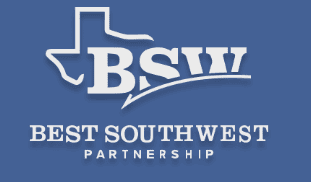 DUNCANVILLE – Each year the Best Southwest Partnership offers 10 students $1000 scholarships.
Students from the Best Southwest partnership cities, including Balch Springs, Cedar Hill, DeSoto, Duncanville, Ferris, Hutchins, Glenn Heights, Lancaster, Ovilla, and Wilmer, are eligible.
Cedar Hill's Dionn Megginson was a true standout this year for the scholarship award, as were several other students recognized by their home's city councils.
The BSWP Education Team presented Duncanville recipient Christopher Lopez with a $1,000 Scholarship at its council meeting several weeks ago.  Lopez ranked 18th in his class at Duncanville High School. The young man said he plans to attend Tarleton State University with a major in Physical Education.
Duncanville Mayor Barry Gordon presented Lopez with his scholarship award at the June 6 city council meeting.
"Why Christopher," Gordon said. "We looked a lot of things over, and I think the best thing to do is to give you his words from his application and why he felt he should be awarded this particular honor. So, these are his words; first, I want to read from Brandi Lee, the Academic Dean for Duncanville High School Collegiate Academy. Let me read her words first."
Lee wrote regarding Lopez, "Christopher is an excellent scholar who goes above and beyond expectations to achieve goals. Volunteer work is important to Christopher, and he regularly volunteers to serve in the community for the Keep Duncanville Beautiful initiative and supporting student council. As an ambassador to the Collegiate Academy, he provides tours, speaks to students and parents about the benefits of the collegiate academy choice program, and remains focused to ensure he maintains a 3.9-grade point average in high school and a 4.0 in collegiate courses. Christopher is currently ranked in the top two percent of his class."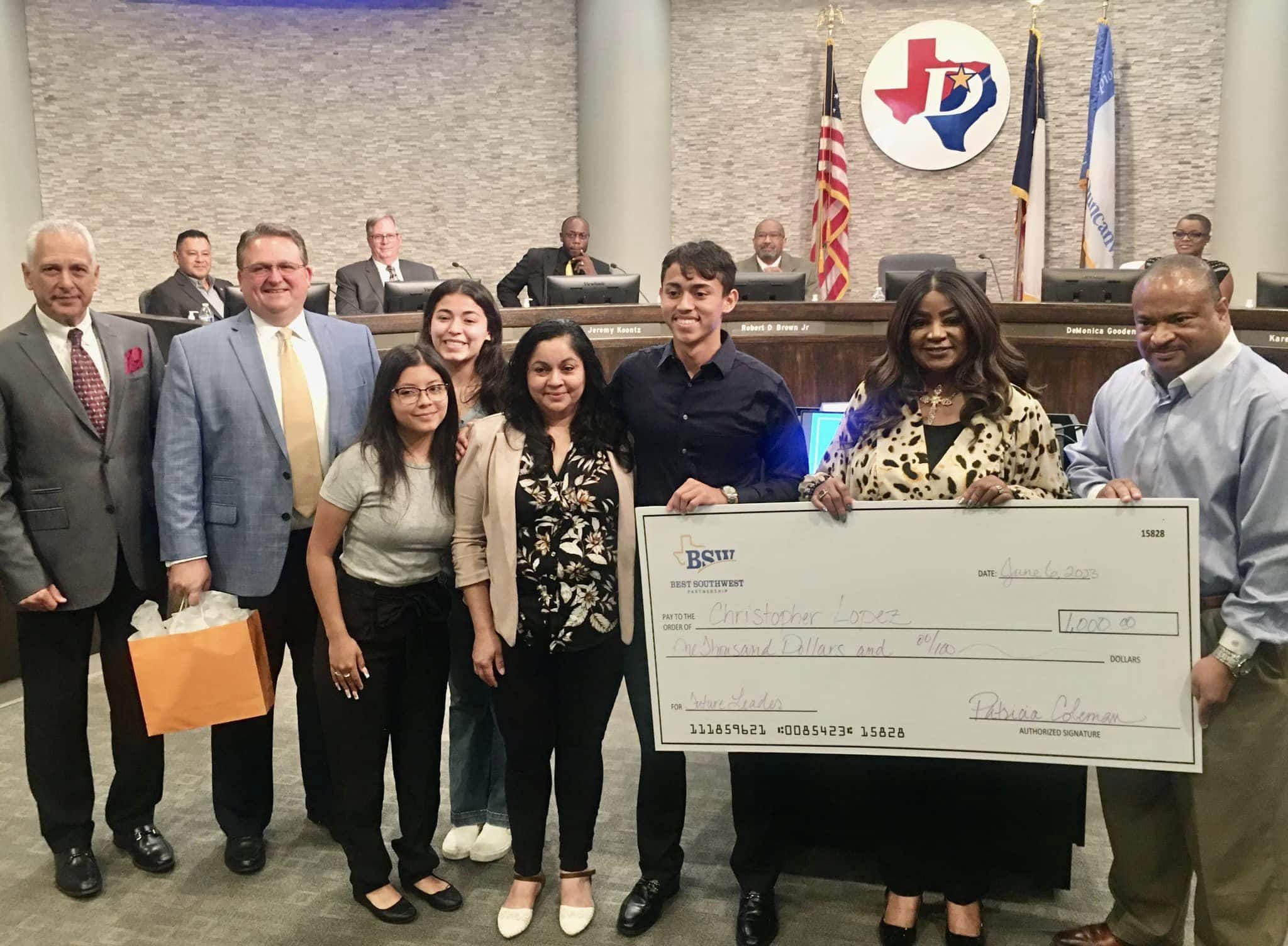 Gordon then read Lopez' words choking up as he did. "Every person has a distinctive and personalized story that influences how and why they live their daily life. I want to encourage others and motivate people to take charge of their lives through my profession. I desire to become a physical therapist so that I can help those who need inspiration and motivation move forward in life and lead fulfilling lives. Without action, no change would ever occur; the capacity to act is the overcome confidence and that which you genuinely believe in yourself and your message. The capacity to stand up from the crowd and assume that role is vital. I genuinely believe in myself and am confident that I will carry out my promises to myself. I vow that I will have an impact on this world."
Best Southwest Partnership President Patricia Coleman presented Lopez with the scholarship check noting. "Very rarely do you see young men of this caliber moving forward in education with such a loving spirit."
The City of Balch Springs also congratulated its graduate that was chosen for the award.  Balch Springs graduate, Lucas Ranfranz, was selected to receive the 2023 Mayoral Scholarship. That scholarship was presented to Ranfranz by Balch Springs Mayor Carrie Gordon.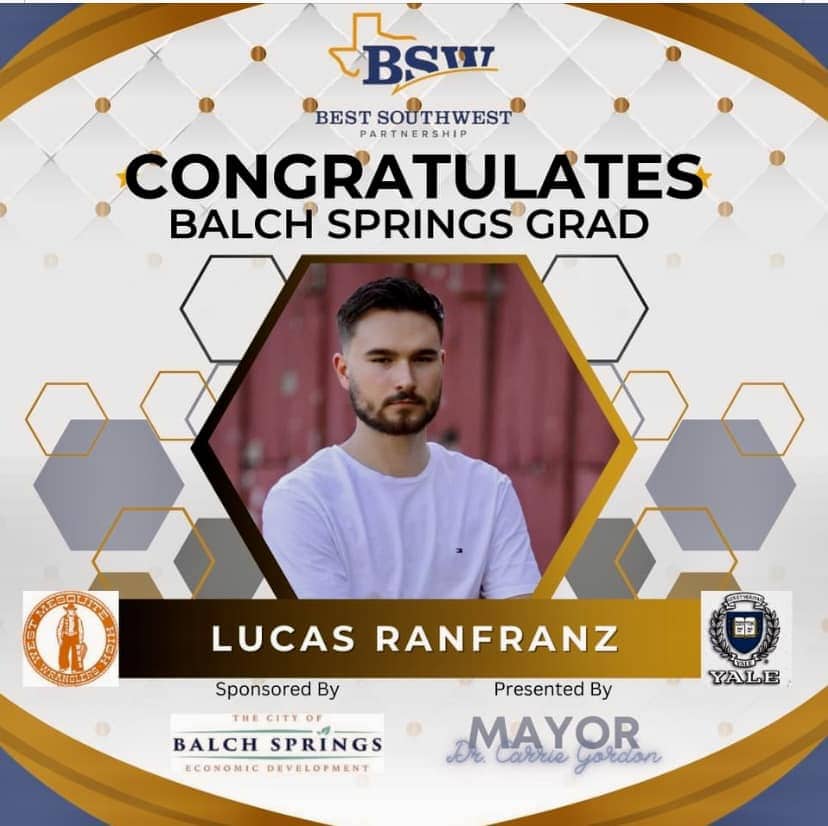 The Best Southwest Partnership chooses ten seniors each year who apply for the scholarship who apply for the scholarship each year. To be eligible the graduate must have a 3.0 GPA or higher and live in one of the 10 Best Southwest partnership cities.
Applicants complete an essay describing why they should be selected for the award. They also describe their character, leadership attributes, aspirations, education, career plans, and future goals. The applicant also offers an official letter of reference from their school from their principal, teacher, guidance counselor, etc.