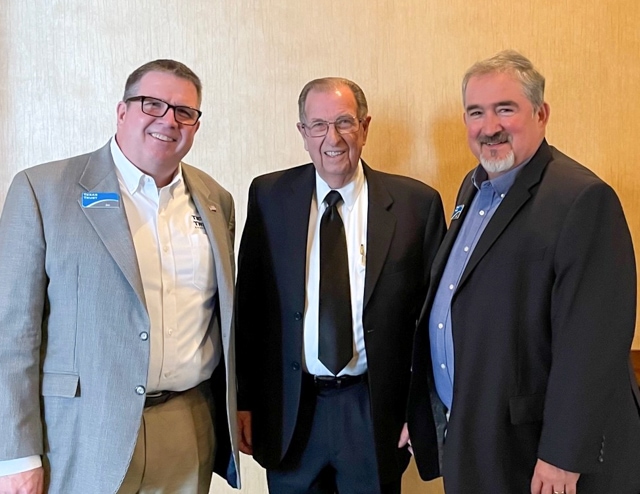 Mullins was COO at Texas Trust Credit Union, Retiring in 2004
ARLINGTON, Texas –April 19, 2023 – Don Mullins, who was Chief Operating Officer of Texas Trust Credit Union from 1989 to 2004, was inducted into the Cornerstone League's Hall of Fame for his 44 years of service to the credit union movement.
The Hall of Fame Award recognizes leaders in the credit union movement who embody the rich history of service in the industry. Mullins, like other Hall of Fame recipients, was a pioneer for his many industry contributions that shaped today's credit unions.
Mullins continues to contribute to credit unions today even at the healthy age of 80 and after a total of 44 years in the industry. He spent 25 years in executive positions at three credit unions, followed by nearly 20 years of supporting small credit unions in an advisory capacity through his firm, the Mullins Group.
During the liquidity crunch in the early 1980s, Mullins worked with the National Credit Union Association to develop policies that gave 90 percent of credit unions a permanent source of backup liquidity. He also had a monumental role in developing the strategy for a collective group of credit unions to purchase Town North Bank and gain the ability to offer checking accounts and later on credit and debit cards. This move enabled them to provide broader financial services to compete with banks.
"We are proud of the legacy Don created for Texas credit unions and Texas Trust," said Willy Kelsey, President of Texas Trust Credit Union. "Many of the policies and best practices Texas credit unions follow today can be traced back to Don."
Kelsey added, "His foresight and leadership were instrumental in building a sustainable future for Texas credit unions."
Another noteworthy contribution Mullins made to the credit union movement was the first of its kind associate degree program in credit union management, which he developed for the Dallas County Community College District. He not only developed the course and curriculum, but taught it for 20 years in Dallas, as well as for other colleges throughout Texas that adopted the program. Hundreds of students from his course went on to become successful executives within the industry, charting new paths for their credit unions.
Throughout his career, Mullins also made time to serve in volunteer capacities including leadership positions with what is now Cornerstone League, the Dallas Chapter of Credit Unions, and as the Associate Director of Town North Bank. He continues to serve through teaching and mentoring.
Mullins was formally inducted into the Cornerstone League Hall of Fame during the annual IMPACT conference April 13 in Grapevine. View the Cornerstone League Hall of Fame video about Mullins here.
About Texas Trust Credit Union
Texas Trust Credit Union has been helping build brighter financial futures since its modest beginning in 1936. Today, the full-service credit union serves more than 137,000 members. With assets of more than $2 billion, Texas Trust is the 7th largest credit union in North Texas and the 18th largest in Texas. With a focus on the community, Texas Trust is creating a legacy of giving through generous financial donations that support local school programs and activities, non-profit organizations, and student scholarships; and by providing volunteer resources through its Community Unity team, which supports scores of charitable events each year. For more information, visit TexasTrustCU.org or follow us on Facebook at facebook.com/texastrustcu or Twitter at @texastrustcu.