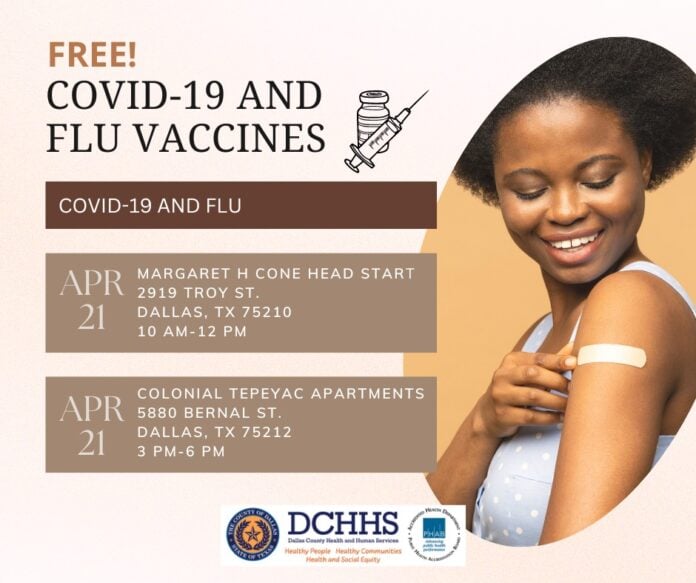 DALLAS, Texas — As part of National County Government Month, observed in April, Dallas County is commemorating County Health Day by highlighting several efforts to improve the health and wellbeing of residents. Through the remainder of April, there will be 8 vaccine clinics hosted by the Dallas County Health and Human Services (DCHHS) and 14 health screening events hosted by Parkland Health throughout Dallas County.
Like the nation's 3,069 counties, Dallas County, the 8th largest county in the United States, fulfills a vast range of responsibilities and delivers services that touch nearly every aspect of our residents' lives. For services such as low-cost STD testing, residents are encouraged to call (214) 819-1819 to schedule an appointment at the Dallas County Health and Human Services Sexual Health Clinic. DCHHS offers vaccinations to children 18 years of age or younger who are eligible for the Texas Vaccine for Children program.
To schedule an immunization appointment or for more information, residents may call (214) 819-2163. To enroll in or for more information about one of several chronic disease prevention programs, including the Asthma Home Visit Control Program and the Diabetes Prevention Program, resident may call (214) 819-5115.
"DCHHS is committed to improving the quality of life of every Dallas County resident through our essential programs and services," said Dr. Philip Huang, DCHHS Director/Health Authority. "DCHHS celebrates County Health Day and encourages the community to take advantage of the many resources we have available."
"My job as a county commissioner is to make decisions that support public health, the safety and well-being of Dallas County residents. Your health contributes to public health, so I urge all of residents to visit one of the scheduled health clinic events," said Dr. Theresa Daniel, Dallas County Commissioner, District 1.
DCHHS also provides a number of human services that can contribute to the improvement of residents' housing and overall wellbeing. For assistance paying for electric, gas, or water bills, Dallas County residents may call 214-819-1848. Renters or low-income property owners may also receive assistance making necessary improvements to their homes in preparation for the summer by calling the DCHHS weatherization assistance program at 214-819-1976. And for home loan counseling or for services in preparation of purchasing a home, such as credit repair workshops, residents may call 214-819-6060.
Residents can get a COVID-19 vaccine or booster at their nearest pharmacy or health care provider, or at any upcoming DCHHS clinic, where they would receive a $25 Walmart gift card. Upcoming DCHHS vaccine clinics include the following:
| | | | |
| --- | --- | --- | --- |
| Name | Address | Dates | Time |
| Austin Bluff Apartments | 7070 W. Camp Wisdom Rd, Dallas, TX 75236 | April 13th | 1PM-4PM |
| East Grove Apartments | 11611 Ferguson Rd, Dallas, TX 75228 | April 14th | 3PM-6PM |
| Antioch Missionary Baptist Church | 7550 S Hampton Rd, Dallas, TX  75232 | April 15th | 10AM-2PM |
| Margaret Cove Head Start | 2919 Troy St, Dallas, TX 75210 | April 21st | 10AM-12PM |
| Colonial Tepeyac Apartments | 5880 Bernal St, Dallas, TX 75212 | April 21st | 3PM-6PM |
| Iglesia Adventista Dallas del Norte | 3751 Merrell Rd, Dallas, TX 75229 | April 28th | 10AM-12PM |
| Kidd Springs Park | 711 W Canty St, Dallas, TX  75208 | April 29th | 9AM-1PM |
| Dallas Market Hall | 2200 N Stemmons Fwy, Dallas, TX  75207 | April 29th | 11AM-3PM |
| Full Gospel Tabernacle Churches Inc | 623 E Woodin Blvd, Dallas, TX  75216 | May 20th | 9AM-12PM |
| Iglesia Adventista Dallas del Norte | 3751 Merrell Rd, Dallas, TX 75229 | May 26th | 10AM-12PM |
| West Dallas Multipurpose Center | 2828 Fish Trap Rd, Dallas, TX  75212 | June 10th | 10AM-2PM |
| DC Employee Health Fair | 600 Commerce St, Dallas, TX  75202 | June 22nd | 10AM-3PM |
| Hiawatha Williams Recreation Center | 2976 Cummings St, Dallas, TX 75216 | June 24th | 10AM-2PM |
| Cambodian Buddhist Temple | 5701 Crystal Lake Blvd, Dallas, TX  75236 | June 24th | 11AM-2PM |
| New Light Church | 1300 S. Beltline Rd, Mesquite, TX 75149 | July 22nd | 10AM-1PM |
Dallas County residents who lack access to reliable transportation may find free or low-cost transportation assistance to these and other health-related appointments by searching social care networks such as 2-1-1, at findhelp.org, or AARP's transportation finder for residents who are 50+ years by calling 888-485-4223. Additionally, Parkland Health members enrolled in STAR Medicaid qualify for free ride services.
For information on upcoming vaccine and health screening clinics hosted by Parkland Health, residents may visit: www.parklandhealth.org/communitycalendar. To make an appointment or to find a doctor, residents may also reach the Parkland Patient Access Center at 214-266-4000.