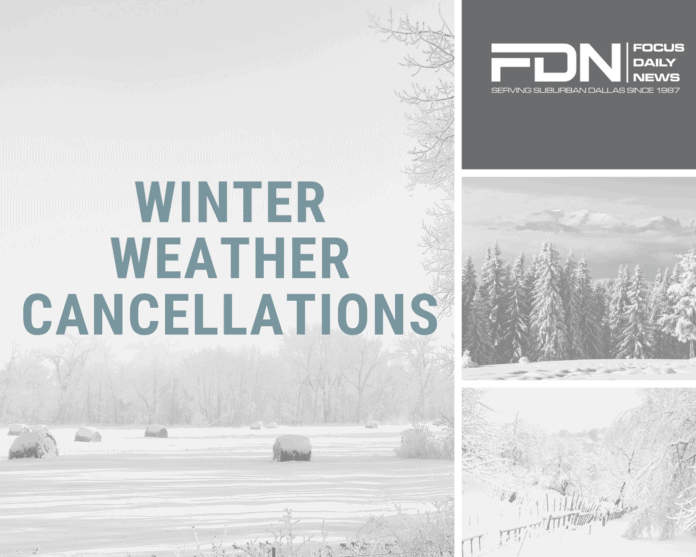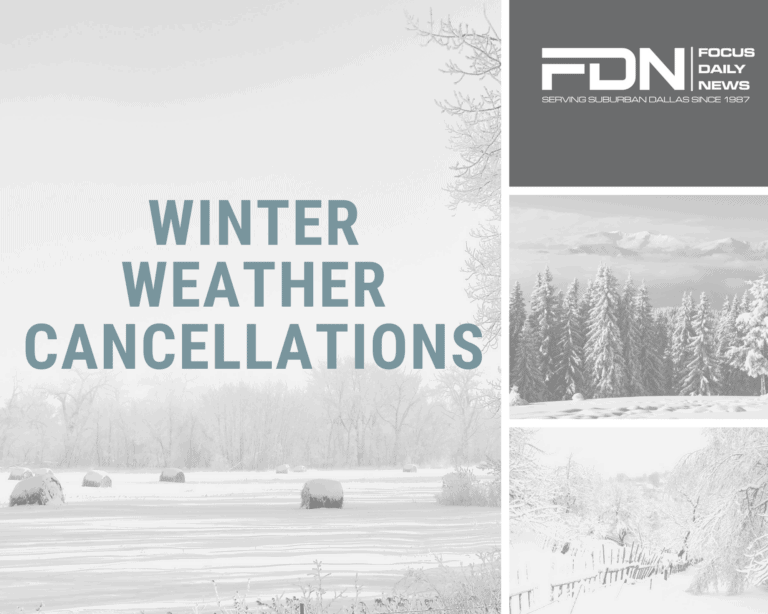 Some city offices and other services will be impacted by this week's weather with ice expected to impact roads and travel. We'll keep updating a running list as we receive notices.
Cedar Hill Closures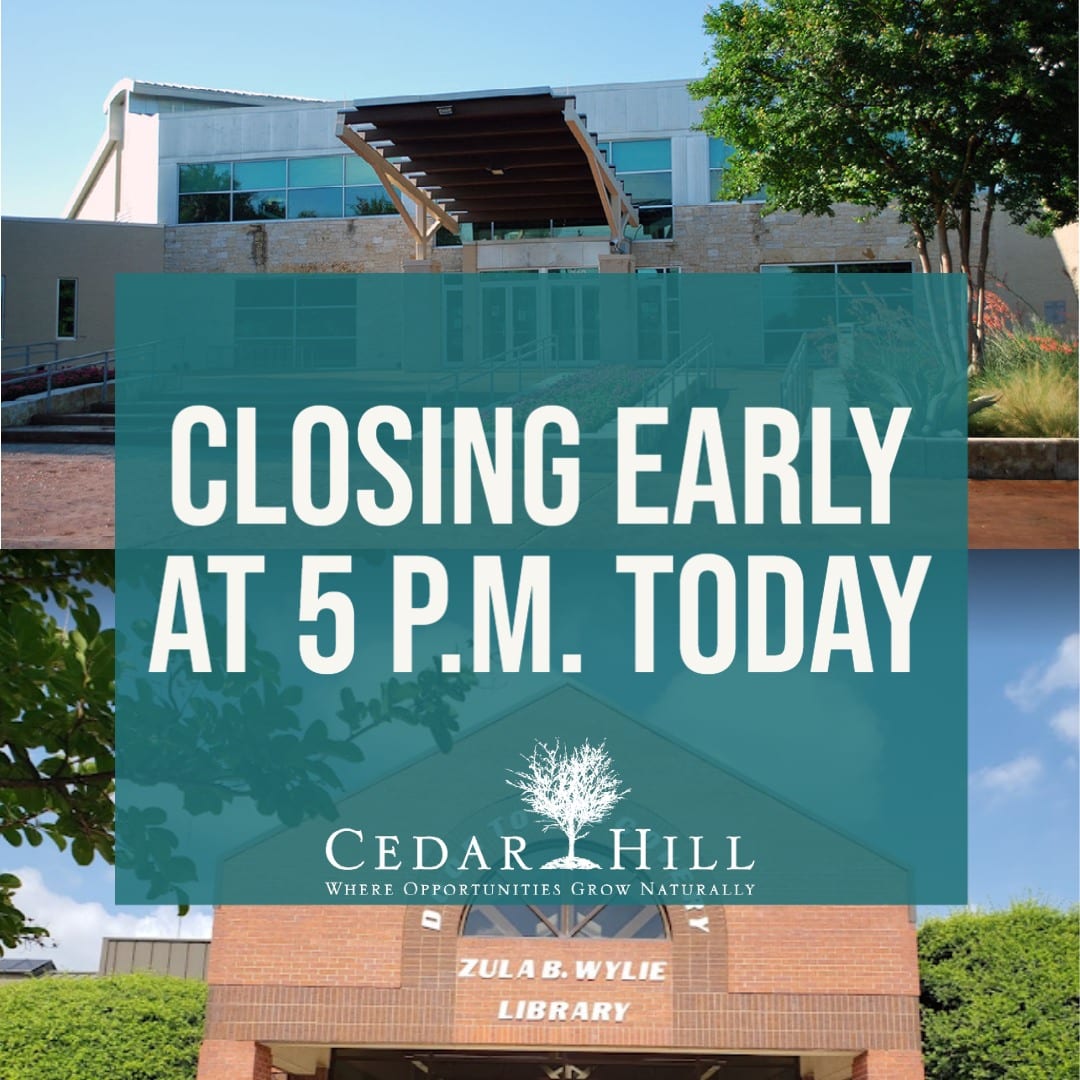 Due to inclement weather this evening the Zula B. Wylie Public Library in Cedar Hill, Texas and Alan E. Sims Recreation Center (Cedar Hill Parks and Recreation Department) will close at 5:00 p.m. TODAY 1/30/23.
Due to weather conditions, City of Cedar Hill Facilities will be closed early today, Monday, Jan. 30th.
• Valley Ridge and Lorch Park will close at 2:30 PM
• The Cedar Hill Senior Center will close at 3:00 PM today.
• The Alan E. Sims Recreation Center will close at 5 PM today.
DeSoto Closures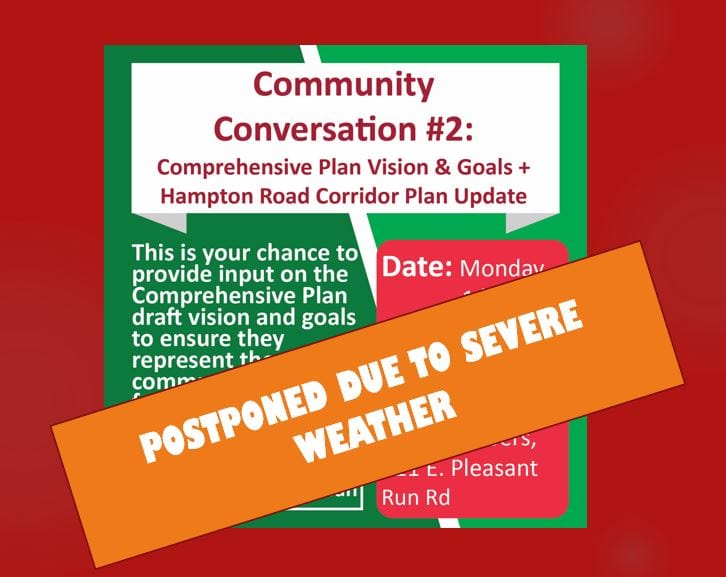 Tonight's Community Conversation #2 has been postponed due to Severe Weather. It will be rescheduled at a later date.
City of DeSoto Offices Closed Tuesday
All City of DeSoto offices and facilities, including City Hall, DeSoto Public Library and the Recreation Center, are now closed and will remain closed through Tuesday, January 31, 2023 due to severe weather. Many services offered by the City of DeSoto can still be accessed through our website at www.desototexas.gov. We will also continue to update residents through our social media platforms Facebook, Nextdoor and Twitter.
DeSoto Recreation Center Closure:
The recreation center will close at 5 p.m. on Monday, January 30. All evening programs and classes are canceled. We will post updates as they become available.
Youth Basketball League Update:
All practices scheduled at City and DeSoto ISD facilities on Monday, January 30, and Tuesday, January 31 are canceled. There is a possibility of cancelations on Wednesday, February 1. We will provide an update no later than 3 p.m. on Tuesday, January 31.
Duncanville Closures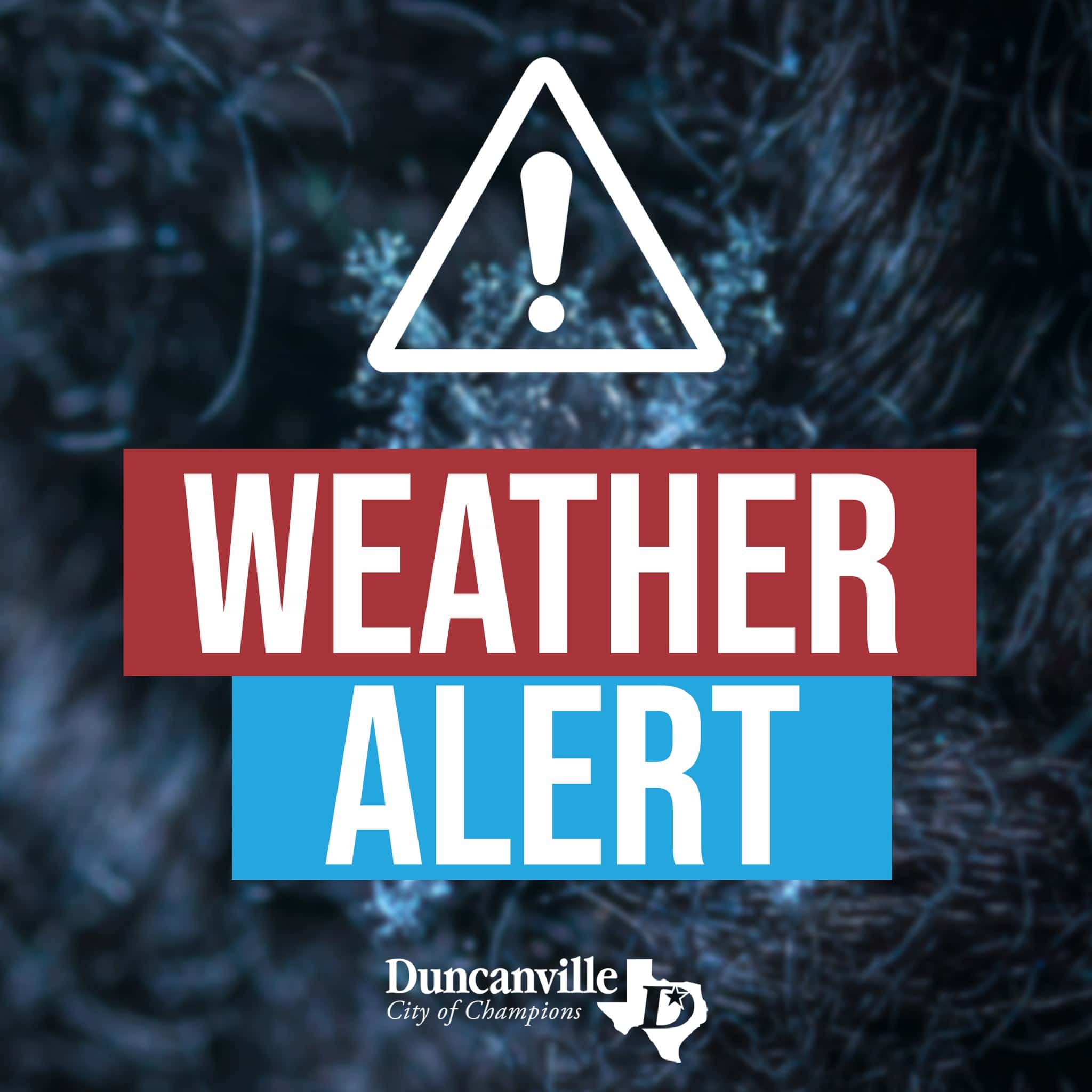 The City of Duncanville is announcing that Duncanville City Hall and Facilities will be closed Tuesday, January 31, 2023, due to inclement weather. Residents experiencing a water emergency are encouraged to call (972) 780-5010 during regular business hours and (972) 780-4959 after hours.
Ellis County Offices Closed 1/31/23
Notice: Due to freezing temperatures and icy road conditions, non-critical Ellis County offices will be closed tomorrow (January 31st). This includes the Historic Courthouse, Courts & Administration Building, Justices of the Peace, and Tax Offices, except the main Waxahachie Tax Office, which will remain open. Critical public safety services such as law enforcement, fire, EMS, road and bridge precincts, and the Emergency Management Office will remain available as needed.
Please stay tuned on Wednesday, February 1st, as the closure may continue, depending on weather conditions.
Glenn Heights Closures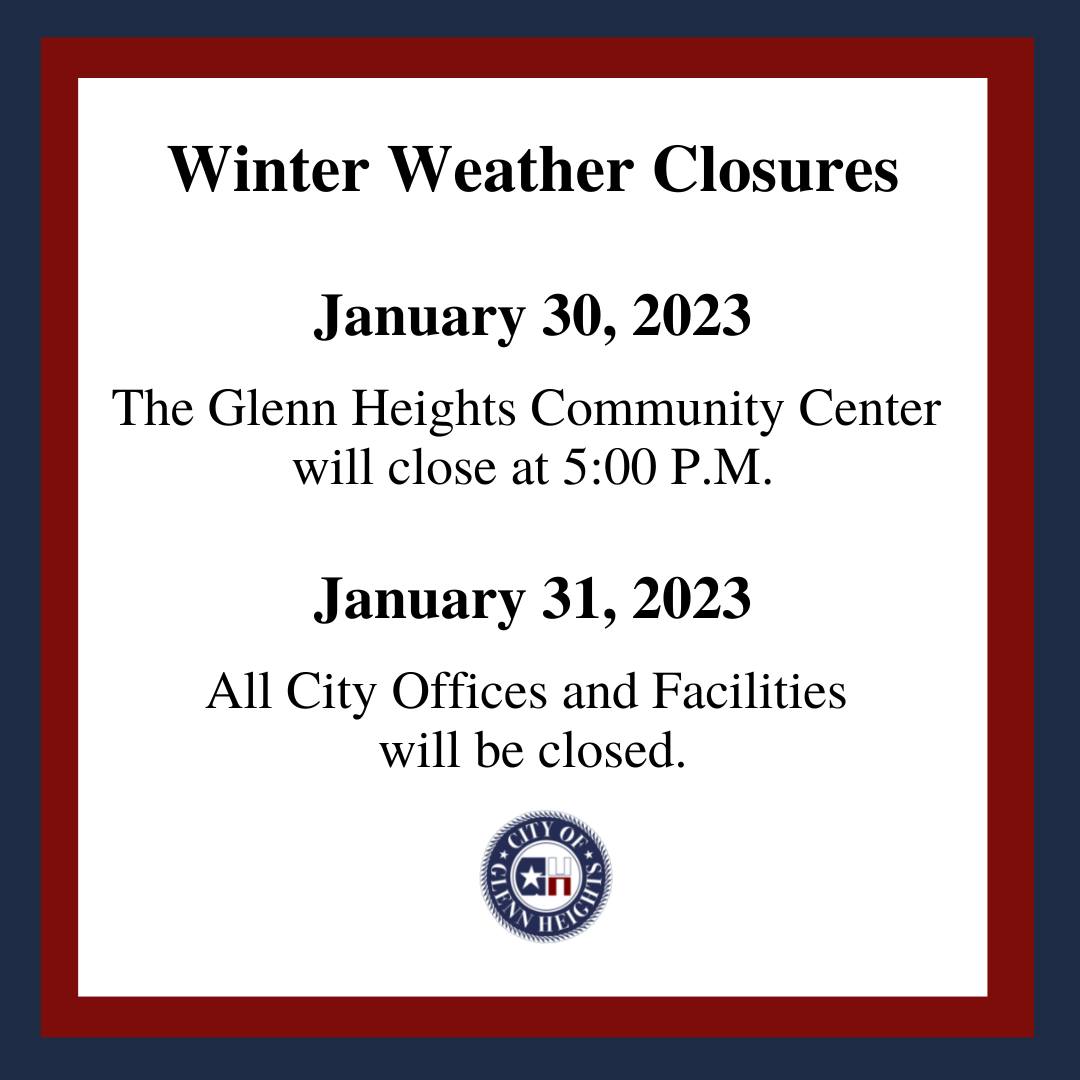 Due to inclement weather, all City Offices and Facilities will close at 5:00 P.M. today and will remain closed tomorrow as well.
Please monitor your local news channels, National Weather Service website, Glenn Heights social media outlets, and https://www.glennheightstx.gov/410/Winter-Weather-Advisories
for weather updates.
Mansfield Closures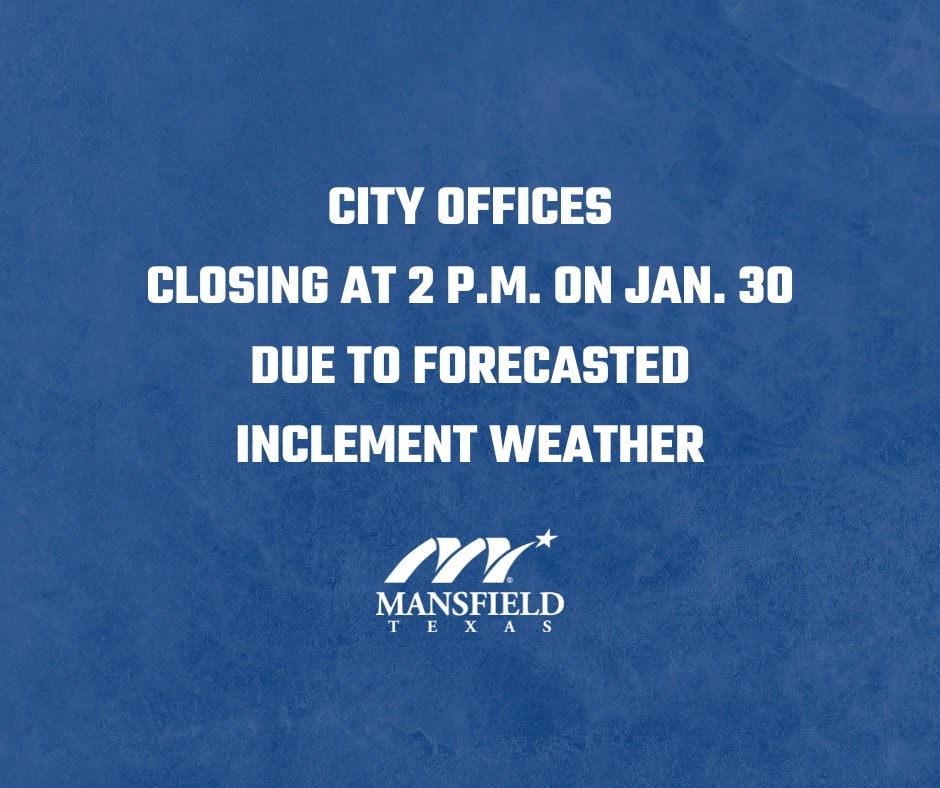 All city offices will close at 2 p.m. today, Jan. 30, due to the forecasted inclement weather.
Public safety crews remain on duty and our streets team is prepared to respond to the weather conditions.
Republic Services has also informed the city that it will cancel the rest of today's residential curbside pickup routes and will NOT run routes on Tuesday, Jan. 31.
City management will monitor the weather before deciding on future operating hours. Stay tuned to the city's social media and website for future updates.
Midlothian Closures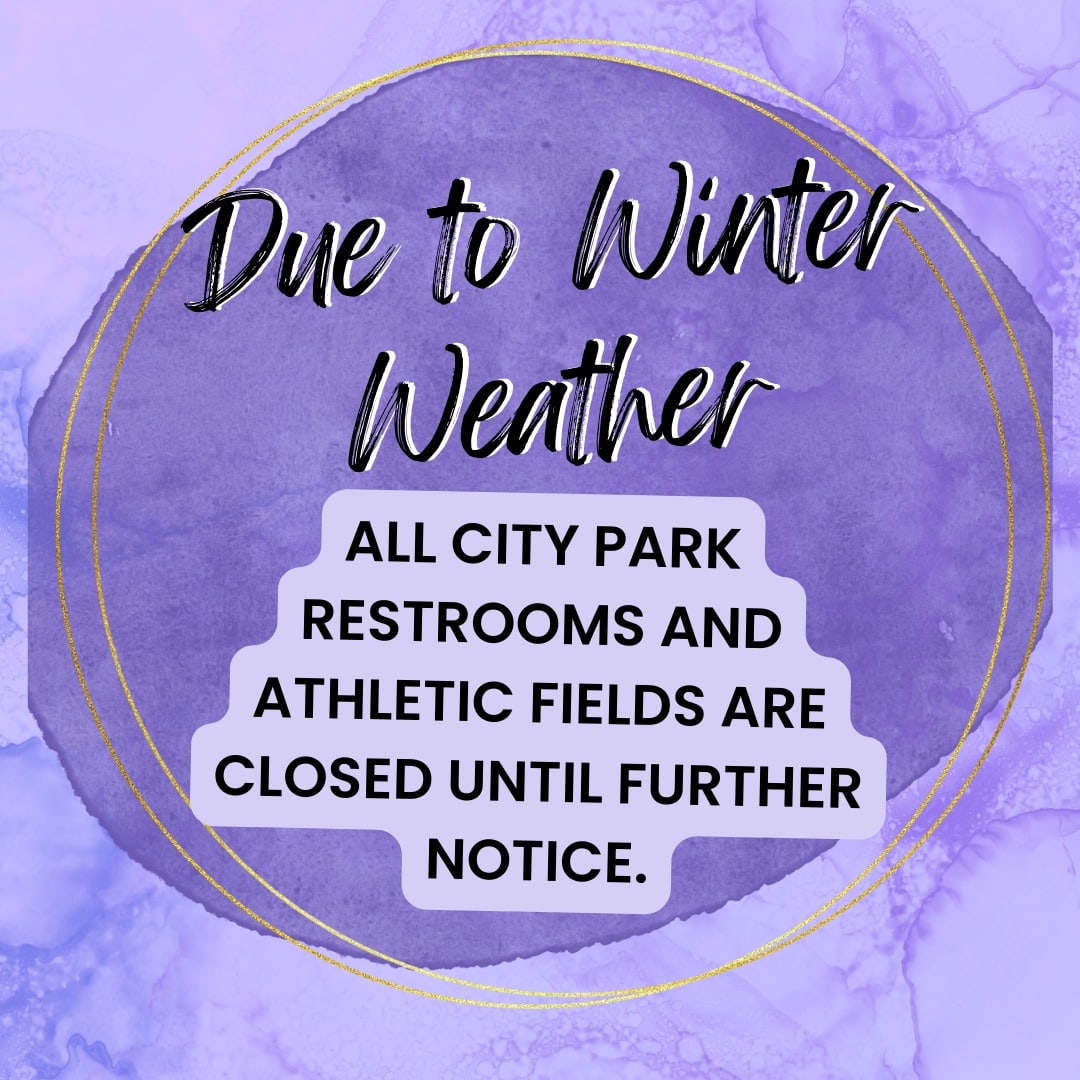 All City park restrooms and athletic fields are closed until further notice due to winter weather.
Midlothian CITY OFFICES TO DELAY OPENING TILL 10 AM ON TUESDAY
Due to inclement weather, all non-public safety City offices will delay opening till 10 a.m. Tuesday, January 31st.
We will continue to monitor the weather and will update this post if the situation changes.
City water customers should report a pipe breakage immediately to 972-775-3333.
All emergency services will be fully operational to serve citizens, including Police, Fire, Public Works (street crews and utility crews), and Water Treatment Plants. Stay up to date on important storm-related information by following the City of Midlothian on Facebook and its website at www.midlothian.tx.us.