Dee Brown Inc. (DBI) recently completed stone and masonry work on the Veterans Tribute Memorial in the Midlothian Community Park, just south of Dallas.
Dedicated on Pearl Harbor Remembrance Day, December 7, 2022, the Memorial combines colored concrete walks with four large black cubic granite benches that are set within the landscape leading up to the memorial. At the end of the walkway is a large black granite star set in the foundation of a single flagpole. An outer rim of granite contains a quote from U.S. Army General John J. Pershing, "Time will not dim the glory of their deeds," spoken in remembrance of American soldiers who died in World War 1.
Within a granite band behind the flagpole are six 2-foot-2-inches wide by 7-foot-tall granite monoliths featuring cast bronze seals representing the U.S. Army, Marines, Navy, Air Force, Coast Guard and Space Force, each weighing 2,200 lbs.
Behind the star and monoliths is a radial bench forming an arc of black granite with carved and painted inscriptions on either end. Facing the flag, on the left is a quote by Elmer Davis, Director of the U.S. Office of War Information during World War II: "This Nation will remain the Land of the Free only so long as it is the Home of the Brave." On the right is a poignant quote from an unknown source: "Our flag does not fly because the wind moves it. It flies with the last breath of each soldier who died protecting it."
"We're very proud to help create meaningful memorials to the men and women who have sacrificed so much for our freedoms," said DBI CEO Robert V. "Rob" Barnes III. "Last year we were entrusted with building the Chosin Few Memorial at Dallas-Fort Worth National Cemetery, a 12-foot-tall black granite wall with engravings on both sides that tell the stories of the 18,000 U.N. forces, including U.S. Marines and Army soldiers, who battled 120,000 Chinese troops in North Korea at the Chosin Reservoir. It's important to remember those who protect us every day from forces who would deny us our freedom."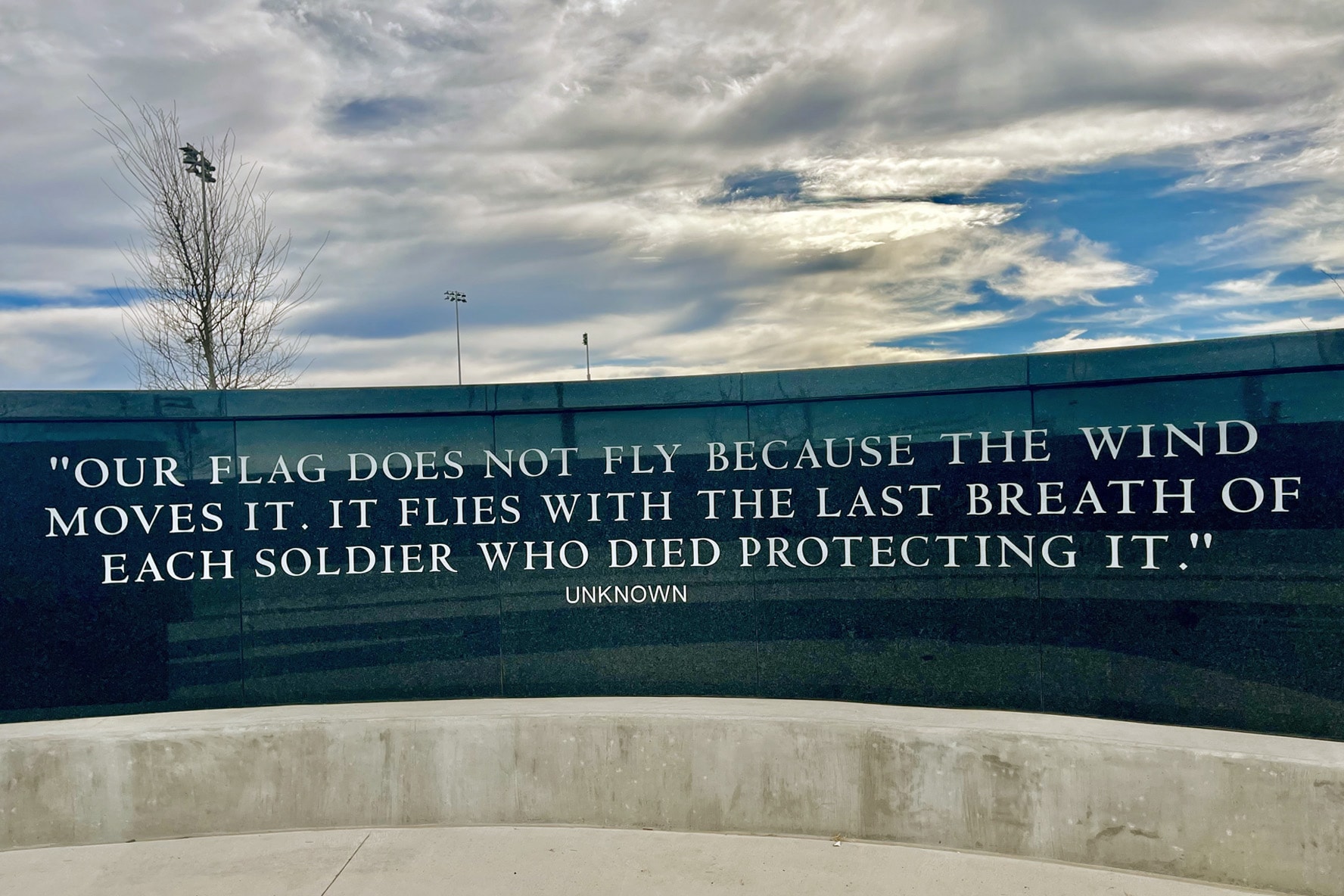 Barnes has served on many community and industry boards and committees such as TEXO – Association of General Contractors, Texas Masonry Council, Masonry Contractors Association of America, Marble Institute of America, Building Stone Institute, Natural Stone Institute, the University of Texas at Dallas Center for Brain Health and the Salesmanship Club of Dallas.
Founded in Dallas circa 1955, Dee Brown Inc. has been entrusted with iconic projects such as the American Airlines Center; Nasher Sculpture Center; George W. Bush Presidential Center; Dallas' Old Red Courthouse; The Getty Center in Los Angeles; Meyerson Symphony Center; Houston Museum of Natural Science; Dallas Country Club; Hunt Oil Headquarters; Trammel Crow Center; AT&T Stadium and many others. More information about the company can be found at deebrowncompanies.com.