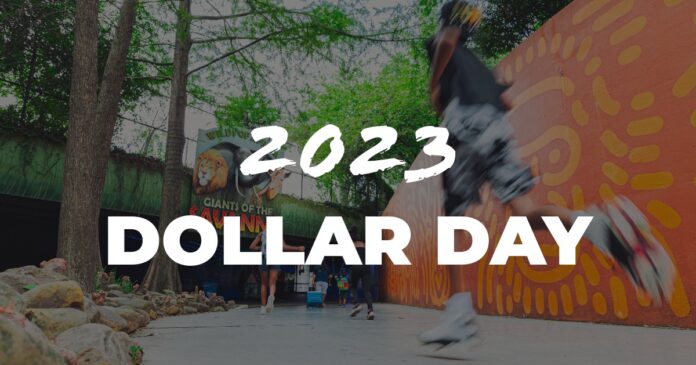 DALLAS (June 15, 2023) — The Dallas Zoo today announced the dates for its wildly popular discount admission Dollar Days, returning this summer on Thursday, July 13, and Tuesday, August 8. Admission to the Zoo drops to only $1 on those days for anyone ages 3 and older (always free for ages 2 and under). And the Zoo plans to open early, at 8:30 a.m., on both Dollar Days to help the crowds beat the Texas heat.
Admission tickets for both days will be available on the Zoo's website starting today, and similar to last year, the Zoo has capped ticket sales for Dollar Day this year, so quantities are limited. The Zoo encourages guests who plan to attend to purchase tickets for their preferred day soon. The Zoo does NOT plan to offer admission tickets onsite at the Zoo for walk-up purchase day-of, so all admission tickets for Dollar Days need to be purchased online, in advance.
In addition to the discounted admission price, Dollar Days also will feature two pop-up snack shops selling:
$1 selected snack items (popcorn and cotton candy)
$2 frozen treats
$2 chips
$3 canned sodas
Along with regularly scheduled keeper chats and animal encounters throughout the Zoo, guests can take a trip back in time with tickets to Destination: Dinosaurs Presented by Reliant or come face-to-face with mountain gorillas on the virtual reality experience, Gorilla Trek. Guests also can enjoy the Endangered Species Carousel, bird feedings in Travis and Zach's Birds Landing, rides on the Conservation Railway Mini-Train, and giraffe feedings at the Diane and Hal Brierley Giraffe Ridge.
These summer discount days are almost always accompanied by hot weather, so guests should dress accordingly, load up on sunscreen, and be sure to stay hydrated – either bring a refillable water bottle to fill up at the Zoo or purchase water at any restaurant or snack area in the Zoo. As always, the Zoo will set up misting stations and cooling fans each Dollar Day to help guests escape the heat.
Parking at the Zoo is limited, especially on busy days like Dollar Day. To avoid traffic and parking issues, the Zoo recommends guests consider using ride share for a drop-off or ride the DART Red Line straight to the Zoo's entrance. Parking at the Zoo remains $10 and will need to be purchased at the admission booths upon entry to the Zoo.
Each year, the Dallas Zoo holds Dollar Days to show appreciation for the community's support by offering lower admission costs and special deals throughout the park. Dollar Days make the zoo accessible to all and provide an affordable experience the entire family can enjoy.
About the Dallas Zoo
The Dallas Zoo is dedicated to creating a better world for animals. Consistently named one of the nation's Top 10 Zoos by USA Today, it is the largest zoological experience in Texas. The Zoo has been accredited continuously by the Association of Zoos & Aquariums since 1985, and includes a 106-acre park, more than 2,000 animals, keeper chats and animal encounters, and opportunities to engage, explore, and learn through the Zoo and its robust schedule of education and conservation programs. The Zoo is located at 650 S. R.L. Thornton Freeway (I-35 at Marsalis) and is open seven days a week, from 9 a.m. to 5 p.m. For more information, visit DallasZoo.com or call 469.554.7501.