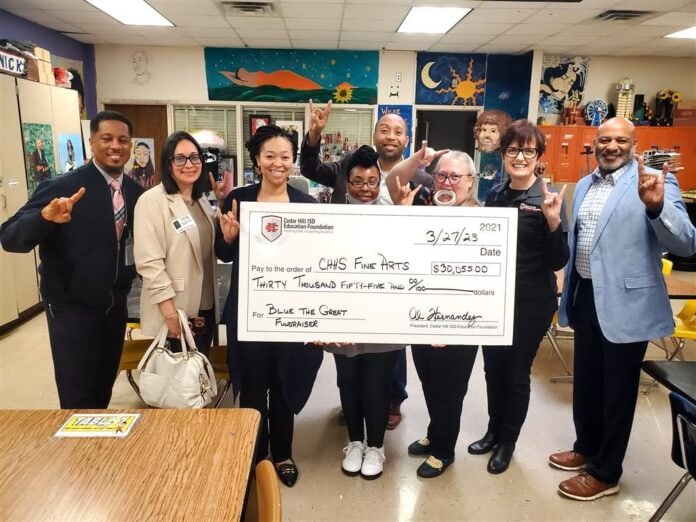 (CEDAR HILL, TEXAS) California-based artist/designer Bryan "Blue The Great" Blue, a Cedar Hill High School Class of 2005 Graduate, made the largest single donation to the Cedar Hill High School Art Department earlier this year.
The $30,000 that Blue donated will provide art desks – which are different from regular classroom desks – so that Cedar Hill High School Art Students are in a better position to work on their art projects.
"I think it's incredible that Cedar Hill Graduates such as Blue The Great pay it forward for the next generation," Cedar Hill ISD Education Foundation (CHEF) Executive Director Denise Root said.
Blue played football at Cedar Hill during the early years of the Joey McGuire Era. As an artist, he's sold paintings to actor Michael B. Jordan, rap artist Kendrick Lamar, pop singer Rihanna and former NFL stars Arian Foster and Martellus Bennett.
Cedar Hill ISD Director of Fine Arts Derrick Walker said "we never would have had the budget to outfit the entire high school with art desks."
Blue held a fundraiser on eBay, and the proceeds from the items were donated to the CHHS Art Department, through CHEF.