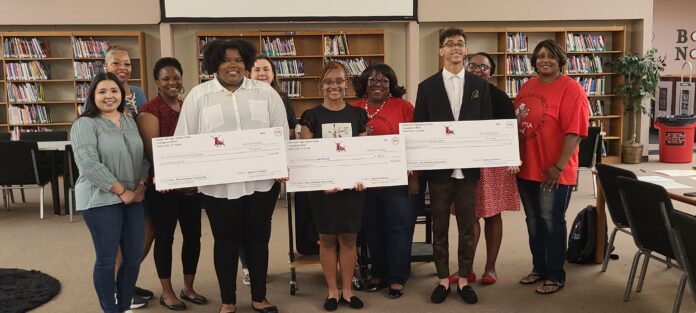 (CEDAR HILL, TEXAS) The Cedar Hill High School Parent Teacher Student Association (PTSA) found a way to honor the late, great Cedar Hill High Principal Shay Whittaker.
In March, the PTSA hosted an Essay Workshop for scholars to learn about writing college essays. Guest speaker Craig Root, a Cedar Hill citizen and former Northwood University administrator, shared information with the scholars.
The scholars were invited to submit essays on what obstacle(s) they've overcome in their lives.
Just before the scholarships were set to be presented, Whittaker tragically passed away from cancer at age 47, on April 6.
"I spoke with the Cedar Hill High PTSA Board, and in a matter of minutes, we unanimously decided to name it after Ms. Whittaker," CHHS PTSA President Candi Davis said. "Scholar success represented everything she stood for. We want to keep her legacy going."
The scholarship isn't limited to graduating seniors. Scholars in grades nine through 12 are eligible, and they are welcome to put the funds toward college or use them to pay for something like an SAT Prep Course.
Senior Jada Mitchell won first place ($500), senior Keniya Wadley was second ($300) and freshman Zachary Carroll ($200) was third.
Davis said the PTSA hopes to continue the Whittaker Scholarship and for the scholarship amounts to increase over time.
Mitchell, who plans to study Computer Science at Clark Atlanta University this fall, said she was honored to receive first place in the inaugural Whittaker Scholarship.
"My best friend passed away last summer, and I am so happy that our story helped me to better my future," said
Wadley will study Marketing or Pre-Med at Texas Tech this fall.
"I am beyond grateful for this opportunity to showcase my writing skills," Wadley said.
Carroll plans to attend college in the North Texas region after he graduates from high school in 2026.
"I am grateful that the CHHS PTS has invested in me," Carroll said. "I'll always remember Mrs. Whittaker's name because she had a way of connecting. She knew everyone by name, including me and my family."