What a treat it was to revisit the delicious, authentic Mexican dishes at Blue Mesa. It had been over a decade since my last visit to the Blue Mesa in Addison, and I had forgotten how good their food is. So I jumped at the chance to meet my friend Charlotte for lunch at the spacious and stylish Blue Mesa located in the Boardwalk at Granite Park in Plano. Blue Mesa's food and service were even better than I remembered, and definitely worth the drive to Plano.
It was National Margarita Day, so Charlotte and I toasted our long friendship with their trademark blue Margaritas–hers on the rocks and mine frozen. Blue Mesa had specially priced their top shelf margaritas for $5 that day. The menu is extensive, but we were both hooked by a favorite item, the Chile Relleno Enchilada Combo ($14). The combo platter features a delicious cheese-stuffed Chile Relleno pepper, smoked chicken enchilada, coconut lime rice, black beans, and corncake.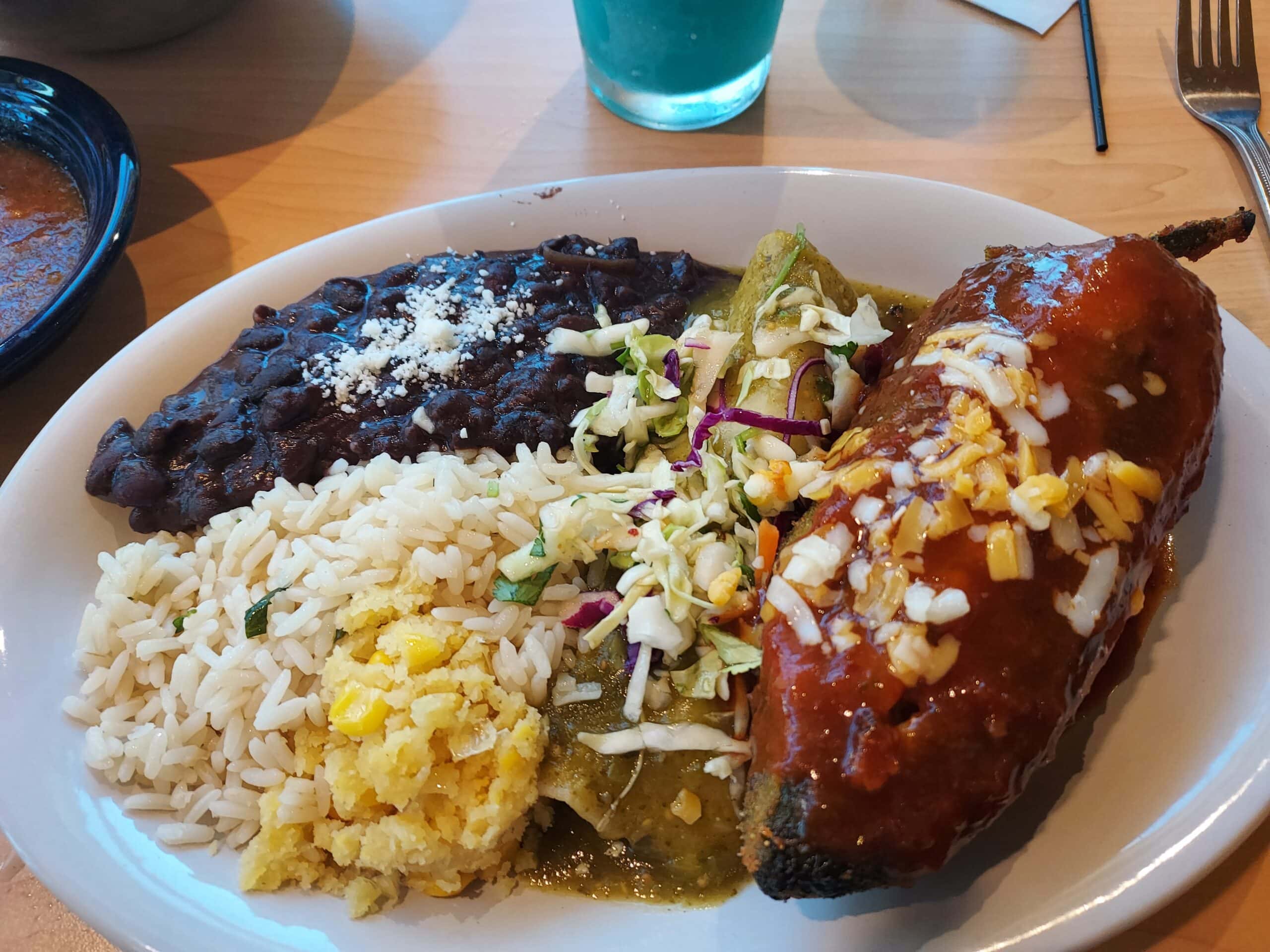 Other tempting items on the menu were the Mesa Sampler. The sampler features chicken taquitos with ancho crema, grilled smoked pepper sausage with Queso Blanco, and steak nachos with guacamole ($15), and would be a great platter to share with friends.
Several soups were also hard to resist, including the Tortilla Soup ($10) and Ignacio's Pozole, a green chili and hominy stew I learned to love in New Mexico ($10). But the combo plates were too filling to leave room for appetizers, soups or desserts.
Blue Mesa Favorites
Old favorites, like the Blue Corn Stacked Chicken Enchiladas ($14) with red and green sauce, lime sour cream, Pico, coconut lime rice, black beans, and corncake; and the Mesa Combo: Steak Poblano Taco, Cheese Enchilada and Black Bean Adobe Pie ($14) are also on the menu. The Seafood Mixed Grill (Rojo shrimp, red Chili Salmon, Blue Crab and shrimp enchilada with chipotle cream sauce, coconut lime rice, and mango salsa $20) also sounds yummy.
This was my first time to visit the Boardwalk at Granite Park, a restaurant mecca featuring eight local restaurants with unique waterfront views. Although Granite Park is located on the southeast corner of Dallas North Tollway and Sam Rayburn Tollway, it's a serene oasis that invites leisurely dining, strolling on the boardwalk, or simply sitting and enjoying the view.
Blue Mesa is famous for their weekend brunch (Sat. from 10 a.m. to 2 p.m.; and Sun. from 10 a.m. to 3 p.m.) The Mimosa breakfast buffet includes made to order omelets, Migas, Huevos Rancheros, and more. Carving and Taco Station offers smoked brisket, BBQ pork, Chicken Verde, Red Chile Salmon and more.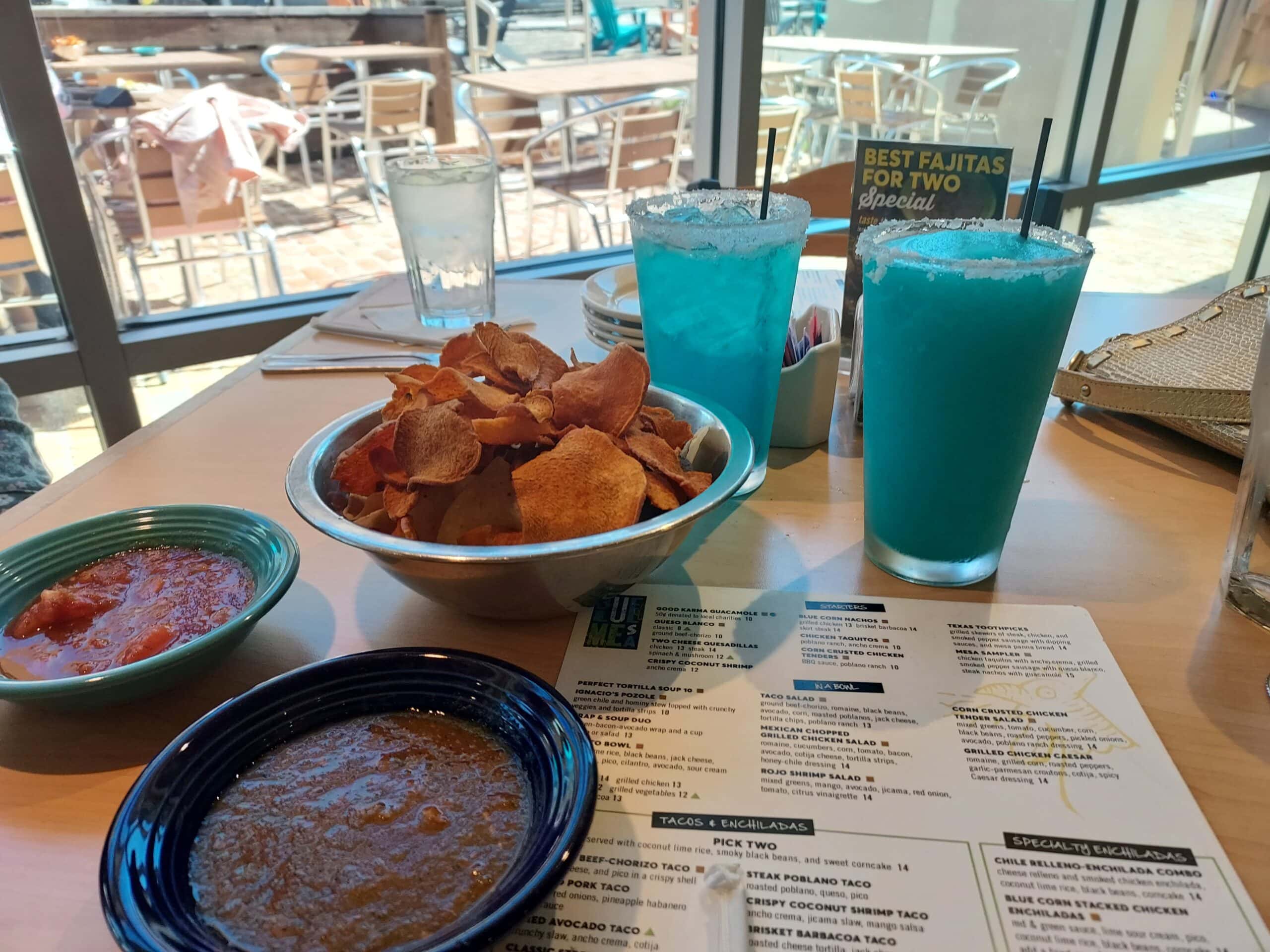 Favorite dishes include Adobe Pie, enchiladas, coconut lime rice, Chimayo corn and more. Assorted homemade desserts and Mimosas, plus coffee, tea, orange juice and soft drinks are also featured. Brunch prices are $26 for adults, $10 for age 6-11, and free for 5 and under.
Happy Hour at Blue Mesa
Happy hour is offered from 3-6:30 p.m. Tues.-Fri., with $5 Blue Margaritas, well drinks, Mojitos, and house wines. A $20 Blue Rocks craft jar for two or more, and $1 off all beer are also featured. Happy hour prices are offered on tacos and other food items.
I'm looking forward to my next visit to Blue Mesa, and hoping to go next time for Saturday brunch. The Plano restaurant is located at 8200 Dallas Parkway at the Boardwalk at Granite Park. (They also have Blue Mesa restaurants in Addison and Fort Worth). The restaurant is closed on Mondays but open Tues.-Sun. For information please phone 214-387-4407 or bluemesagrill.com.