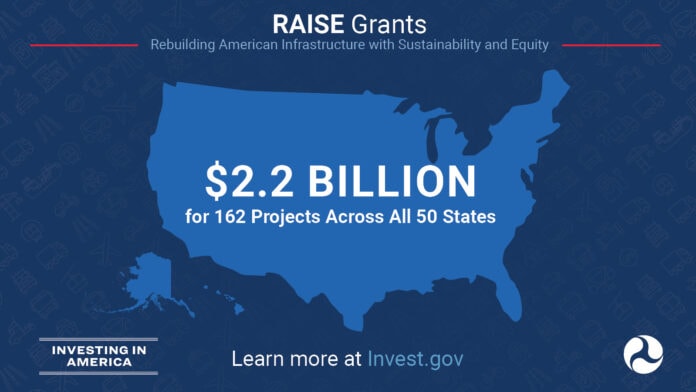 Today, U.S. Secretary of Transportation Pete Buttigieg announced that the Biden-Harris Administration has awarded $97,178,763 from the RAISE discretionary grant program to six different infrastructure projects across Texas.
The RAISE grant program, expanded under the president's infrastructure law, supports communities of all sizes, with half of the FY2023 funding going to rural areas and the other half to urban areas. The grants are part of President Biden's Investing in America agenda that is growing the American economy from the bottom up and middle-out—from rebuilding our nation's infrastructure, to driving over $470 billion in private sector manufacturing and clean energy investments in the United States, to creating good-paying jobs and building a clean-energy economy that will combat climate change and make our communities more resilient.
"Using the funds in President Biden's infrastructure law, we are helping communities in every state across the country realize their visions for new infrastructure projects," said U.S. Transportation Secretary Pete Buttigieg. "This round of RAISE grants is helping create a new generation of good-paying jobs in rural and urban communities alike, with projects whose benefits will include improving safety, fighting climate change, advancing equity, strengthening our supply chain, and more."
This year's awarded projects will help more people get where they need to be quickly, affordably, and safely. From projects that will strengthen supply chains and reduce bottlenecks, to bridge replacements and road projects to make them safer and more efficient for drivers, cyclists, and pedestrians, this year's awards will build and repair infrastructure that benefits Americans for future generations to come, while taking steps to reduce emissions from the transportation sector and support wealth creation and good-paying union jobs. Seventy percent of the grants are going to projects in regions defined as an Area of Persistent Poverty or a Historically Disadvantaged Community.
Like last year, demand for RAISE funding was higher than available funds. This year, DOT received $15 billion in requests for the $2.26 billion available.
Today's awardees in Texas include:
$22,942,500 for SH 130 Advanced Commercial Truck Travel Plaza: Funds for this project will design and construct a commercial truck parking plaza in the northwest quadrant of SH 130 and San Marcos Highway/SH 80 intersection.  The project will provide safe parking for drivers and help reduce crashes and fatalities involving trucks parked in unauthorized locations due to lack of options.
$18,000,000 for Double Tracking for Commuter Rail Optimization: Funds for this project will the design, engineering, and construction of double tracks along the existing Red Line from Onion Street in the west to E. Timbes in the east.
 $6,436,263 for Five Mile Creek Trail: Funds for this project will be used for the planning, design, and engineering for approximately 12.9-miles of multi-use paths and trails
$4,800,000 for the Smart Corridor Network Plan for Waco: Funds for this project will plan, design, and engineer a smart mobility network corridor in Waco. It will assess current state of infrastructure; conduct a legal and regulatory assessment; evaluate equity considerations; define future state typologies; define preliminary multimodal, transit, and freight plans; define partnership models; and develop the smart corridor network planning framework.
$25,000,000 for DART Cotton Belt /Silver Line Rail Shared-Use Trail: Funds for this project will construct approximately 5.2 miles of shared-use trail from Meandering Way in Dallas to Shiloh Road in Plano. It will directly connect to several Silver Line rail station platforms and provide safe and convenient bicycle and pedestrian access to commuter rail stations.
$20,000,000 for the East Lancaster Avenue complete streets and Transit Technology Project: Funds for this project will be used for the design, right-of-way, environmental, and reconstruction of approximately 6.5 miles of East Lancaster Avenue between Pine Street and Interstate 820 into a multimodal corridor, with accommodations for high-capacity bus transit service. The project will replace a functionally obsolete, deteriorating roadway with new intersection improvements, drainage, and access to multimodal facilities.
The full list of projects can be viewed here.
RAISE discretionary grants help project sponsors at the State and local levels, including municipalities, Tribal governments, counties, and others complete critical freight and passenger transportation infrastructure projects that they may not have had the funding to carry out prior to passage of President Biden's infrastructure law. The eligibility requirements of RAISE allow project sponsors to obtain funding for projects that are harder to support through other U.S. DOT grant programs.
The RAISE program is one of several ways communities can secure funding for projects under the Bipartisan Infrastructure Law's competitive grant programs. This week, the Federal Transit Administration announced nearly $1.7 billion in funding through the agency's, which puts more zero-emission and low-emission buses on the road while supporting workforce training on new vehicle technologies.
The Department also published the 2023 Notice of Funding Opportunity for the Multimodal Project Discretionary Grant (MPDG) Program: a three-in-one grant opportunity for communities interested in funding made available through the National Infrastructure Project Assistance (Mega) discretionary grant program, the Rural Surface Transportation Grant Program (Rural), and the Infrastructure for Rebuilding America (INFRA) program.
For more information on the RAISE program, click HERE.