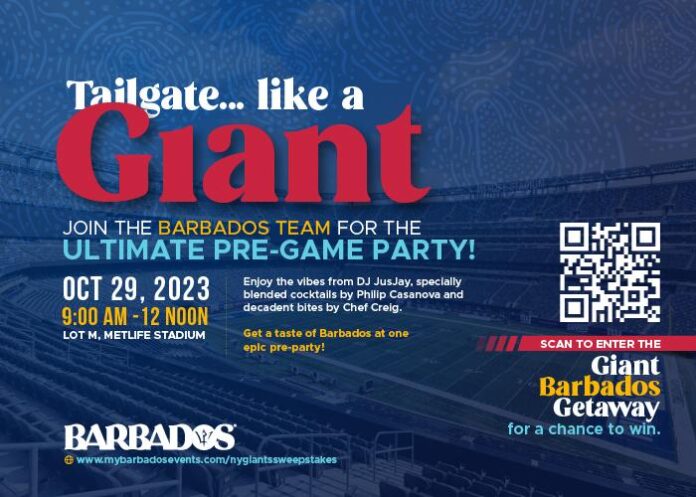 BRIDGETOWN, BARBADOS  – Get ready to embrace the warmth of the Caribbean, as Barbados Tourism Marketing Inc. (BTMI) is thrilled to continue an innovative collaboration with the New York Giants football team, bringing a touch of Barbados to the NFL. In this exciting partnership, we are excited to unveil the "Barbados Trip Giveaway," aiming to keep Barbados at the forefront of New York's passionate sports fans.
This unique collaboration with the New York Giants is set to share Barbados to a diverse audience, including women, millennials, people of color, and families, with an expansive reach across the United States. Join us for an unforgettable celebration of culture, food, and football at the upcoming pre-game tailgate party, scheduled for October 29, 2023, from 9 AM to 12 noon at Lot M, MetLife Stadium.
This pre-game celebration promises to be an epic event, offering attendees the chance to immerse themselves in the vibrant flavors of Barbados while soaking in the electric atmosphere of gameday.
What's in store for fans at the event?
Delectable Bites by Chef Creig: Renowned Barbadian Chef Creig will serve an array of culinary delights that capture the essence of Bajan cuisine, allowing you to savor every bite of Barbados at MetLife Stadium.
Signature Cocktails by Philip Casanova: Master mixologist Philip Casanova will craft a selection of signature cocktails perfectly complementing the Bajan flavors, providing a taste of the Caribbean with every sip.
Live Music Entertainment by DJ Jus Jay: No pre-game party is complete without music, and DJ Jus Jay will keep the energy high and the crowd moving, infusing the atmosphere with the rhythm of the Caribbean.
Barbados Trip Giveaway: In addition to the festivities, attendees can sign up at www.visitbarbados.org/giants for a chance to win an unforgettable holiday for two to Barbados, where they can experience the beauty and charm of our island paradise.
Join us for this extraordinary event as we bring a taste of Barbados to MetLife Stadium, building a unique connection between the vibrant spirit of Barbados and the New York Giants.