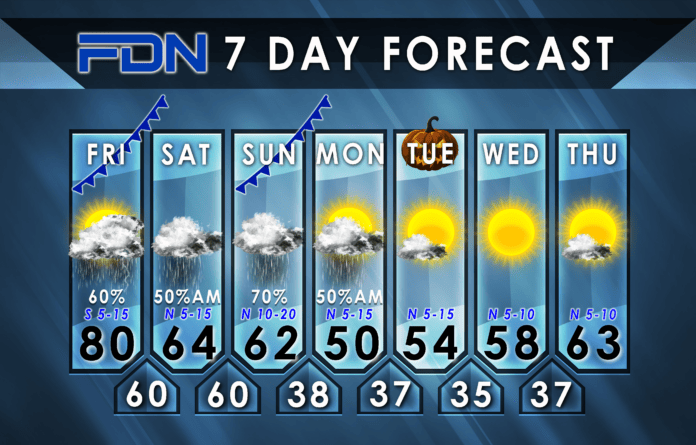 We have one more warm day before temperatures start dropping and a few more rain chances pass through.
Today will be a warm, muggy and breezy day with a few light showers here and there this morning before a weak cold front brings a better chance of showers and thunderstorms this afternoon/evening. This round won't bring the kind of widespread rain we had Wednesday night, but I think most of us have a decent chance of at least getting a shower. Another round of rain arrives late tonight/tomorrow morning, and I think it will be mostly light rain tomorrow morning as a few area events get going. It's notable that this is Texas Country Reporter Festival weekend in Waxahachie, because the forecast looks eerily similar to last year: rain in the morning, drying out in the afternoon. I'm not sure how much we'll clear out the clouds, but we should at least have rain coverage tapering off after lunch.
The next feature to watch will be that big cold front moving in early Sunday. We will only reach the low 60's before the front brings much cooler air and cools us into the 40's and 50's by the afternoon! The front brings a cold rain and gusty winds with it, so Sunday will be a chilly, wet and windy day – a great day for a warm bowl of chilly, a blanket and a good book or movie. Rain continues into Monday morning, then we dry out in the afternoon as we struggle to reach the low 50's.
Monday night we drop into the upper 30's, and Tuesday looks to be a tad warmer with mostly clear skies and highs in the mid 50's. Tuesday night we will drop into the mid 30's, with low 30's possible in some low-lying areas, so those concerned with plants might want to take note. Wednesday we'll have sunny skies that will warm us into the upper 50's, then Thursday we're back in the low 60's.