Everything about Art Park, the new outdoor "more-than-a-beer-garden" opening July 20 in Trinity Groves shouts "Fun, Fun, Fun!" No matter your age, it's impossible not to have fun at Art Park. With its brightly colored, festive picnic tables and chairs, eye-catching murals, playful food offerings, and family-friendly games, everyone in the family can enjoy the playful atmosphere at Art Park.
Trinity Groves gave local artists free rein to decorate Art Park's outdoor seating area with their unique signature styles, tags, and beautiful colors. More sculptures and tributes to local and national artists are planned for the future.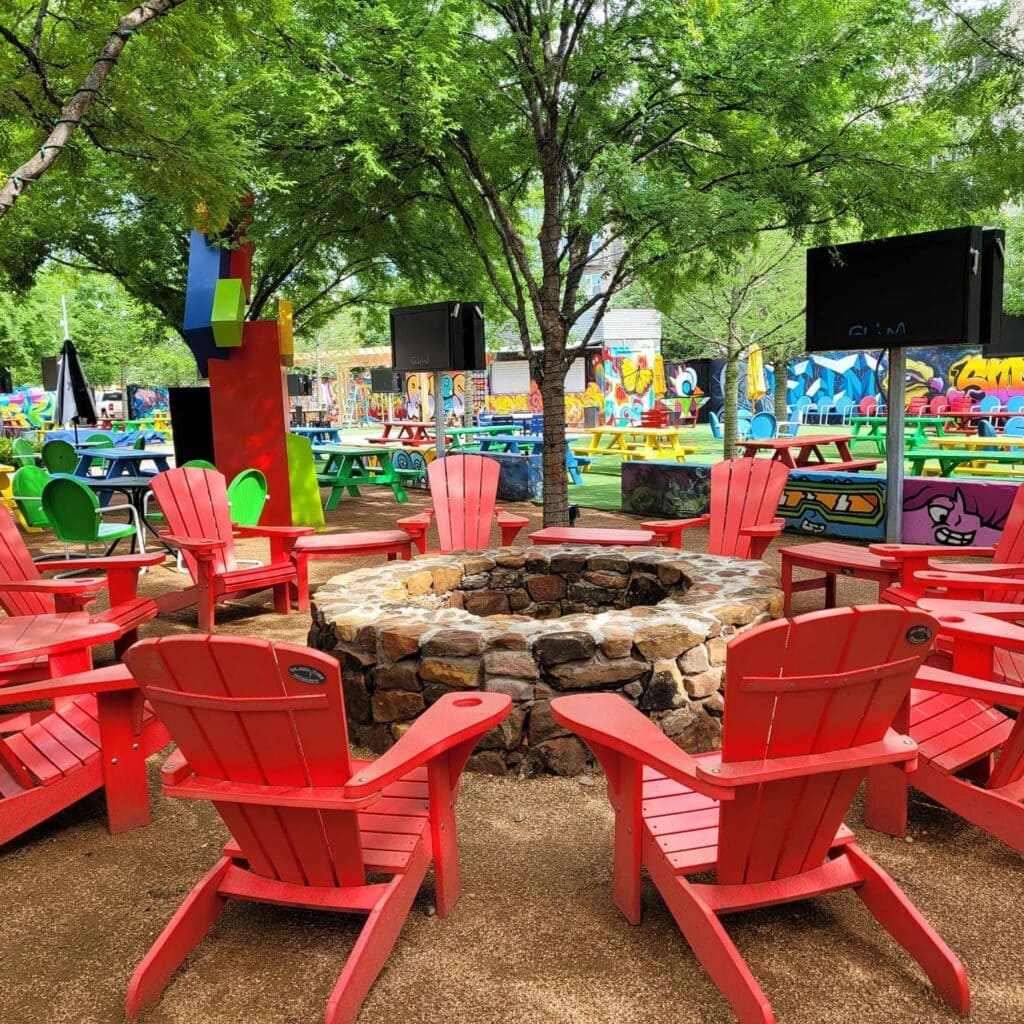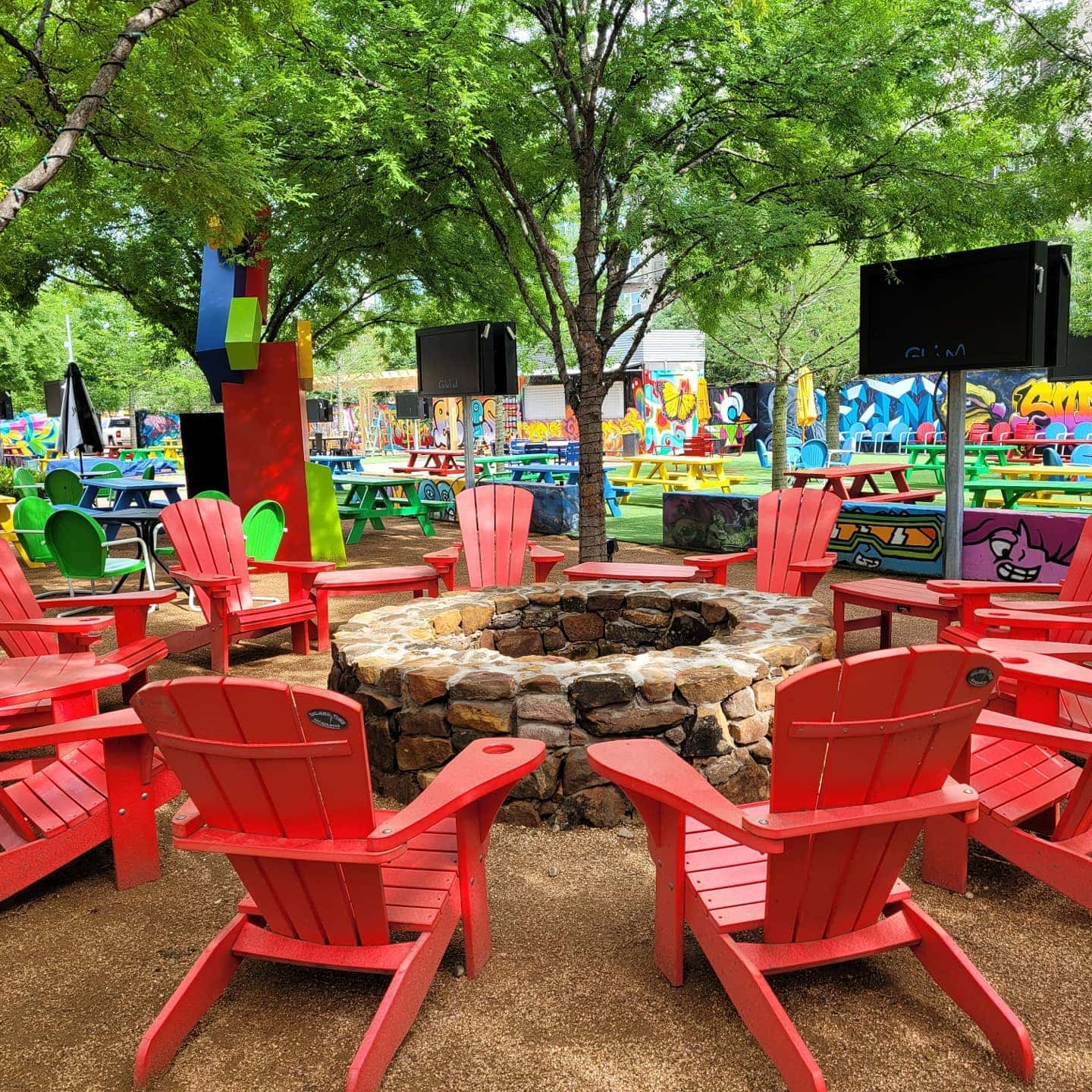 Phil Romano, Trinity Groves' founder, envisioned the outdoor park as a place to enhance the area's neighborhood feeling. The outdoor setting gives visitors and residents alike a welcoming place to sit and enjoy chatting together. There is no charge to enter Art Park and enjoy playing games, or just relax while sitting in the shade of an oversized umbrella.
EATS Offers Comfort Foods
EATS at Art Park offers yummy comfort foods to please every palate. Old neighborhood favorites like Hoffman Hotdogs ($5.50) are on the menu, along with trendier offerings like Spaghetti-O fritters ($5). I loved the Kielbasa sandwich ($7). It's delicious, filling, and for me, addictive, with a perfect blend of grilled sausage and German mustard on pretzel bread.
My husband said his Chicken Firestick ($7), burgers and fries were all good. Housed in the former Outdoor Kitchen building, Trinity Groves' executive chef Jay Valley designed EATS menu with enough variety to satisfy everyone in the family. They also feature Art Park Bombs ($7), a prime rib sandwich, and BBQ ribs. Keeping the playful theme going, EATS invites playing with your food. It was fun shaking my Shaker Salad (ranch dressing and BBQ chicken salad fixings) in its covered container.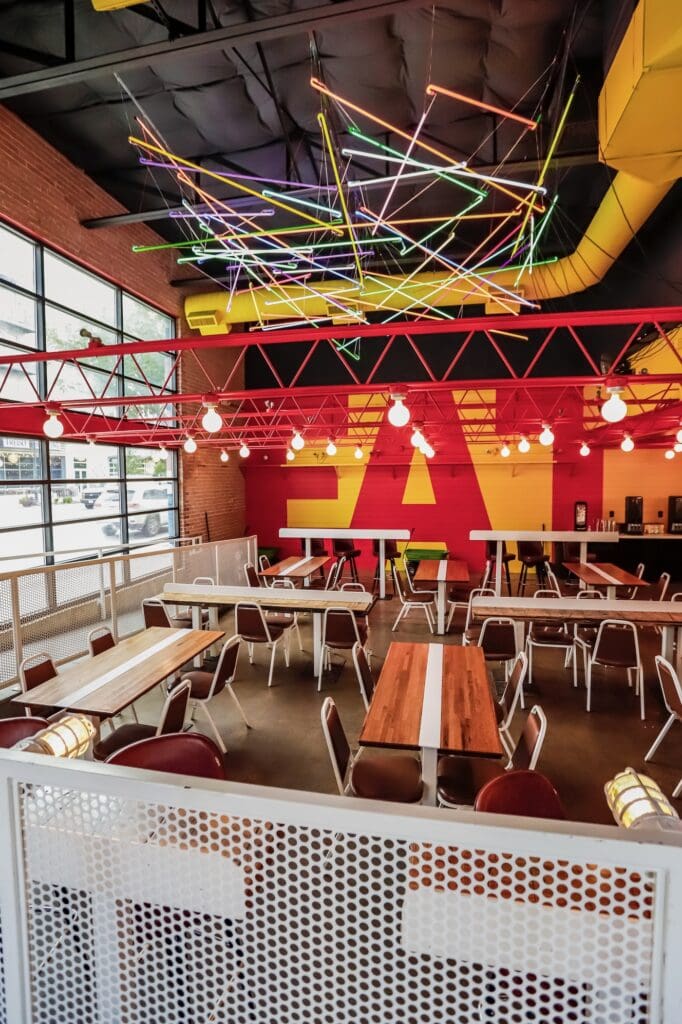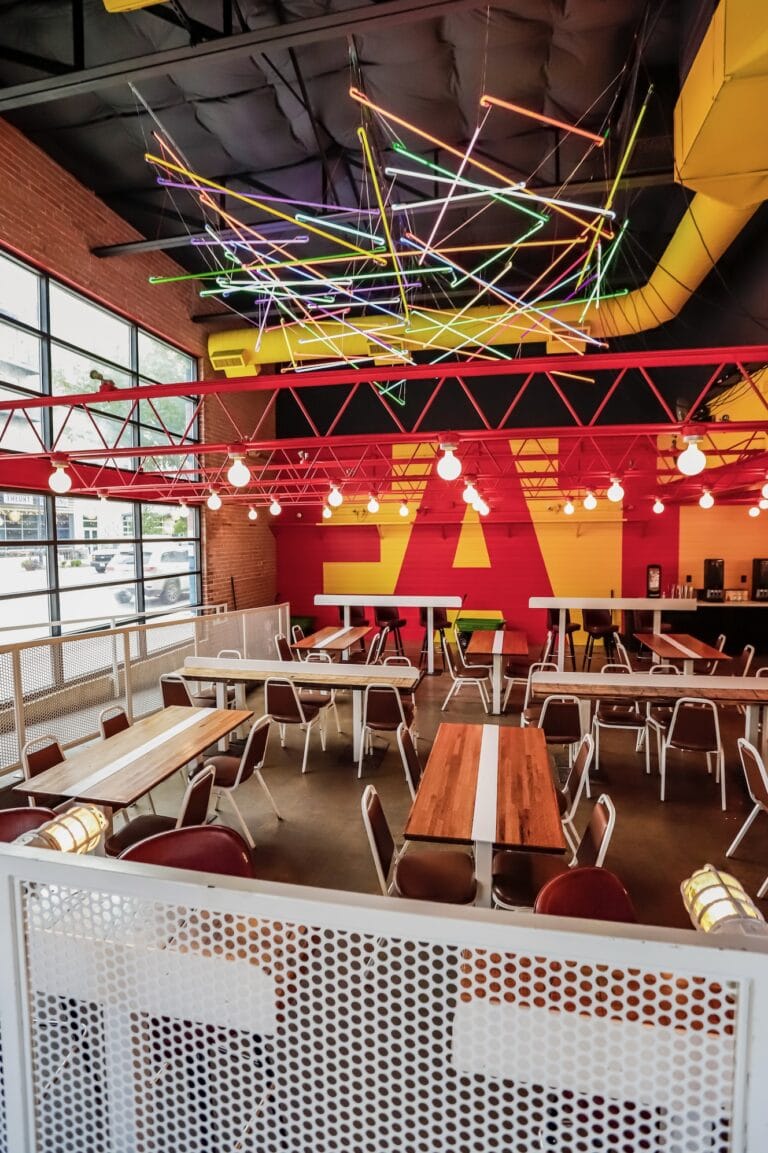 We're told the menu changes often, so by the time you go they may have added even more entries. The EATS menu features best-sellers from other Trinity Grove restaurants, but visitors are welcome to bring take-out from one of their other restaurants. Trinity Grove has plenty of restaurants to choose from, with menus ranging from Chinese to Vegan to BBQ to New York style Italian food.
Art Park
Art Park is first and foremost a beer garden, so they offer a wide variety of beer. I tried a new beer in a lovely blue can with a catchy name, Mermaids and Unicorns (a blonde ale). Cocktails, wine, beer, and soft drinks are available, and they've recycled an old shipping container into a bar that serves delicious frozen daiquiris. EATS also serves frozen cocktails and a frozen Rose.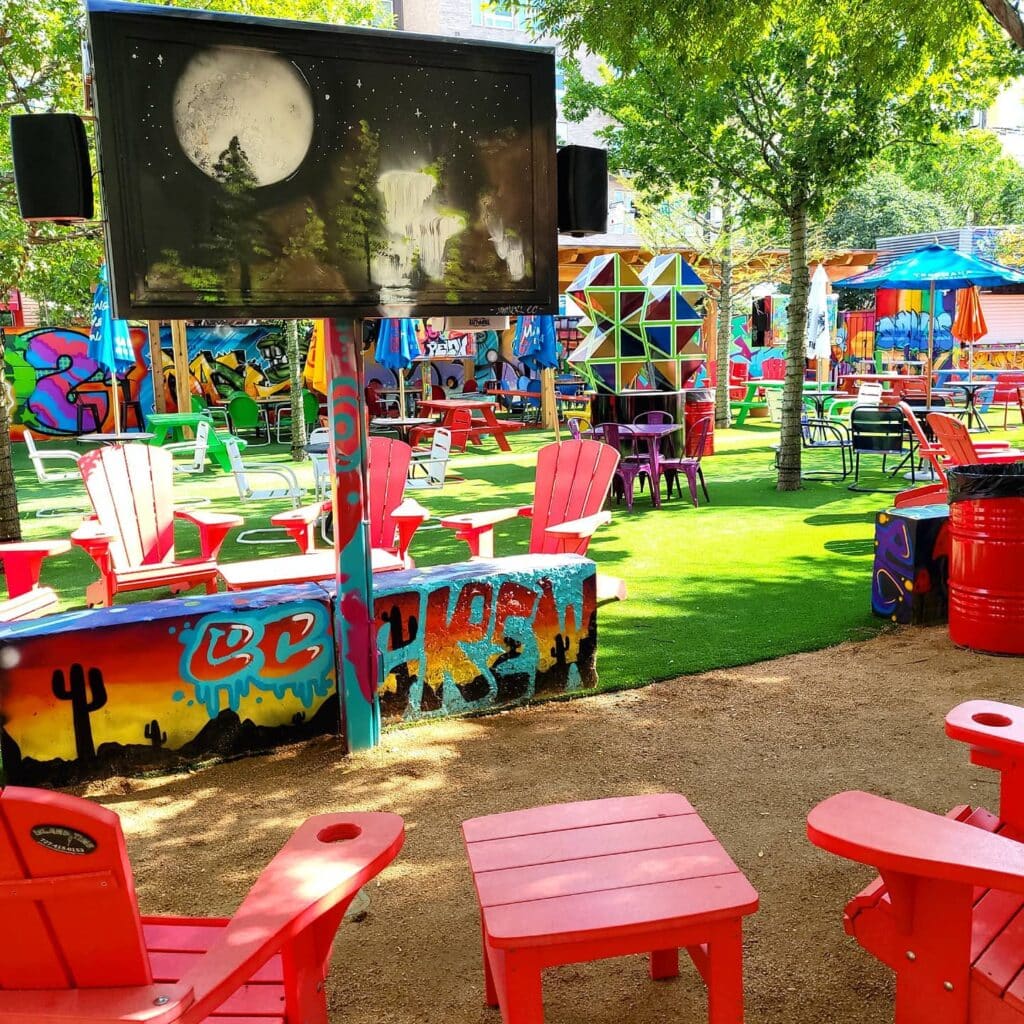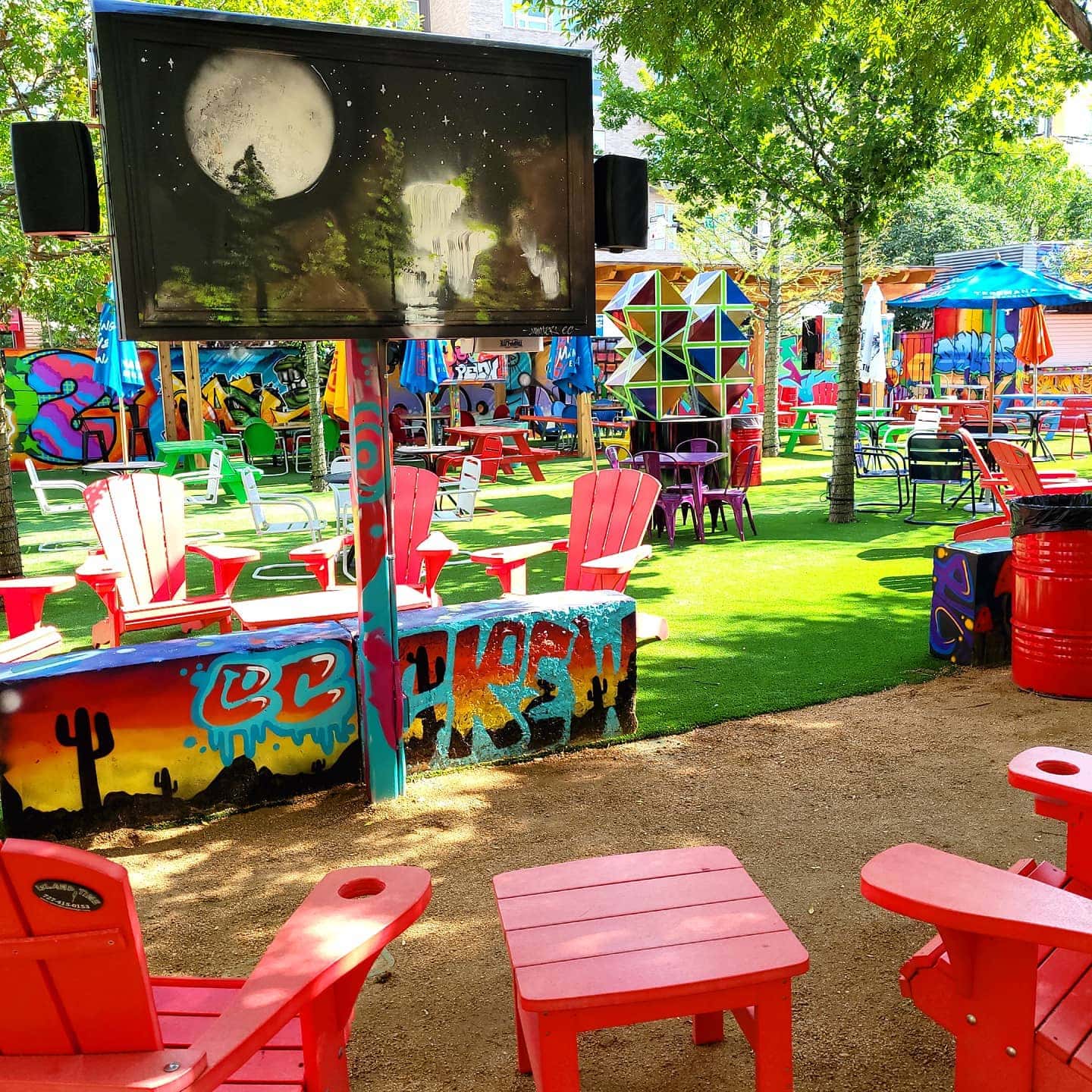 Leaving EATS, we enjoyed taking a frozen custard cone for an after-dinner treat on our farewell stroll through the park. As twilight descended, twinkling lights in all the trees cast a magical glow over the park that made it hard to leave.
Art Park is a special place for the community, and makes a great addition to Trinity Groves. Sports fans will love the 30+ TV sets scattered throughout the park to watch their favorite teams play. Art Park at Trinity Groves, 331 Singleton Blvd., is open daily until 9 p.m. For more information, call 469-772-5642, or visit theartparktrinitygroves.com.