One Dog Has Captured Red Oak's Attention, And Found A New Family
Everybody could use a good buddy.
Sean Byars of Red Oak now has a new buddy since he and his family rescued a dog they named, well, Buddy.
After seeing several Facebook posts by Red Oak locals about Buddy hanging out around Walmart, Byars said it looked as if he was abandoned and was staying in one general area for a couple weeks. Byars tried a couple of times to get Buddy on a leash, but with no luck, then, with some help, Buddy found his way to the Byars.
"A lady named Samantha brought her daughter with her to feed Buddy and try again to leash him, and he finally let her. She messaged me that she got him and I met her at Walmart and got him and brought him home," Byars said.
"No one knows for sure but I believe that he was dumped there."
Byars took him to get scanned for a chip and the vet found one. He tried contacting the owner listed on the chip, but got no response.
A New Home With Countless Adventures Ahead
So, the Byars family took in a new addition.
"Someone from the Red Oak Animal Shelter did try as well to get him, but he would run away from anyone trying to grab his collar. So many people tried for two weeks to get him, we all just wanted him to be safe and have a good home," Byars said. "When I saw the first picture of him, I knew that I wanted him."
Byars said they haven't had a test done to see exactly what breed of dog Buddy is, but noted that he looks like he is part Anatolian Shepherd and part Great Pyrenees. He said his chip has him listed as part German Shepherd also. He is 2 years old, his birthday listed on the chip is Nov. 1, 2020.
Both of the Byars' children are grown and Buddy has adapted well to his new parents.
"He fits right in and has become a great part of our family. He is a very calm, docile dog and LOVES to be petted, brushed or anything that requires us to show him attention," Byars said. "Patience and treats have helped get him to be okay with us not being home."
Follow Buddy's New Adventures On Facebook
As part of their new adventure together, Byars created a special Facebook page for Buddy and his new family. After all, it was through Facebook that they initially met. The page is titled Adventures With Buddy.
"I created the page because people were asking for updates on him, and with all of the things that were part of the process of making him ours, there were a lot of updates. And, after a few of his 'adventures' the first couple of weeks that we had him, I decided to make the page for those who wanted to stay up with him," Byars said.
Some of his "adventures" have been when buddy "escaped" out of the house, Byars said.
"The first time, I left a door to our guest room open and we had a window a/c in that room. He pushed out the side flap that closes the gap in the window and crawled out there,"
Byars said. "A neighbor texted me that there was a big dog laying in our yard. I got home and found him just laying in the yard, enjoying the sunshine. I expected to see a window broken out but it was just the plastic part of the window unit.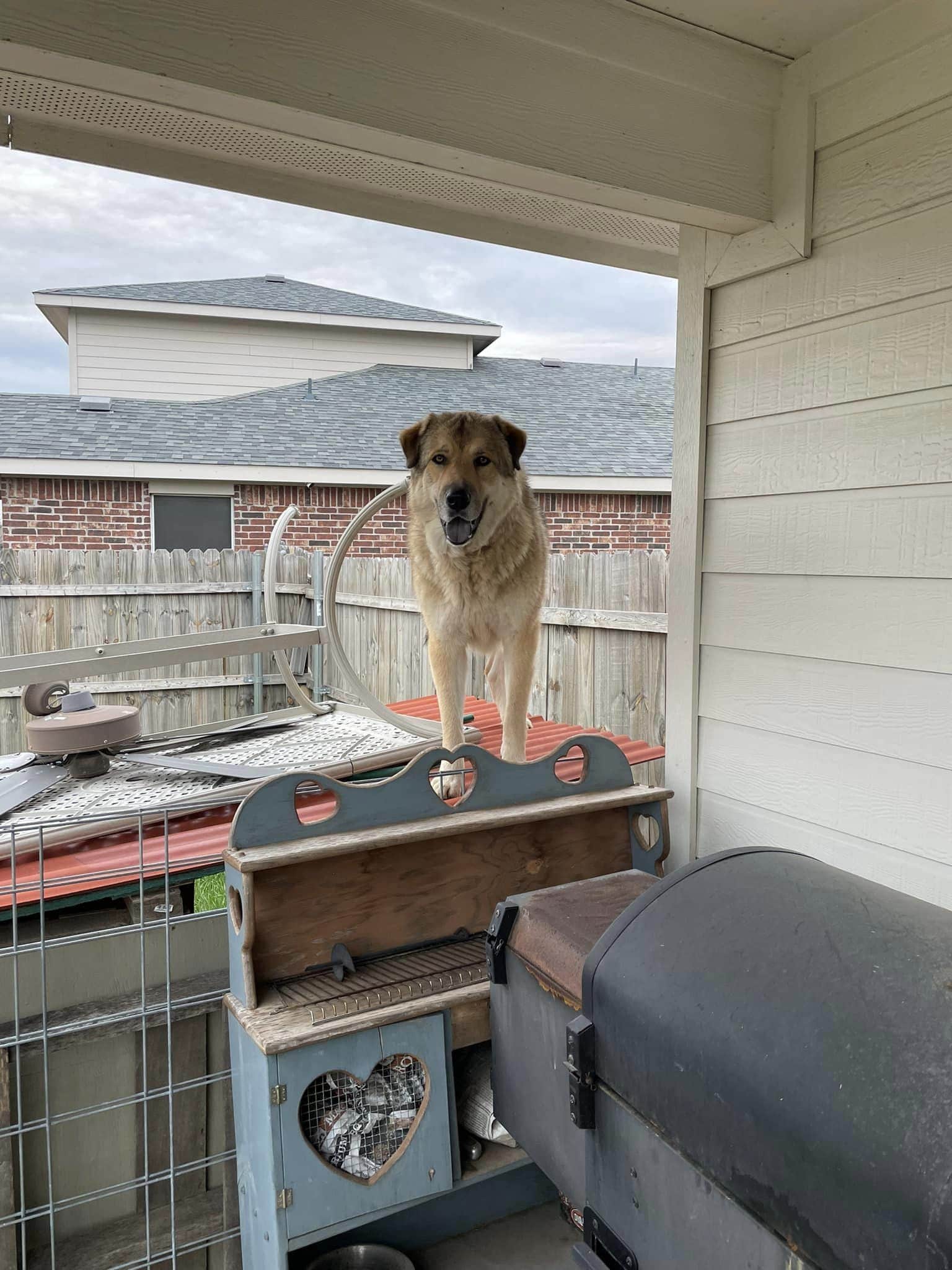 "We have also found him on top of the dog house, looking over the fence. He has crawled on top of our barbecue grill, and most recently I left him in the back yard while I was running errands. Our neighbor texted again to say he was out, and as I hurried home, I found him sitting in our driveway.
"I brought him back inside the house and looked around the backyard to see how he got out. There were no holes dug and no fence boards broken."
Buddy The Escape Artist
Byars said he has no idea how Buddy got out that time, unless he jumped or crawled over the fence. But Buddy always comes back to his new home. He is definitely their dog, but Byars said since the Red Oak community did so much to help him, he seems like a community dog.
"Between people who follow the page and those who are 'friends' on his page, there are about 200 people who read about his adventures," Byars said. "We have really enjoyed having Buddy with us and we look forward to watching him live out the rest of his life with his family who loves him."