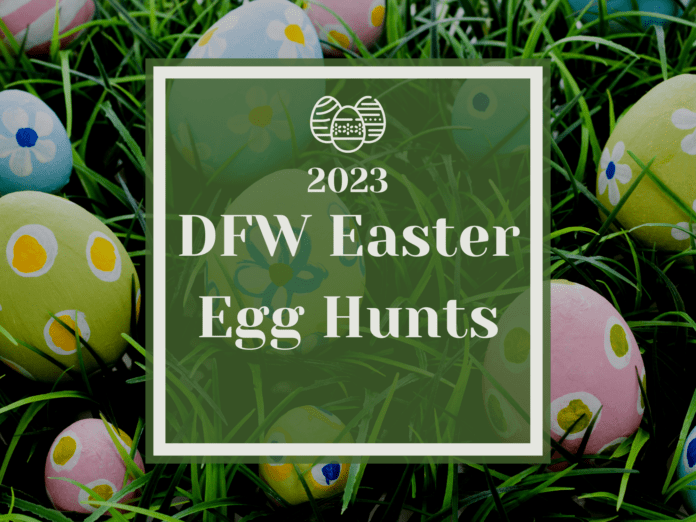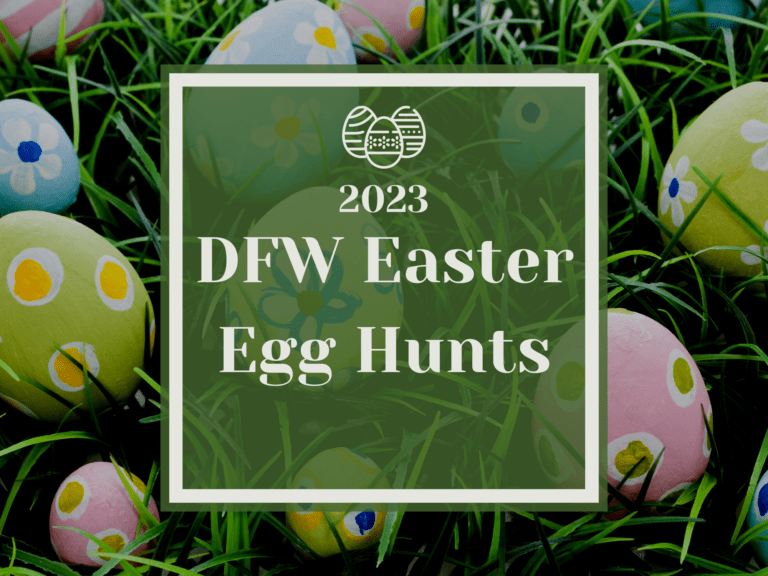 Your local stores are already stocked with Easter baskets, candy, eggs and more as April is right around the corner. Here's a roundup of local Easter egg hunts, Easter Bunny events and more.
Cedar Hill Easter Egg Helicopter Drop April 8, 2023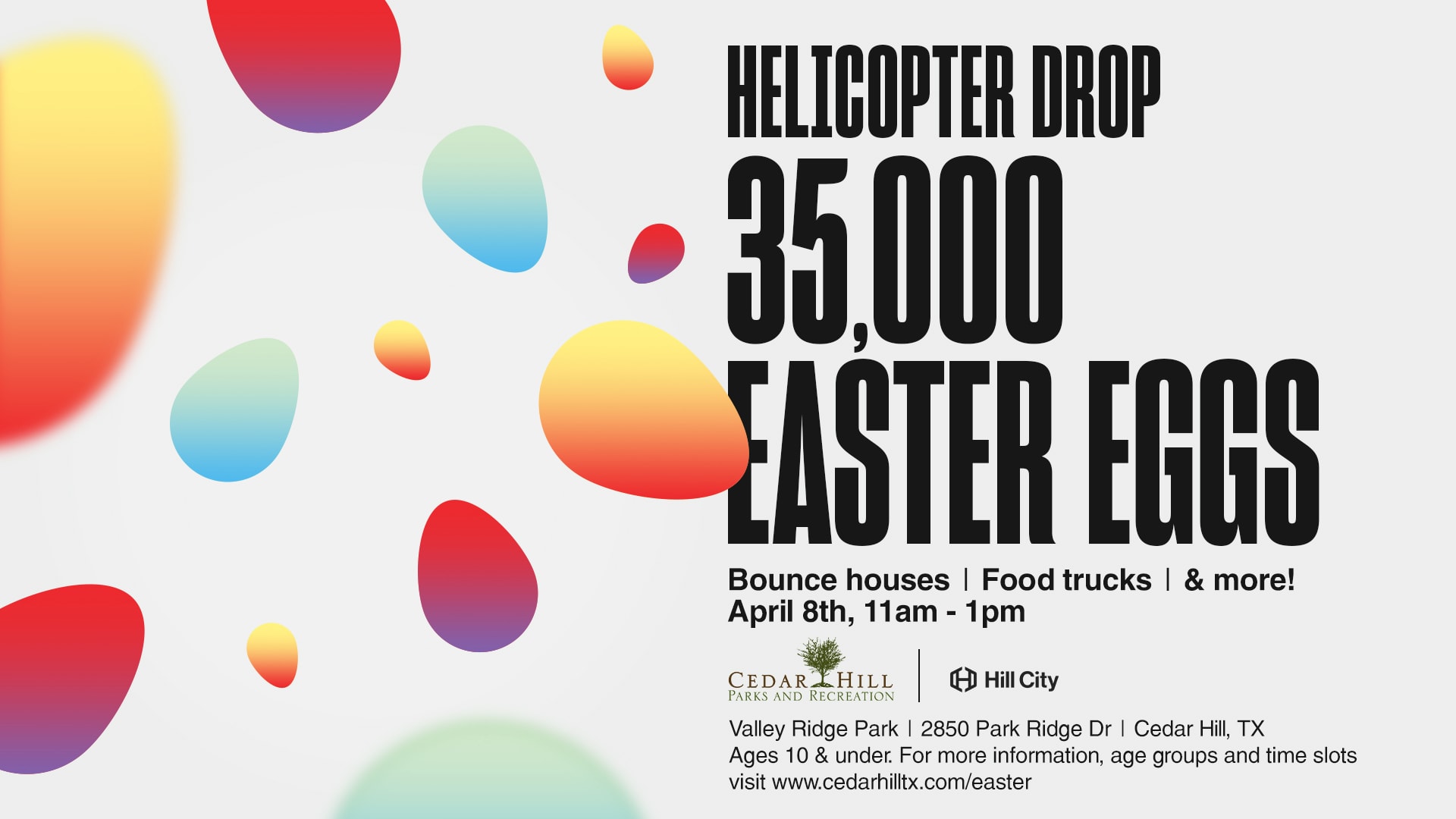 Don't miss the Easter Weekend Egg Hunt, a FREE event put on by Hill City in partnership with Cedar Hill Parks and Recreation. 35,000 EGGS will be dropped from a helicopter for children ages 10 and under! Enjoy food trucks, bounce houses and other family friendly activities.
Join us for the Annual Easter Weekend Egg Hunt, a joint effort between Hill City Church and the City of Cedar Hill Parks and Recreation Department. Enjoy family photos with the Easter Bunny, bounces houses and egg hunts galore!
Egg Hunt for Kids 10 Years & Under
Enjoy an Easter egg hunt for children ages 10 and under, food and other family friendly entertainment. Don't forget your favorite Easter basket to collect your eggs with! Children will be divided into age groups, and egg hunt times for each age group are listed below.
4 and Under
11:15a.m. on Fields 1 & 2
5-7 Years Old
11:40a.m. on Field 3
8-10 Years Old
12:00p.m. on Field 4
Parking Information
Parking is available in the Valley Ridge Baseball, Soccer, and Football parking lots.
For more info visit www.cedarhilltx.com/easter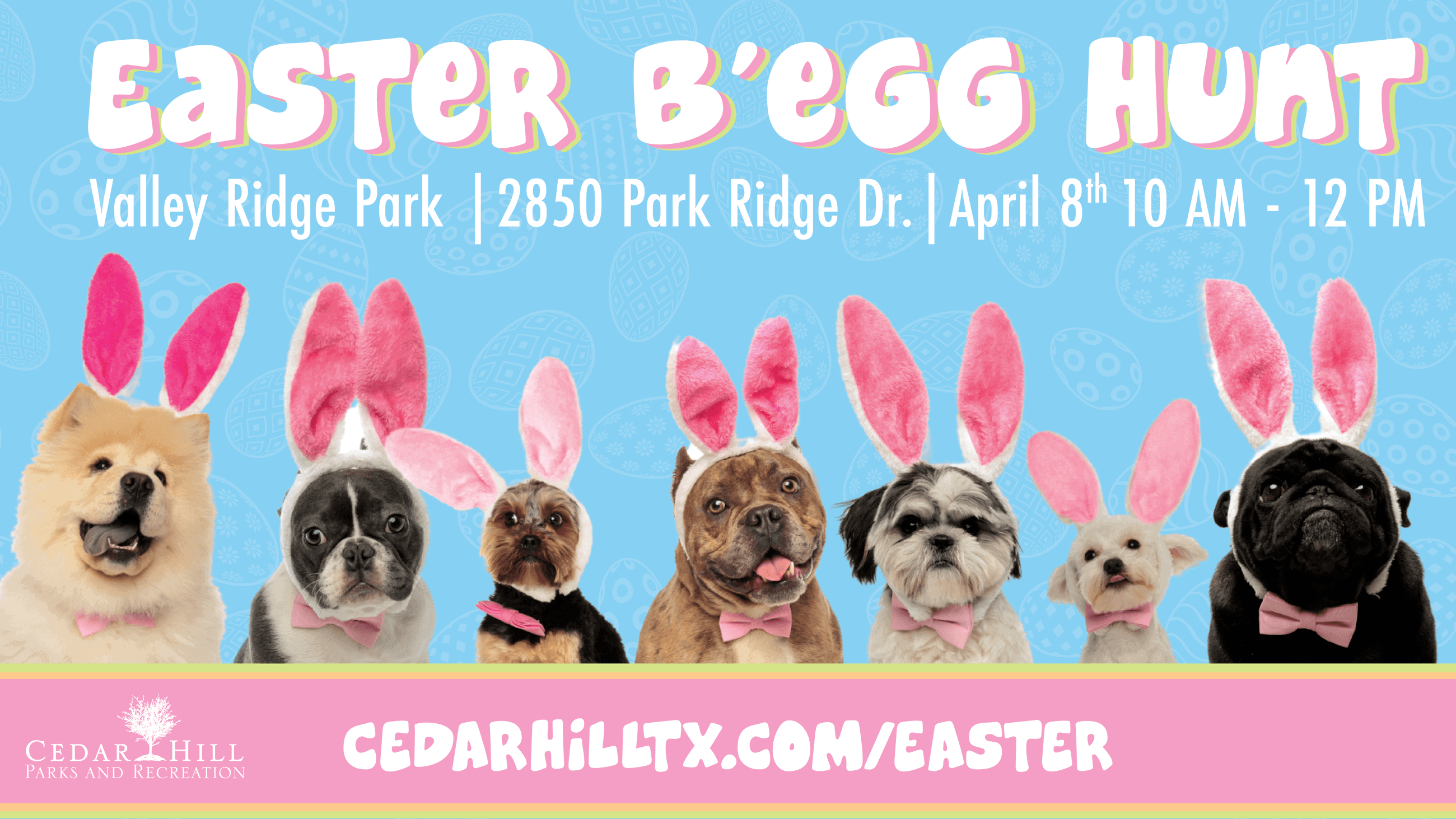 Saturday, April 8, 2023
10 a.m. to 12 p.m.
Valley Ridge Park
2850 Park Ridge Dr.
Free Event
Bring your dogs out to Field 5 for an Easter Egg Hunt of their own! Dog-treat filled eggs will be scattered around the field for dogs to discover, as well as getting a bag of eggs to take home, or use for pictures.
Dogs may be off-leash once they are within the gates of Field 5, but must remain on a leash at all times outside of Field 5.
DeSoto Easter Eggstravaganza April 1 9am-11am
The Easter Bunny is on the way! Join us for the Easter Eggstravaganza for children ages 10 and under. There will be lots of Easter eggs up for grabs, so hop on over to the fields at Zeiger Park.
Duncanville Easter Eggstravaganza April 8, 2023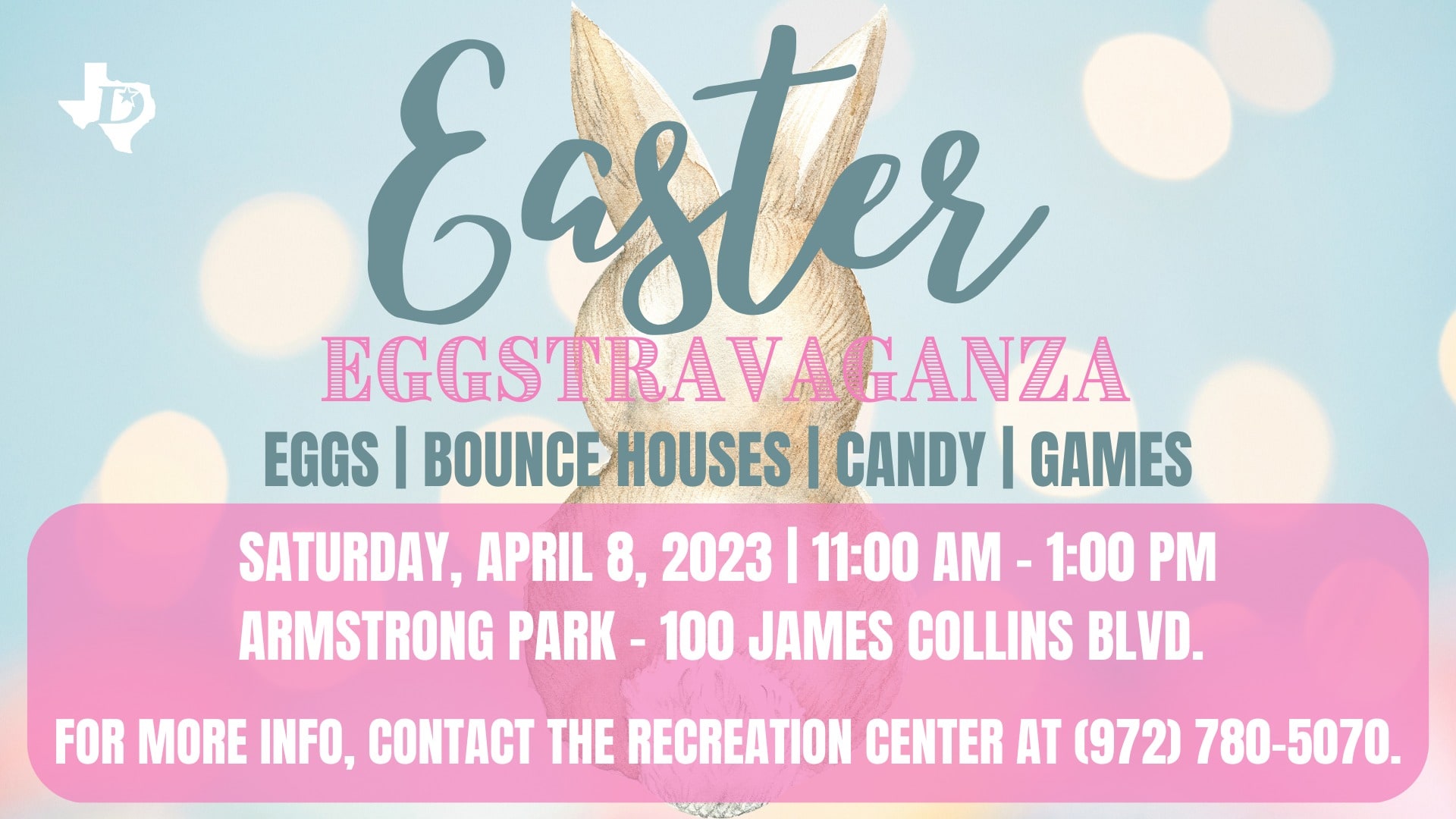 Join us for this year's Easter Eggstravaganza! The event will feature an egg hunt with over 15,000 eggs filled with tasty treats and goodies, fun games for the kids to enjoy, bounce houses, music (DJ), and the Easter Bunny! Be sure to bring a camera to capture all those special Easter moments in Duncanville's beautiful Armstrong Park. For more information, contact the Recreation Center at (972) 780-5070.
Date: Saturday, April 8, 2023
Time: 11:00 am – 1:00 pm
Location: Armstrong Park, 100 James Collins Blvd.
Cost: FREE
Lancaster EGGSTRAVAGANZA & ARBOR DAY CELEBRATION EVENT April 8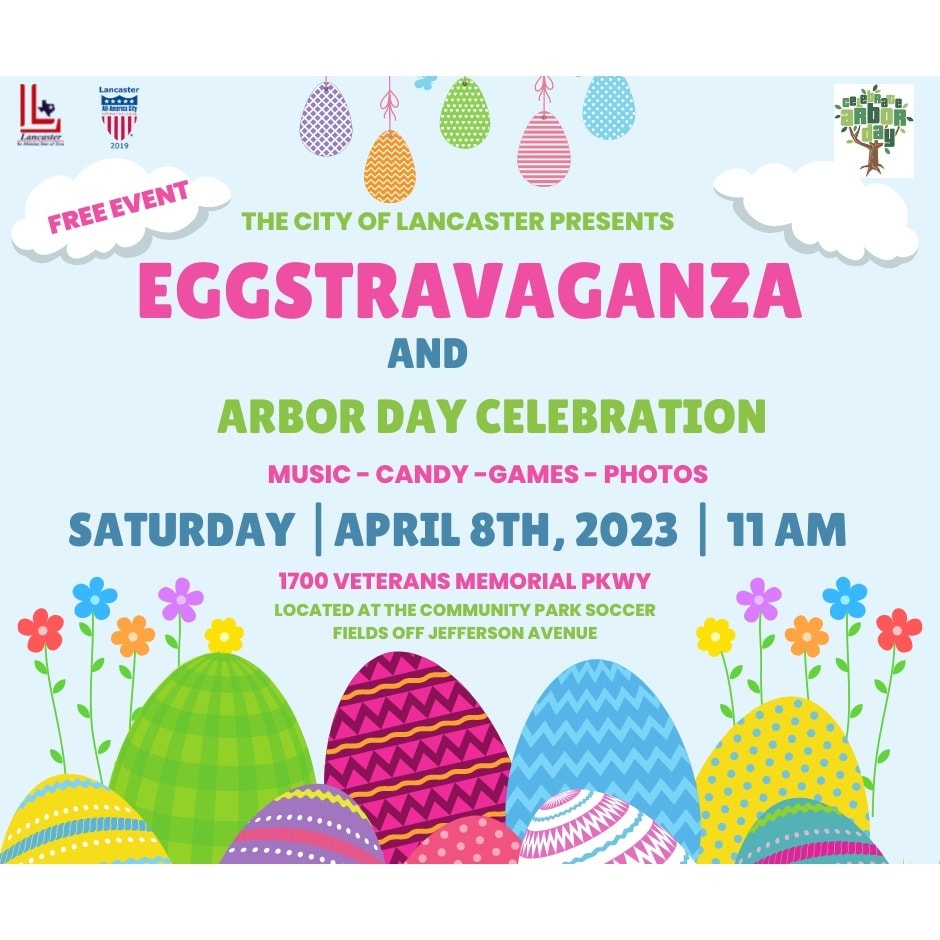 EGGSTRAVAGANZA & ARBOR DAY CELEBRATION EVENT!! 🐣
The City of Lancaster will be hosting their annual Eggstravaganza & Arbor Day Celebration!
An event filled with music, candy, games, photos, and many more fun activities.
This event will take place on Saturday, April 8th, at 11am.
Make sure to come out and enjoy all the fun!
Midlothian Community Egg Hunt April 1, 2023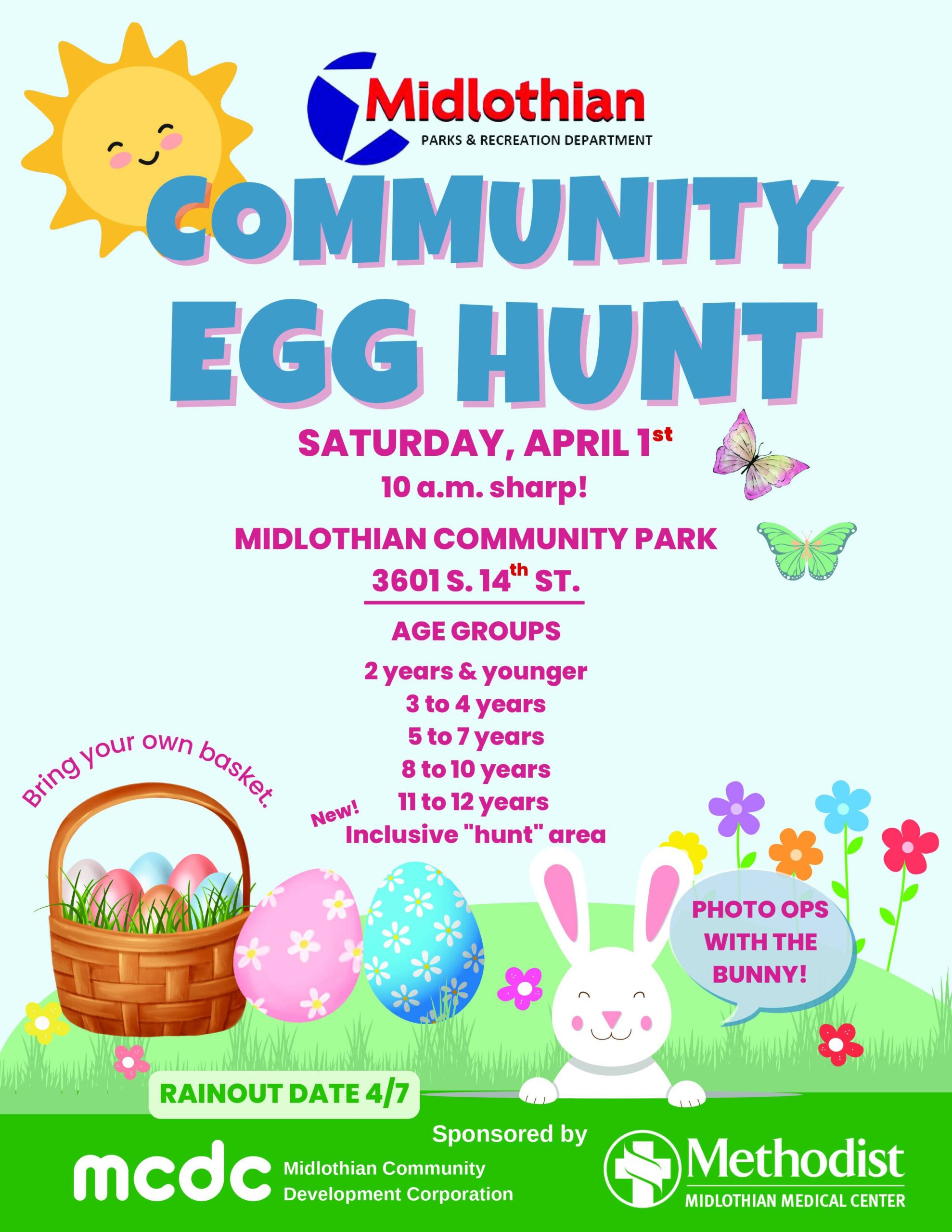 Community Egg Hunt, Saturday, April 1, 10 a.m. sharp, Midlothian Community Park baseball fields, 3601 S. 14th Street (note the new location). Join us for a fun scramble to collect toy-filled eggs and prizes scattered across the baseball fields. Children are organized by age groups, beginning with age 2 and younger through 11- and 12-year-olds. There also is a new "inclusive" hunt area for people with special needs.
The Egg Hunt begins promptly at 10 o'clock, so arrive early to allow time to park and find the field for your age group. Bring your baskets to carry the eggs. Mr. & Mrs. Bunny will be available for photos following the hunt. In case of rain, the hunt will be rescheduled to April 7 at 10 a.m. The Egg Hunt is made possible by our sponsors Midlothian Community Development Corporation and Methodist Midlothian Medical Center.
Groups in separate areas:
​ 2 years and younger (purple field)
​ 3 years – 4 years (light pink field)
​ 5 years – 7 years (light green field)
​ 8 years – 10 years (magenta field)
11 years – 12 years (gold field)
Bring your baskets and cameras!! The Easter Bunny will be available for photos following the hunt.
​​**Rain-Out Date: April 7, 2023 at 10:00 a.m.
Lone Star Cowboy Church of Ellis County EGGSTRAVAGANZA (Red Oak)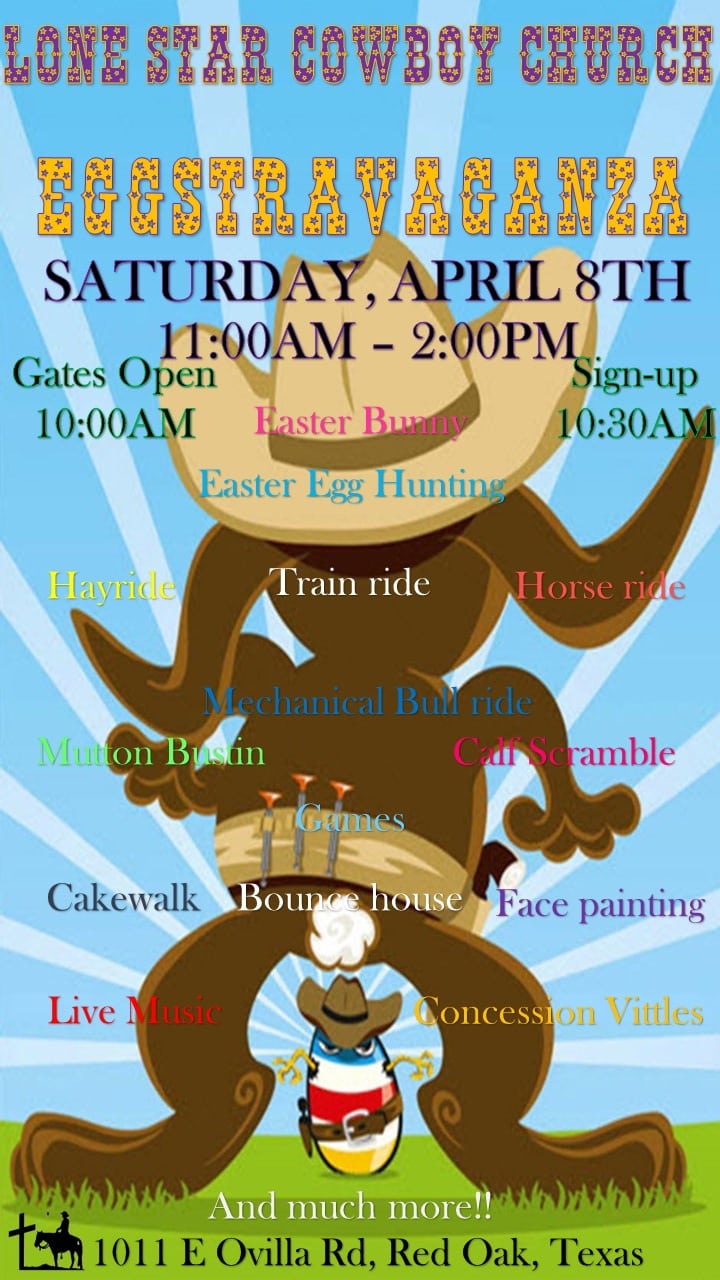 1011 E. Ovilla Rd, Red Oak, Texas 75154
SATURDAY, APRIL 8TH 11:00AM – 2:00PM GATES OPEN: 10:00AM
SIGN-UP STARTS: 10:30AM (Main Sanctuary) All Participants MUST sign a waiver and all Minors (17 & under) are REQUIRED to have waiver signed by Parent/Legal Guardian.
Come One, Come All….everyone is welcome. Eggs, bunny rabbit, candy, oh my! Join us as we celebrate Easter Eggstravaganza!
Cakewalk Bounce House Hayrides Horse Riding Mechanical Bull Ride Mutton Bustin' Train Ride Games Roping Dummies Live Music Easter Egg Hunting Calf Scramble Lawnmower Race …AND MUCH MORE!!!
Concession Stand (Tan Building) will be open at 11:00am for those who would like to have snakes or lunch. Brisket Sandwiches, Hamburgers, Hot Dogs, French Fries, Nachos, drinks, and etc.
Sims Library Easter Egg Hunt April 1st. 10:30am.
Sims Library
515 W Main St, Waxahachie, TX 75165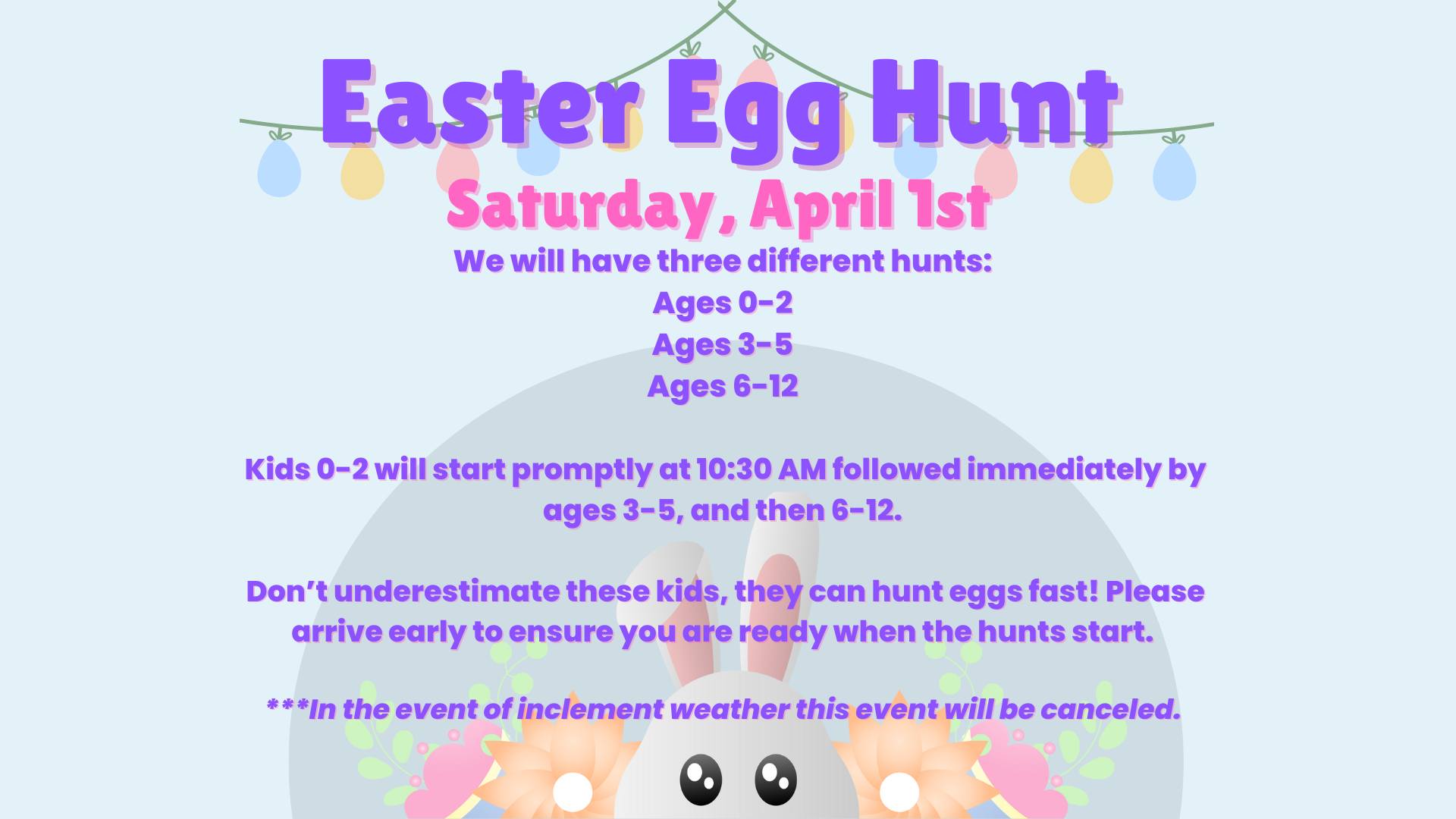 Join us on Saturday, April 1st at 10:30 AM for our annual Easter Egg Hunt!!! We will have three different hunts:
Ages 0-2
Ages 3-5
Ages 6-12
Kids 0-2 will start promptly at 10:30 AM followed immediately by ages 3-5, and then 6-12.
Don't underestimate these kids, they can hunt eggs fast! Please arrive early to ensure you are ready when the hunts start.
*In the event of inclement weather this event will be canceled.