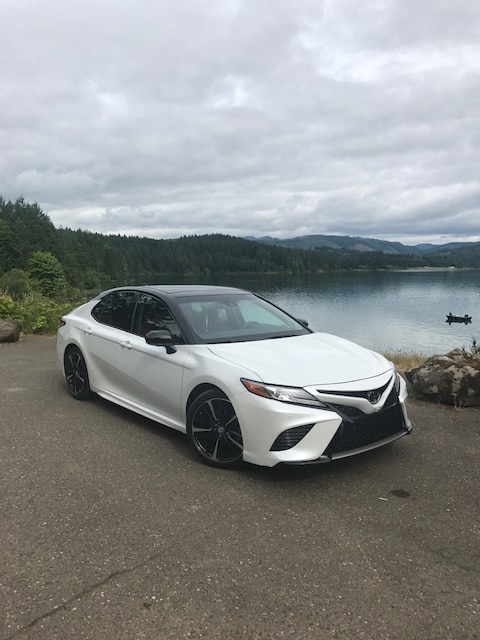 2018 Toyota Camry Breaks The Mold
During the launch event of the 2018 Toyota Camry I felt that it was extremely likely it would garner my vote for Car of the Year. I was right. I did not drive any other new 2018 model's that I felt surpassed the Camry in terms of comfort, amenities, power, and yes, fuel economy.
Toyota recently provided me with a week-long test drive of the new 2018 Toyota Camry XLE Hybrid model and it was evident that Exxon/Mobil stockholders would hate Toyota even more when the fuel economy figures for this new sedan becomes more well known. The EPA provides figures of 46 mpg overall and 44 city with 47 during highway driving. Needless to say, we drove the heck out of this new Camry during our week and were able to pass every gas station with a smirk on our faces saying NO, not stopping with this sexy new sedan.
A Sexy Sedan With Personality
Did I say sexy new sedan? Sedan? Was I in a Toyota? Why, yes! Toyota broke the mold with this new 2018 Toyota Camry. The styling is nothing like the boring vanilla Toyota's of old. It actually has lines and was created to dazzle rather than to blend in. I will admit to never considering putting any Toyota into my stable of vehicles. That changed when the design engineers decided they would venture forth creating vehicles with personality.
I admit to loving the styling of a couple of new Toyotas – the C-HR and the new Camry. Toyota has followed through by providing more performance aspects than they have in the past as well. My new hybrid may not snap anyone's neck when the accelerator is punched but the dual-injection feature on the 208 hp engine does mean that I felt no apprehension when moving from the service road onto the freeway.
Bill Fay, Toyota Senior Vice President of Automotive Operations, had related to us during the Camry launch event in mid-2017 that there were a number of changes in strategy for the automaker coming beginning with the new Camry. He said this would encompass how design and engineering of vehicles is done so a fun driving experience would join with the traditional quality, safety and reliability of every Toyota. He said "this will be the best Camry ever and it will become the benchmark in the mid-size sedan segment."
Camry Trims and Options
There are five grades non-hybrid Camry models available – the L, LE, XLE, SE and The SE and XSE have much more daring design cues, while the other three models tend toward coming closer to satisfying those who don't want to venture quite as far into the wild side. Three power-trains are available, starting with an all new 2.5 liter inline-four and progressing up to a new 3.5 liter V6 with D-4S Fuel Injection. Both of these are paired with a new eight-speed direct-shift automatic transmission. My test hybrid had a CVT transmission rather than the automatic and came with EV, narmal, sport and eco drive modes.
Of course, it had almost every option that one could expect on a new Toyota and I loved them all. The total price of the Hybrid XLE sedan MSRP'd at $37,640, an increase over the base price of $32,250. The options which drove the price up were the Driver Assist Package including the bird's eye view camera and the audio package including Entune with JBL speakers. The tilt/slide moonroof was also included as were adaptive headlights.
This is the first Toyota sedan I would be proud to park in my garage – not a small admission on my part. I heartily recommend anyone in the market for a sedan test drive one!