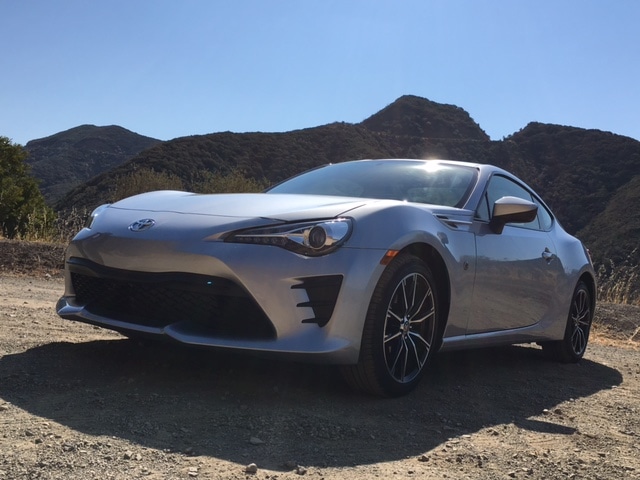 2017 Toyota 86 A Fun Car On The Roads
My day at the Ojai Inn and Spa began with a choice of four new Toyotas to drive. Ah, but which would be first? My selection actually didn't require a lot of thought! Sure, the Toyota Corolla is the top selling vehicle of all time with over 43 million sold. Yes, the Highlander and Highlander Hybrid are gorgeous and offer the comfort of their Lexus cousins. Who can deny the Sienna as one of the top minivans still travelling American roadways?
But ….when faced with which would be taken on the road first it just had to be the new 2017 Toyota 86. You might say, my lead foot insisted! My drive partner and I headed straight for the mountains so we could test the mettle of this sports car on highway 33 as it wound its way around curve after curve ever upward.
I admit it took us a while to recognize the artistic badging on the 86 steering wheel and glove box … in fact, it was Stephanie (Brimley) that actually saw it jump right up on her when we stopped for photos at a mountain apex. As she was photographing the car, she exclaimed "It's an 86! I looked at her, a bit bewildered and thought "Yes, that is what we've been driving!"
"The badge! The logo!" She exclaimed again. "Look, the first two letters which we were thinking were two D's are an 8 and the adjacent two letters are a six!" She was right. Outside, in the light, the 86 was plain and easy to see. Someone with a real creative artistic eye had created a logo that speaks volumes about the fantastic vibes the vehicle transmits when behind the wheel.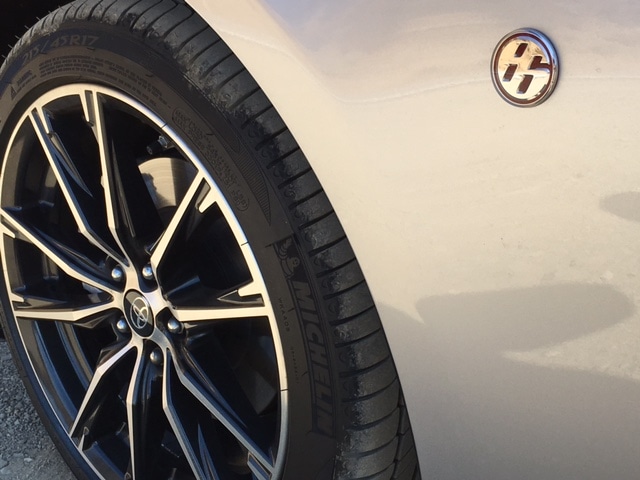 Stephanie accelerated through every curve coming up the mountain and I did the same on the return trip down. We were in love with this happy little 2.0 liter 86 bore and stroke powered sports car. While some of us stateside may not understand the background of why a vehicle like this would be named the "86," it makes a lot more sense in its native Japan. AE86 is the global name for the Toyota Corolla GT-S sold two decades ago. The Japanese terminology for it is "hachi-roku," which translates to 8-6.
We found the control and performance excellent on our drive, just as we were told it would be in our press materials. The Toyota 86 is available as both a six-speed manual and as a six-speed automatic with paddle shifters. Horsepower is rated at 205 and torque at 156 lb-ft. Both are fantastic for a vehicle the size and weight (2,774M and 2,815A) of the 86. Fuel economy is excellent for a sports car with 21/28 for the manual and 24/32 for the automatic.
The interior is spacious for its size. The base model is equipped with a seven-inch touchscreen display including a rear-view camera, eight-speaker Pioneer audio, Bluetooth, HD Radio, iPod connectivity and USB input jacks. The optional navigation system features push-to-talk voice nav and geo-located points-of-interest to help you find what you are looking for even if you don't know the address. Google Play, iTunes and Aha also gives access to 100,000 audio stations as well as TripAdvisor, sports, news, entertainment and a number of social media applications. The phone book holds up to 2,500 contacts.
The Toyota reputation for quality, reliability, and economy just might lead to putting sports car styling and performance into your garage!