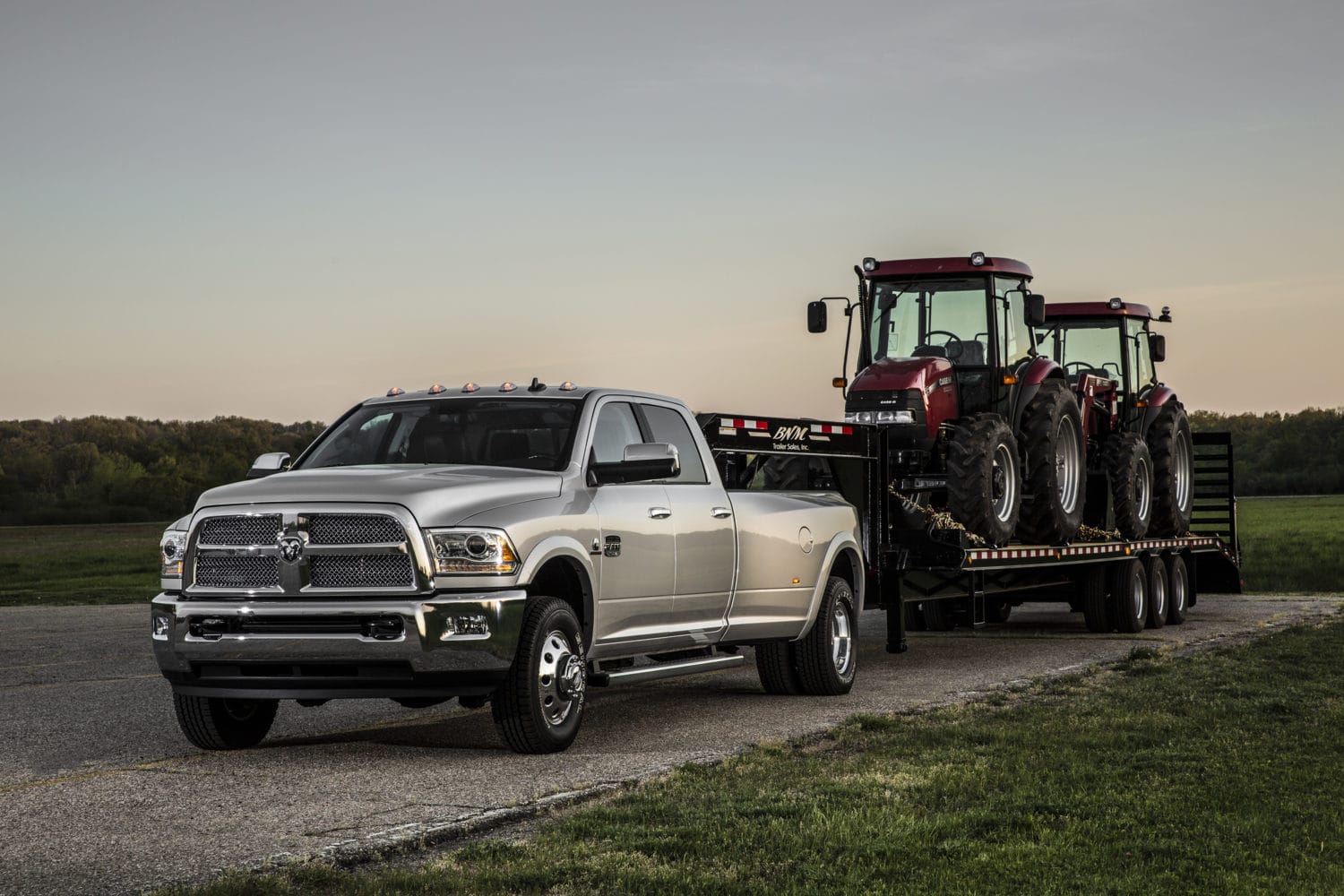 2017 Ram 3500 Limited Mega Cab 4×4- A Helpful Beast
Wow! My recent test vehicle was big. In fact, the 2017 Ram 3500 Limited Mega Cab 4X4 is a beast. To the best of my memory, it may be the largest and most expensive test truck I've had for a press loan. This dually was large in size and power, but also in its ability to perform in south Texas and help out when necessary after Hurricane Harvey.
Yes, I have driven large trucks and towed heavy trailer loads. During my late college years, I actually carried a Texas Commercial Driver's License, earning tuition money by driving a large delivery truck for a lumber yard. When this monster Ram 3500 was delivered, I took a couple of deep breaths and adjusted the seats, mirrors, pedals, and steering wheel several times before actually shifting into 'drive' mode.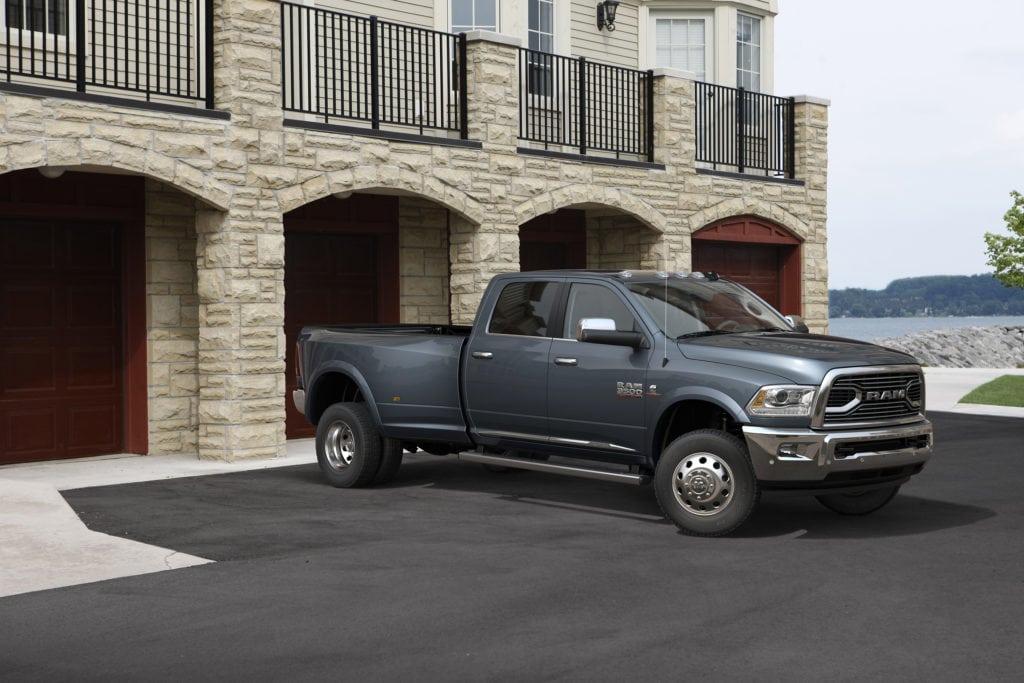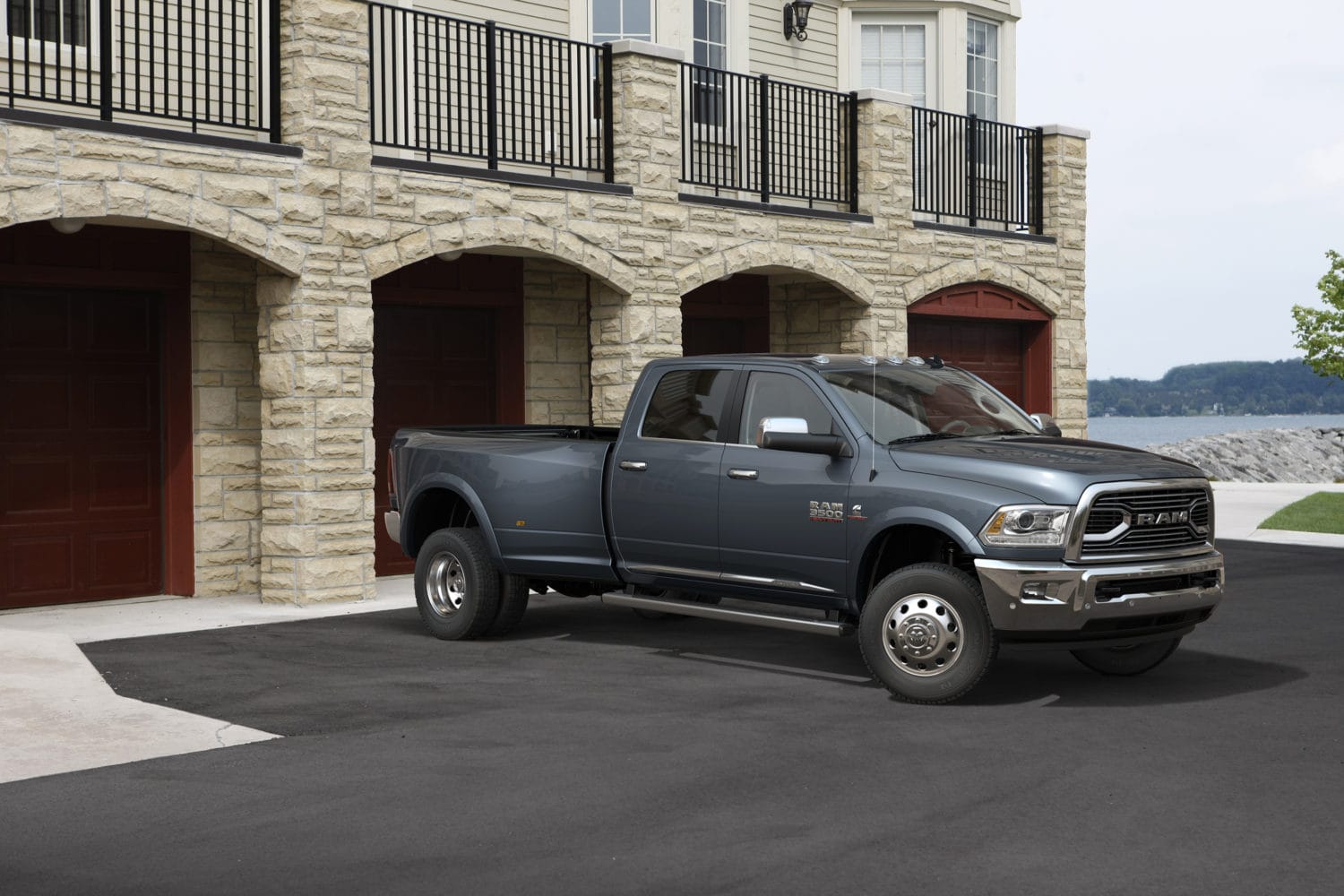 The actual trim model name of the test-drive pickup truck was a Laramie Longhorn, powered by a hunky 6.7-liter Cummins diesel turbo engine. The word 'Mega Cab' in the title denoted that even the interior was huge and offered up a lot of space. All of this came with a price – it was reflected in the bottom sticker amount of almost $82,000. A princely sum for a pickup truck.
The Ram 3500 Mega Cab Limited Heavy Duty 4×4 Limited Laramie Longhorn with a Cummins diesel engine is the largest vehicle at Fiat-Chrysler (FCA) dealerships. There is no doubt this a truck designed for work over just eye candy in your driveway. It tows almost anything and hauls almost anything.
Powered By A Cummins Diesel
The Cummins 6.7 diesel turbo engine provides 385 horsepower and 900 lb-ft of torque. Most folks do not pay a whole lot of attention to those torque ratings, but when you talk about heavy duty towing and hauling, it is the torque that actually makes everything do heavy duty work. That 900 lb-ft is a big number and reflects the ability of this monster truck to tow and haul so much. It constantly felt like there was so much power to spare and that I was barely scratching the surface.
For 2017, there is not a whole lot of change from the 2016 model Ram 3500. The most significant item to note was a new Off-Road Package for the four-wheel-drive equipped versions. The test-drive model had an added 'Limited Package' which added four cargo tie-down hooks, a cargo bed divider-extender, automatic high-beam headlights, heated second row seats, heated steering wheel, a chrome grille, leather bucket seats, rain-sensitive wipers, ventilated front seats, and more. Other add-ons included a 5th wheel goose-neck towing package, tri-fold tonneau cover, rear window defroster, powered sunroof, auto-leveling rear air suspension, chrome tubular side steps, and more.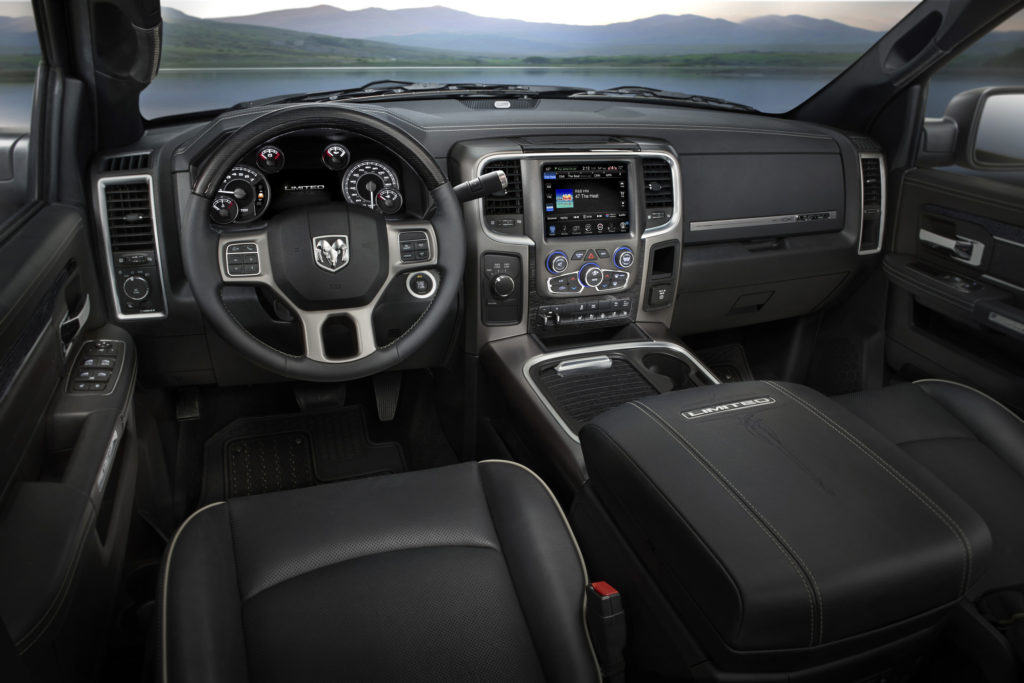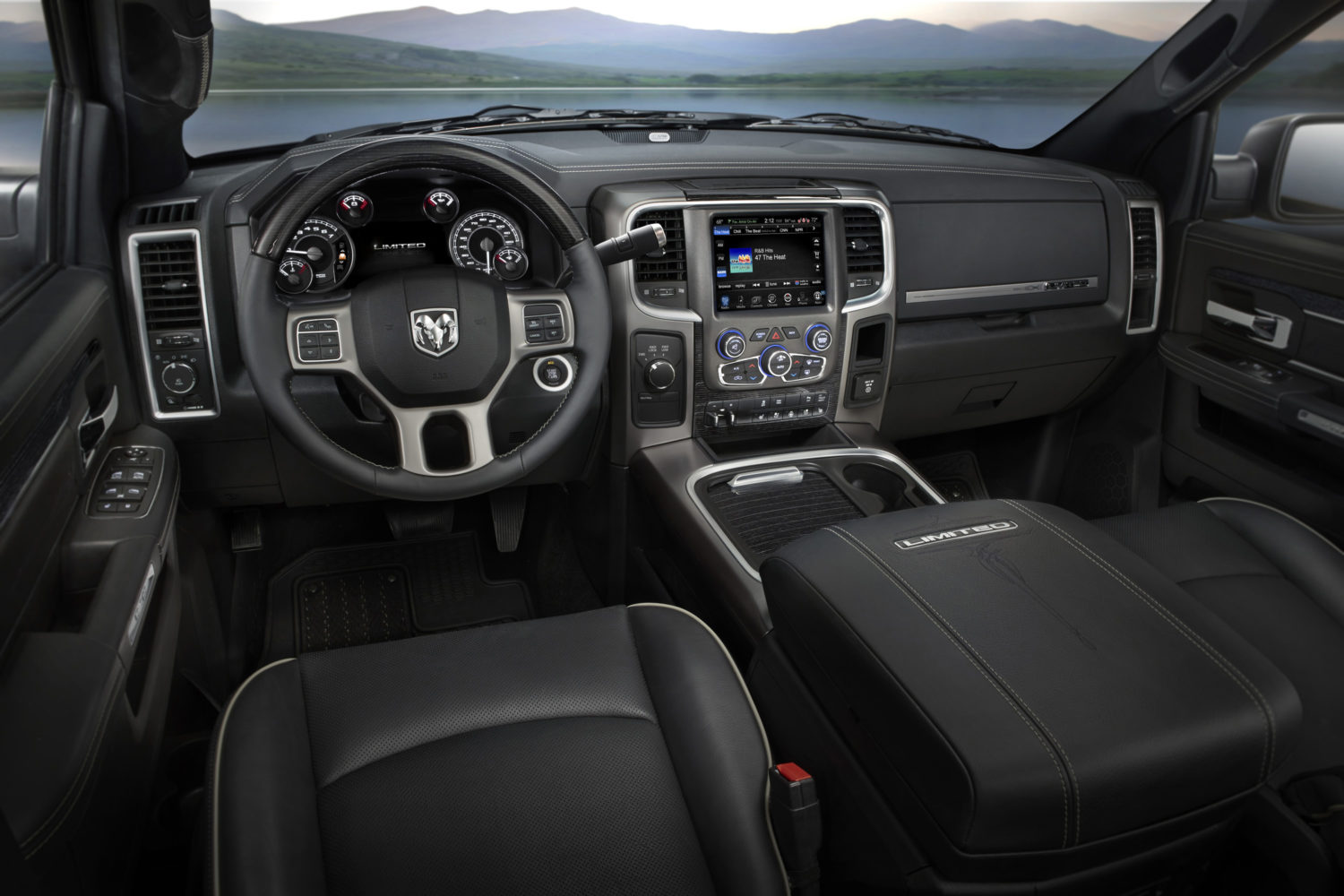 The base MSRP for the Ram 3500 Laramie Longhorn Limited Mega Cab 4×4 was $60,175, but all those add-on extras bumped the price upwards. It is interesting to note that most of the extra costs were not 'nice-to-have' or user-friendly technology items, but real-life work solution items for a heavy duty working truck. The destination for this big truck was $1,395 so the bottom sticker price topped out at $81,900. Large trucks do not require EPA mileage ratings, but I averaged about 14 mpg overall for the week.
Post Hurricane Harvey Blessings
Fortunately, this loan's timing was a blessing, with the heavy-duty monster arriving slightly after hurricane Harvey hit the Texas Gulf coast and prior to any storms moving northward. The swirling pattern eventually hit the East Texas area and the northern edge swished somewhere between Palestine on the north and Crockett on the south. Winds weren't too damaging, mostly downed limbs and a few blocked roads. Obviously, there was no storm surge this far inland, but the rain was sufficient enough for most of the Pine Country Radio area to be placed under a National Weather Service Flash Flood Alert. My property had almost 9-inches of rainfall in just a 24-hour period. The back-area county roads are mostly graded dirt and are designed for all-weather passage, but that much rain causes slipping and sliding.
Coming home from Sunday morning church, Judy and I came upon a small vehicle stuck in a ditch, having slid off the muddy road. We stopped to ask if help was needed, and discovered the driver was a teenage girl who was a nearby neighbor of ours. We waited with her until her mom and dad showed up in a smaller pickup. I positioned the Ram 4×4 dually, the dad hooked up a long chain, and in just a few minutes the Ram easily pulled the girl's vehicle out of that ditch. Another day, it was necessary to move some heavy wrought-iron fencing materials for quite a distance. Hooking up a 16-foot flatbed was simple, the fencing was loaded, the lights worked, and we were on our way without even the slightest hiccup.
Is The 2017 Ram 3500 Dually Right For You?
The Ram 3500 is a work truck and proves itself over and over. Which it especially did during the test-drive time during Hurricane Harvey's dumping of rain on East Texas. Is this a perfect truck for everyone? No. In fact, the exterior appearance is aging slightly. The heavy-duty Ram 3500 probably needs a good make-over inside and out.
While the lack of technology in the truck isn't a big factor to a lot of the current drivers, younger drivers are significantly aware that the Ram 3500 does not have as much as some other trucks. Maybe, just maybe, the Ram engineers will add a few more items that attract younger drivers. Do not forget, they will be getting older and they like a lot of technology in their vehicles.
I was glad to test-drive the 2017 Ram 3500 Limited Mega Cab 4×4 Laramie Longhorn Heavy-duty Pickup for a week. It is intimidating yet overwhelming powerful. A highly capable pickup which easily accommodates up-fitting to meet the needs and demands of the working driver.
Bottom line: This Ram 3500 is not a toy to be used for playing on weekends. It is built for power to tow and haul, but doesn't compromise comfort for function.