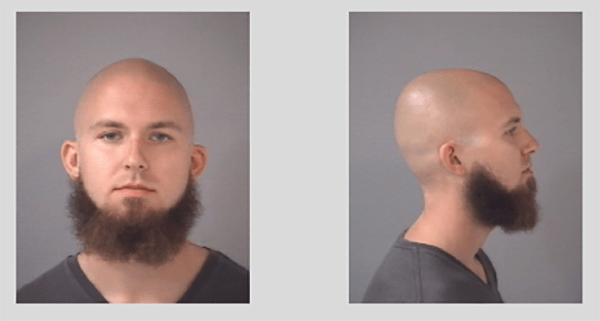 CEDAR HILL—Thursday afternoon Cedar Hill police arrested a teacher's aide after reports of a year old improper relationship with a student came to light. According to arrest affidavits, Cody Hunter McMillen, 23, is now in Dallas County custody being held on $25,000 bond.
While it has not been disclosed how evidence was discovered by school officials, police say they were notified by a Village Tech School official Saturday, October 14. Lieutenant Colin Chenault says that additional details about the incident were provided by that same school official the following day.
During the investigation, detectives discovered initial contact with the student occurred via sexually explicit text messages beginning in March 2016 and continued until June 2017.
The messages described sexual acts that the aide wanted to perform on the student, who was 16-years-old when the text messages began. At this time, there is no indication that physical contact occurred between the teacher's aide and the student.
On Monday morning, October 16, detectives met with school officials and interviewed McMillen. Information gathered during the interview substantiated the nature of the relationship between the aide and student. Police immediately contacted the involved student and attempted to locate others who may have been inappropriately contacted by the aide.
According to a statement from police, McMillen could have also made similar unwanted advances to fellow staff members. But those claims were not confirmed by press time.
Police Make Arrest Without Incident
After consulting with the Dallas County District Attorney's Office, an arrest warrant was obtained. McMillen was set to face the charge of Improper Relationship with a Student according to Focus sources. According to Texas Penal Code 21.12, it is a second degree felony with a punishment of a state jail term of no more than 20 years or less than 2 years.
October 19th, detectives arrested McMillen at his home in Duncanville without incident and transported him to the DeSoto City Jail. He has since been transferred to the Dallas County Justice Center.
He has no prior criminal charges on record.
Located in Cedar Hill, Village Tech Schools is a tuition-free, public charter school serving grades PK4-12th. The institution opened its doors in 2013.
"Cedar Hill Police remain fully committed to working with all of our education partners to help keep students safe." Said Cedar Hill Police Public Information Officer Lieutenant Colin Chenault in a statement to the media Thursday evening.