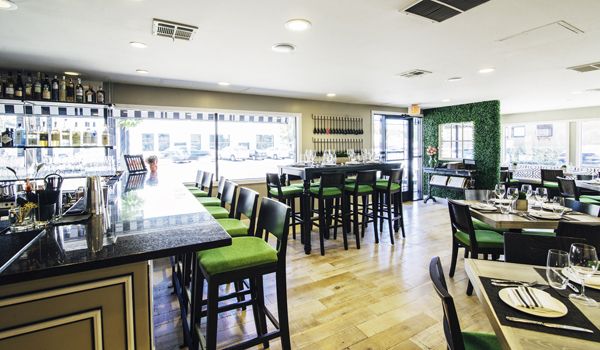 It's that time of year, and for every box of chocolate or over-sized stuffed animal you give the one you love, just as many men and women are going to be thinking where is the "perfect" place for the Valentine meal not to be forgotten. We've summed it up for you here so you can just make a reservation and be done.
Checkered Past Winery
When Checkered Past Winery located in Dallas on Lamar Street opened in early December in the historic South Side building the owners already knew they wanted their little wine establishment to be much more than just a place to drink just any 'ol wine.
Nope, co-founder, owner and winemaker Sandro DiSanto, who is a first generation American with roots in Sicily wanted the place to promote Texas wines.
With that in mind he and his partner/General Manager, Carolynne Chancellor looked for not only Texas wines, but Texas wines that are easy to drink.
DiSanto, Chancellor and a third partner have been working toward opening Checkered Past Winery since 2008 and with the doors now open folks can enjoy wines from Red Caboose in Meridian, Texas as well as wines from not only Burleson and Texoma, but also the popular Central Texas town of Fredericksburg. Of course, there are also wine choices from outside of Texas and as far away as Italy and France.
Chancellor also has a vineyard in nearby Tyler, Texas so the wines at Checkered Past Winery also emphasis that and you can even find organic wines on the menu too.
Don't mistake Checkered Past Winery for just a tasting room either, it's more than that. With a menu that serves a cheese and charcuterie board, scrumptious Goat Cheese Stuffed Peppadew Skewers and even a Baby Arugula Salad for finicky eaters, there is something everyone can enjoy.
Beer is also served alongside the wine and food. It's local too from Fort Worth's Rahr and Son's Brewing Company, Lakewood Brewing, Community Beer Co. and Deep Ellum Brewing Co.
Billed as an underground bar expect lots of metal and wood used for the table tops, large concrete pillars in the middle of the floor and the artwork is worth checking out in this 2,500-square-foot space too. There are not only recycled tires on the walls, but scooters too, sort of the logo for the place overall. The industrial feel suits the Checkered Past Winery well complete with a laid-back vibe and a good place to hang for the evening.
Julia Pearl
What type of city would Dallas be without some good 'ol Southern cooking? Comfort food is all about feeling good and at Julia Pearl Southern Kitchen there's no way you will feel anything but good after you have eaten there. Well, good and satiated after a serving of Deviled Eggs complete with crispy chicken skin or maybe the Balsamic-Honey Glazed Pork Belly with sweet potatoes shaved with apple Cole slaw.
And that all before you even dig in for the good part.
Sure, there might be other southern style kitchens around, but "Top Chef" contestant Tre Wilcox isn't involved in those restaurants is he? Neither is Julia Pearl Chef Jermaine Brown who is officially helming the kitchen.
Both chef's haul from Chef Kent Rathbun's Abacus Dallas, but they have a long list of successes otherwise on their resume. Chef Brown began his days at Brennan's in Houston and has worked his way up at some impressive award-winning restaurants in the area. As for Chef Wilcox, he also spent time at Loft610 and Marquee Bar and Grill before landing at a place that even your granny would approve.
Actually located in Plano, Wilcox created the menu at Julia Pearl with a nod to southern inspired family recipes that come straight from head guy Darcy Dudley and his wife's family matriarchs, Julia and Pearl.
The Julia part of the menu is traditional southern cooking, but the Pearl part of the equation cooks in a more modern taste for folks to enjoy.
Entrees are rich in flavor like the Julia Pearl's Southern Fried Chicken, Cornmeal Crusted Catfish and there is even Grilled King Salmon. Add to that a smattering of biscuits, fried okra, whipped potatoes and collard greens, just to name a few sides and you have a full-on down home meal.
The dessert of choice is Pearl's Red Velvet Cake with white chocolate sauce and vanilla ice cream to top it off, but the Lemon Pound Cake or the Banana Bread Pudding is also worth saving room for too.
In the 6,000-square-foot space the dining room is charming, but the bar will also be calling your name. Special southern-inspired drinks rate high like Pearl's Old Fashioned mixed with Jacob's Ghost (Jim Beam) White Bourbon, Bitters and Orange Slice or Julia's Ruby Red Cocktail featuring grapefruit juice, Deep Eddy Vodka and St Germain.
Located at 2301 N. Central Expressway off I75 and Parker Road check Julia Pearl Southern Kitchen out for a meal that you will definitely be inspired to try and recreate at home.
Hickory
Much loved Executive Chef and creator of Dallas restaurants Abacus and Jasper, Kent Rathbun is at it again with his latest offering, a new restaurant called Hickory. Located in the perfect location off the North Dallas Tollway in Plano's Shops at Granite Park, it's not burgers and barbeque as usual here since these Rathbun favorites are served up in a 6,500 square-foot restaurant that has the perfect roadhouse vibe. Lots of wood and metal combined with custom lighting and an overall industrial aesthetic was included in the design as were 50-inch screens hanging on the walls throughout so customers don't have to miss any game or sporting event ever.
No stranger to the Rathbun concept, General Manager Dennis Egert and Chef Cuisine Jeff Qualls are at the helm here handpicked for their unique brand of leadership that fits well with Rathbun's latest concept.
"We're excited to bring together these two great staples of Texas cooking in an elevated, full-service setting," Rathbun said.
With a 1,374 square-foot patio for enjoying the menu and the bar options, there is not only a fireplace to set the laid back mood outside, but also picnic tables and a lounge area. Inside it's community and high top tables as well as banquettes for dining.
Menu items include burger options that go from hamburgers or cheeseburgers to a higher end Farmhouse Burger that comes with pepper-crusted apple wood smoked bacon and a fresh farm egg. For barbeque lovers you aren't being overlooked with a smorgasbord of choices prepared in-house on the "Little Red Smokehouse" aka an indoor smoker. The Texas-style barbeque options include not only the smoked brisket, ribs and pork shoulder, but a hickory smoked turkey breast or Wagyu basket. Hickory is proud of the sides they offer too like the Granny Smith apple coleslaw, the burnt end baked beans, waffle-cut Maytag blue cheese fries and the buttermilk onion rings. You also get bread and butter and spicy dill pickles and a whole variety of sauces to choose from for the meat.
Craft beers and cocktails are high on the list and standouts include the barrel-aged Old Fashioned and the popular Killin' Thyme with vodka, cucumber, lime, soda and thyme. For beer drinkers there are draft selections that include seven from Texas brewers and whiskey drinkers can have a selection of bourbon flights, all chosen to pair perfectly with the barbeque and burgers on the tasty and well-thought out menu.
Ten 50 Barbecue
It's a Texas-size barbecue experience with authentic Texas barbecue that is slow roasted for up to 16 hours and the taste says it all. The pit master at Ten 50 BBQ, Darren Willis, takes his job seriously and it's a 24-hour day to make sure the meat is just right.
Hickory, oak, pecan and mesquite charcoal are used for cooking and guests walk through the service line choosing their meat of choice while it is still cooking. The owners are also all about locally sourced with choices like brisket, ribs, sausage, turkey and pulled pork. One special on the menu that will really make your mouth come alive try the Torpedoes; chicken and brisket filled jalapeno that is hotter than a summer afternoon in the big D.
Sides are made from scratch, everything from fresh cut fries, coleslaw, onion rings, potato salad, friend okra and the best of the best, the 4 cheese mac and cheese. What isn't made from scratch on the premises comes from the popular Village Bakery bread and of course, the homemade pie and banana pudding is always a crowd pleaser. And if you think you know banana pudding, Ten 50 offers a twist, which is a chocolate banana pudding that really is worth saving room for as the end to a hearty meal.
While you won't go hungry at Ten 50 BBQ the folks there also make sure you won't go thirsty either with 24 craft beers to choose from and most are locally selected. Think Revolver Blood and Honey or the Lakewood Temptress to name a few, the beers rotate and are chosen to make for the perfect pairing.
Get your party on with you and 50 of your closet friends, barbeque just seems to bring people together and the Ten 50 BBQ décor is perfect with rows and rows of tables and wooden chairs and a full bar. To round out the experience an old truck is situated inside to make sure guests not only taste an authentic Texas meal, but also feel the Texas BBQ vibe at the same time.
Pink Magnolia
When Dallas Chef Blythe Beck opened Pink Magnolia near the Bishop Art's District last summer she had a plan. It included Southern cooking in an upscale dining environment with a menu that featured Deviled Eggs, Biscuits and Butter and even Texas Lamb Chop Lollipops for an opener. If you still have room, and you should save room, the entrees are diverse and wickedly tasteful too like the Cayenne Garlic Shrimp and Grits, Candied Orange Smoked Duck Breast or Cornmeal Fried Catfish.
Yep, tasty to say the least, but Beck knows tasty well since she did an eight-month stint at Kitchen LTO. Prior to that spent time at the Mansion on Turtle Creek, Hector's on Henderson and Central 214 in Hotel Palomar.
Located in the old Driftwood space in Oak Cliff, Pink Magnolia sees Beck partnering with Restaurateur Casie Caldwell. Caldwell was the brainchild behind the permanent pop-up restaurant idea Kitchen LTO incorporating rotating chefs and designers at Trinity Groves and it is where she met Beck too.
Fast forward to Pink Magnolia and remember, Beck has been coined the Naughty Chef since it was while at Central 214 that she worked on the television project The Naughty Kitchen with Chef Blythe Beck. She was also featured on Beat Bobby Flay – Season 3 on the Food Network in 2014 and through it all she has kept her cooking style as naughty as her previous show.
Earthy with cayenne red hair, Beck talks the talk and also walks the walk with her menu options and while her choices are about pleasing the taste buds, she goes for the soul as well. The name Pink Magnolia was inspired by the magnolia flower as a nod to southern strength and hospitality, which Beck has in spades. It is also all about her "pink positivity" a southern favorite, much like her latest venture has become.