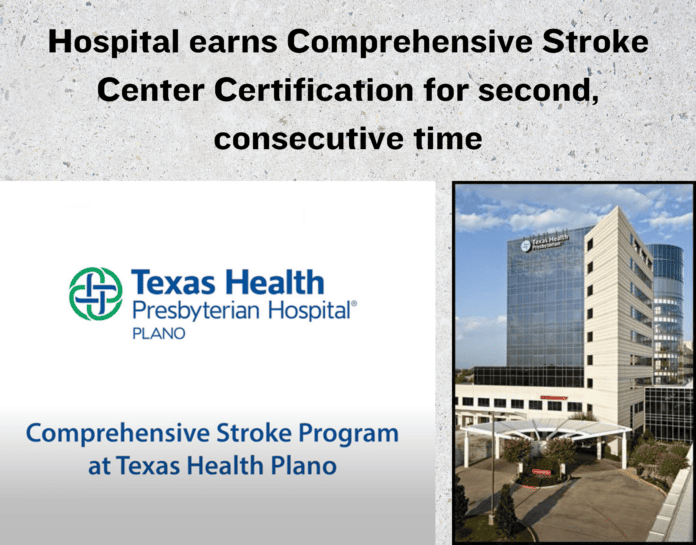 PLANO, TEXAS, Oct. 26, 2023 – Every three minutes and 14 seconds, a stroke ends someone's life in the U.S. With stroke being the No. 5 cause of death in Texas and the nation, Texas Health Presbyterian Hospital Plano continues to focus on quality stroke care, once again earning the Det Norske Veritas (DNV) Comprehensive Stroke Center Certification.
"When seconds count, Texas Health Plano stands ready to serve and our Comprehensive Stroke Center Certification is proof of that commitment," said Fraser Hay, Texas Health Plano president. "We have all of the resources available to help those suspected of having a stroke fully recover so they can get back to enjoying life to the fullest."
Every year, more than 795,000 people in the U.S. have a stroke, which is why knowing the warning signs and symptoms is so imperative for survival. Unfortunately, only 38% of Americans surveyed were aware of all major stroke symptoms and knew the importance of calling 911, according to the Centers for Disease Control and Prevention.
"As a Comprehensive Stroke Center, we continuously provide North Texans with emergency services, rehabilitation, community outreach and education," said Christie Parmenter, Texas Health Plano's Orthopedics & Neurosciences director. "This prestigious certification further exemplifies our dedication to excellence and to fulfilling Texas Health's Mission to help improve the health of people in the communities we are honored to serve."
The Comprehensive Stroke Program at Texas Health Plano includes customized educational and support programs and is enhanced by neurovascular physicians on the medical staff and nurses and therapists specifically trained in stroke care. The program is also equipped with advanced automated stroke imaging technology, an intensive care unit and a neurointerventional suite. The specialized technology and care team provide patients with 24-hour access to high-acuity stroke therapies, including IV thrombolysis and endovascular mechanical thrombectomy.
The DNV certification, which Texas Health Plano first earned in 2020, highlights successful and cohesive efforts from a multidisciplinary team, Parmenter said.
"We are truly invested in providing quality care to the most critically ill patients in our communities."
The DNV certification is based on rigorous standards outlined by the Brain Attack Coalition and the American Stroke Association, a division of the American Heart Association.
More than 150 hospitals hold certifications as DNV Comprehensive Stroke Centers, but Texas Health Plano is one of just 30 hospitals in Texas to earn this prestigious recognition.
To learn how Texas Health is enhancing neurological care across North Texas, click on comprehensive stroke centers.