Cooking Demonstrations, Entertainment and Family Fun At Taste Addison
The 2018 Taste of Addison, May 18-20 at Addison Circle Park, is a family-friendly festival that offers fun entertainment for all ages. Featured activities include cooking demonstrations, a carnival and games, Craft Beer Hall and Wine Garden, plus live entertainment from some of the area's best country artists.
Participating restaurants include Blue Mesa Grill, Cantina Laredo, Dickey's Barbecue, iFratelli, Little Greek, Mad Batter Baker, Public School 972, Ron's Place, Thai Orchid, Table 13, and Zoli's NY Pizza. After sampling a few of these foods, my advice is don't miss Blue Mesa Grill's red chili crusted salmon tacos; Dickey's brisket sliders; or Public School's meatballs. Thai Orchid's Khao Soi Noodle salad is another winner, along with Table 13's bacon-wrapped dates and Zoli Pizza's Dope Toast.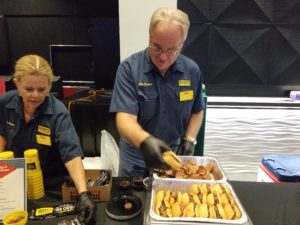 Anheuser-Busch will serve a diverse selection of craft beers like Elysian Space Dust, Karbach Love Street and Breckenridge Mango Mosaic at their Beer Hall, and AVA Grace Vineyards will pour the wine in the Wine Garden presented by The Wine Group. Sampling hours for the Wine Garden and Craft Beer Hall Friday, 7 –10 p.m. Saturday, 2 – 7 p.m.; Sunday, 1 – 5 p.m. Note: VIP tickets have 30 minutes early access for all three days of Taste Addison. Guests must be 21+ to enter both sections. Samples are complimentary.
Music Entertainment Lineup Friday: Whiskey Myers 7:30 – 9 p.m.; Casey Donahew 9:30 – 11 p.m. Saturday: Rachel Stacy 12:30 – 1:30 p.m.; Shotgun Rider 2 – 3 p.m.; Breaking Southwest 3:30 – 5 p.m.; Jonathan Tyler and the Northern Lights, 5:30 – 7 p.m.; Cory Morrow 7:30 – 9 p.m.; Eli Young Band 9:30 – 11 p.m. Sunday: Fin City 12:30 – 2 p.m.; Escape 2:30 – 4 p.m.; La Freak 4:30 – 6 p.m.
Pinot's Palette offers visitors a step-by-step painting session with experienced and professional local artists. You'll leave with a one-of-a-kind creation and maybe a newfound talent. Inside the Addison Conference Centre, Pinot's Palette is suitable for ages 12 and up, accompanied by an adult.
Albertsons Tom Thumb Cooking Stage features several of Addison's most popular chefs demonstrating how to recreate the Taste Addison experience at home. Samples are provided after the shows. All cooking demos take place on the Albertsons Tom Thumb Cooking Stage located inside the Addison Conference Centre. The demos are included with a Taste Addison admission ticket.
Cooking Demo Schedule: Saturday, 2:30 p.m.; Francesco Secchi – Ferrari's Italian Villa & Chop House; 4 p.m.: Jake Magruder – On the Border; 5:30 p.m.: Joe Chow – May Dragon; 7 p.m.: Mike McRae – Table 13; Sunday, 1:30 p.m.: Rambo Saucedo – Cantina Laredo; 3 p.m.: Lee Hunzinger – Zoli's NY Pizza.
Enjoy free face painting, activities and games for the whole family on the Family Fun Lawn located near the Addison Conference Centre and the Stone Cottage, or visit the Talley Carnival for rides and midways games. Kids 11 and younger get in FREE all weekend. Face Painting Hours: Saturday: 2 p.m. to 7 p.m. Sunday: Noon to 6 p.m.
The Japan America Society of Dallas/Fort Worth will bring ongoing displays of origami and its lesser known artistic cousin kirigami to Taste Addison's arts and crafts area on Sunday. Join them from noon to 4 p.m. for these complimentary activities.
Visit The Marketplace at Taste Addison to browse artisanal crafts, as well as food, and take home your favorite items. ABOUT TASTE ADDISON: A three-day menu of fun, Taste Addison delivers Addison's favorite dining destinations with great music at Addison Circle Park.
Tickets are available online only through May 13 for $15 a person at TasteAddisonTexas.com. VIP weekend packages are also available online. Sponsors include Budweiser, Albertsons Tom Thumb, 107.5 Fierro-HD2, Ava Grace Vineyards, 99.5 The Wolf, New Country 96.3 KSCS, Coca-Cola, Dallas Morning News and Guide Live.