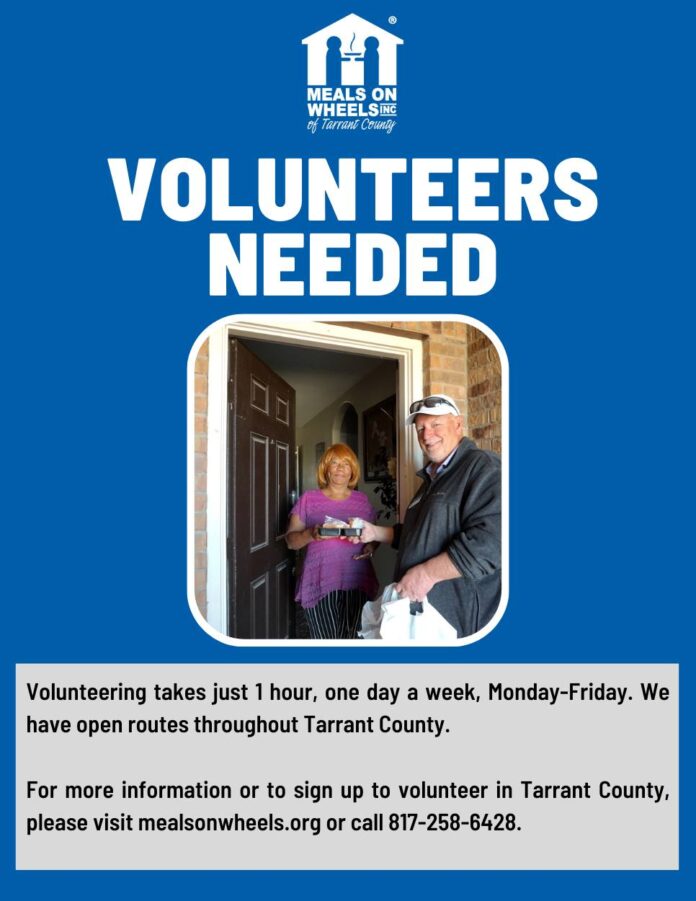 THEY HAVE 43 OPEN MEAL DELIVERY ROUTES!
We need your help in filling these routes to ensure our homebound, elderly, disabled, and food-insecure neighbors receive the nutritious meals and daily safety checks they depend on us to provide!
Are you currently a substitute driver and would like to commit to a weekly route? Please let us know by contacting VP of Volunteer Services at 817-258-6426 or email Judith.Bell@mealsonwheels.org.
Already a meal delivery volunteer? Forward this email to family, friends or co-workers and encourage them to follow your lead!
What Does It Take To Be a Volunteer?
Anyone who can spare 1.5 hours for one day per week, Monday through Friday, can change someone's life for the better!
Volunteers Must Be Able To:
* Provide their own transportation and gasoline
* Deliver between the hours of 10:30 a.m. and 1:00 p.m.
Meals On Wheels will provide you with volunteer orientation, insulated containers to transport food and a delivery route sheet with a map.
Below Are The Current Open Routes:
MONDAY ROUTES:
* Forest Hill
* Handley-Woodhaven
* Poly
* Saginaw (2)
* Southwest
* West Arlington
* South Arlington
* North Hills
* Quad Cities
* Lindberg Parc
TUESDAY ROUTES:
* Eastside FTW
* Central Arlington
* Southwest
* Quad Cities
* Haltom City
* Poly
* Benbrook
WEDNESDAY ROUTES:
* Eastside FTW
* North Hills
* Northside FTW
* Everman
* Crowley
* South Arlington
* Inner City
THURSDAY ROUTES:
* Eastside FTW
* Benbrook
* Forest Hill
* Southside FTW
* Quad Cities
* Everman
* Westside
* Central Arlington
* Lake Worth
FRIDAY ROUTES:
* Eastside FTW
* North Hills
* Handley-Woodhaven
* Northside FTW
* Everman
* Haltom City
* Diamond Hill
* North Arlington
* Forest Hill
* Westside