Take your dad to Snuffer's Restaurant and Bar for a pleasing Father's Day meal everyone in the family will enjoy. Snuffer's has been making memories for Dallas families for 45 years with their great burgers and fries and laid-back atmosphere. Founded by beloved restaurateur Pat Snuffer in 1978, the original Snuffer's on Lower Greenville is still a favorite destination for Dallasites.
My husband and I had lunch at the original Snuffer's last week, and were warmly welcomed by everyone there. Snuffer's Texas-style hospitality makes guests feel right at home. We enjoyed talking to the assistant manager, Jeffrey Marcus Bryant. He said they draw a good crowd for Happy Hour, 4-7 p.m. on weekdays, with appetizers including Nashville hot chicken bites, $3 well drinks, $5 wines, and $3.50 domestic beers. There's plenty of patio seating on their spacious deck that's perfect for people watching.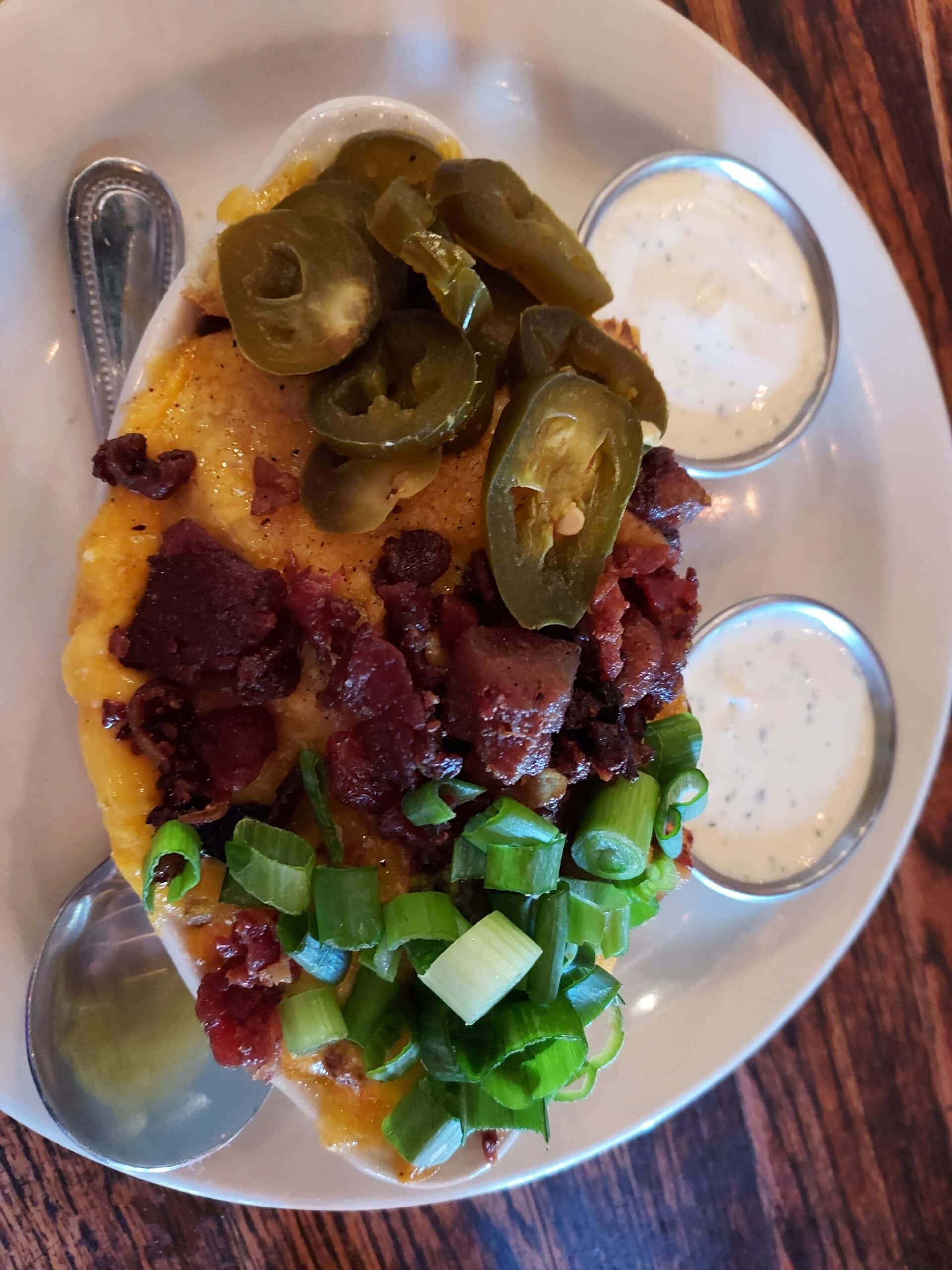 Our young server, Ethan, was especially helpful, explaining the menu and refreshing our iced tea glasses frequently. Ethan suggested cheddar cheese fries for our appetizer, and we ordered a small platter of their legendary fries. The cheddar cheese fries were created at the original Snuffer's in 1978, and are an over-the-top, gooey, messy delight.
Snuffer's Cheddar Fries
On our next visit, we'll know to order a much larger size of Snuffer's cheddar fries–they're almost too good to share. My husband actually accused me of eating most of our small platter. Golden fried and seasoned Idaho potatoes are layered with aged Wisconsin cheddar cheese and topped with bacon bits, sliced green onions, and jalapeno. For extra goodness, dip a spoonful into a ramekin of their house-made ranch dressing.
In honor of their famous creation, Snuffer's founded National Cheddar Fries Day in 2016. The National Day Calendar Registrar has proclaimed April 20 to be celebrated annually as National Cheddar Fries Day.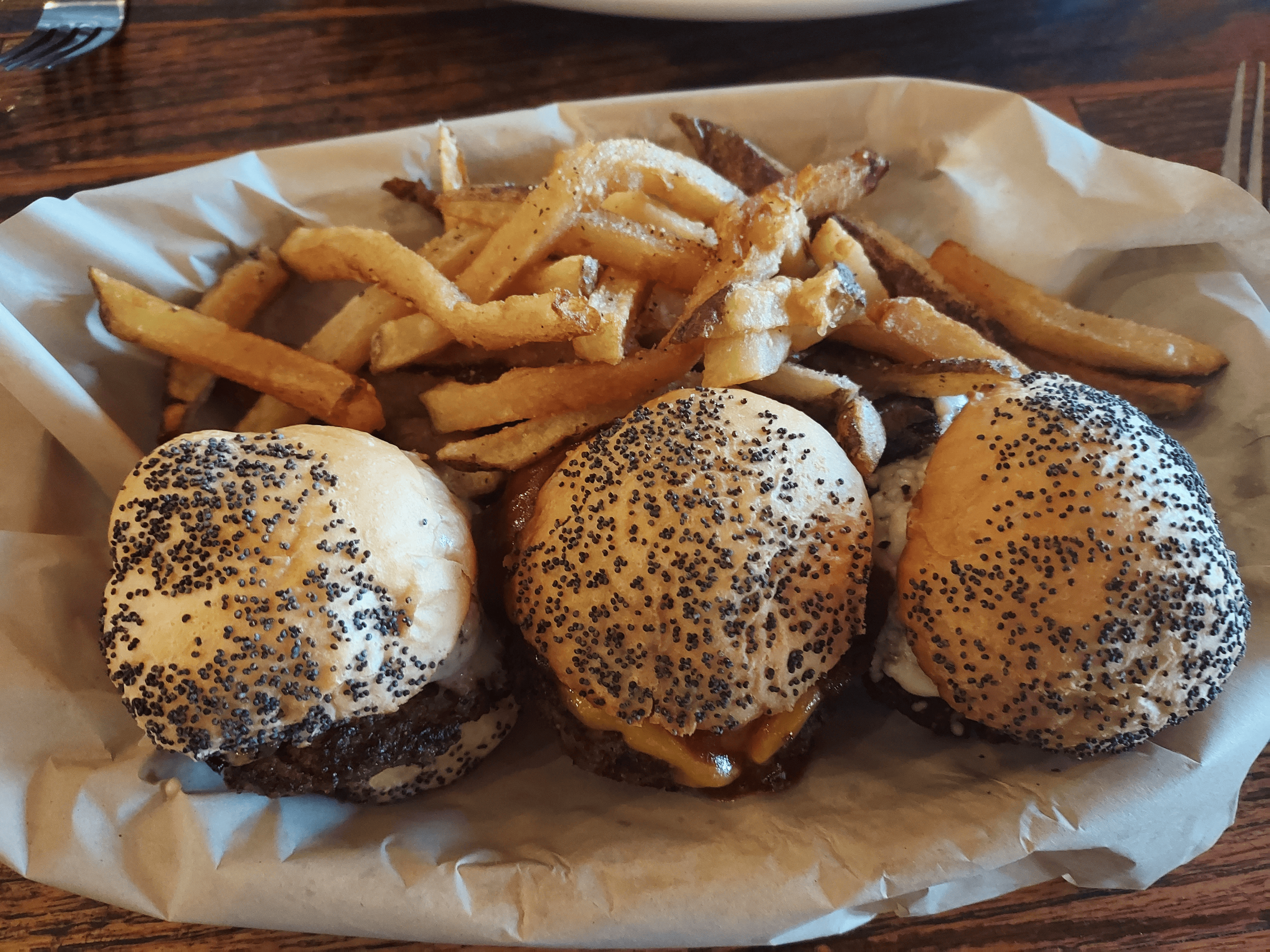 At our recent lunch, my husband ordered Chicken Fried Chicken with mashed potatoes, gravy, and broccoli. I tried the three slider combo basket with fries, choosing one each of BBQ, blue cheese/bacon, and mushroom with Swiss cheese.
The sliders were all good, but the BBQ was my favorite. We shared a delicious brownie sundae for dessert, and far too many glasses of iced tea to count.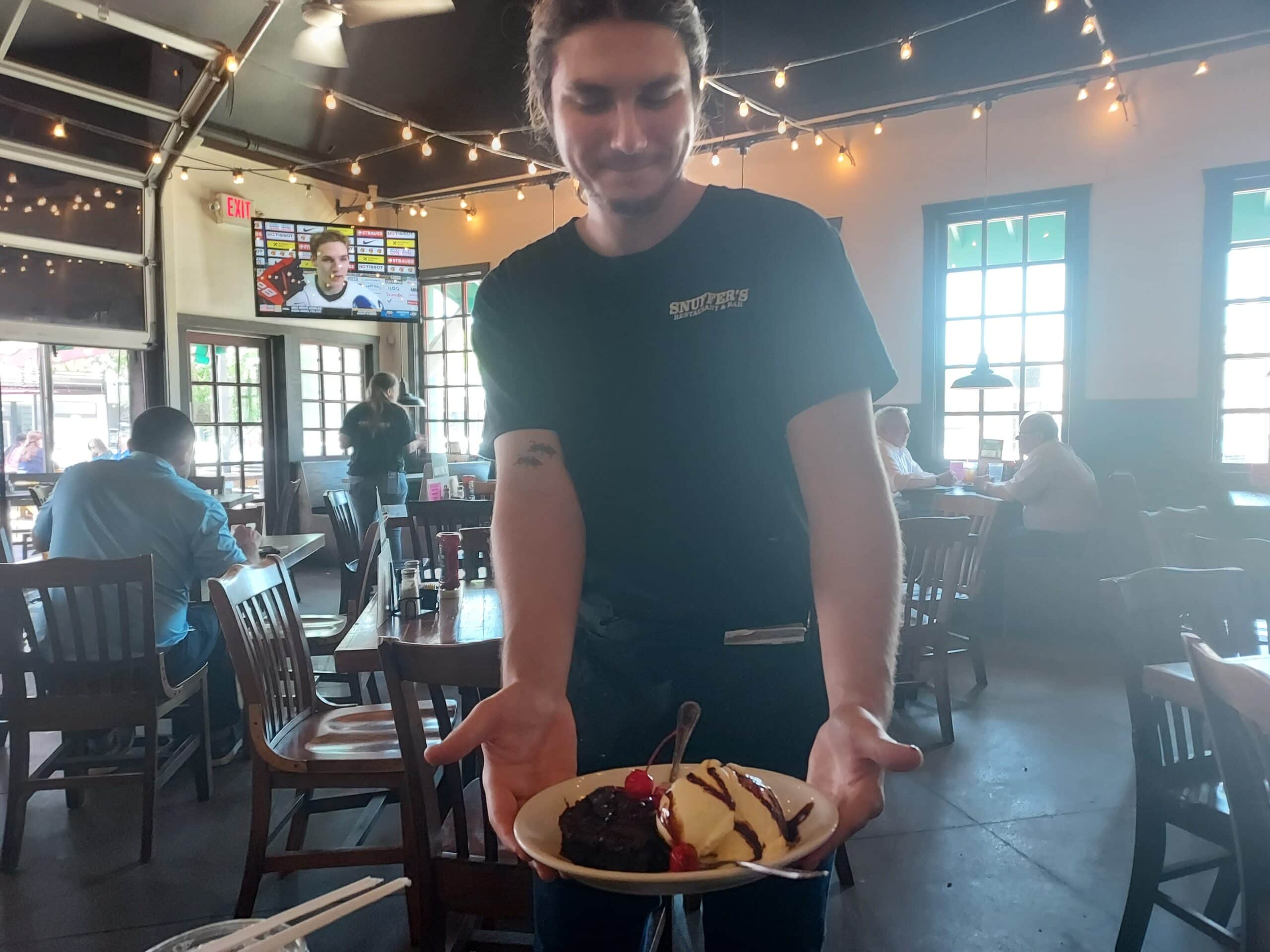 Dr Pepper BBQ Bacon Burger
We brought home a Dr Pepper BBQ bacon burger for my husband's dinner that featured several of his favorite things: Dr Pepper, BBQ sauce, bacon, cheese, and ground chuck. That's probably what he'll order on our next visit, along with a giant platter of Cheddar fries for us to share.
Kid's Meals are only $5.49 for under 12, and include fries and a soft drink with their choice of burger, chicken strips, grilled cheese, or other entree.
No matter where you live in North Texas, there's sure to be a Snuffer's close by. The restaurant is now owned by ,Local Favorite Restaurants and they've expanded Snuffer's Restaurant and Bar to many other North Texas locations. Along with the flagship restaurant in Dallas, Snuffer's can now be found in Addison, Colleyville, Greenville, Highland Village, Mesquite, Richardson, Rockwall, and West Plano.