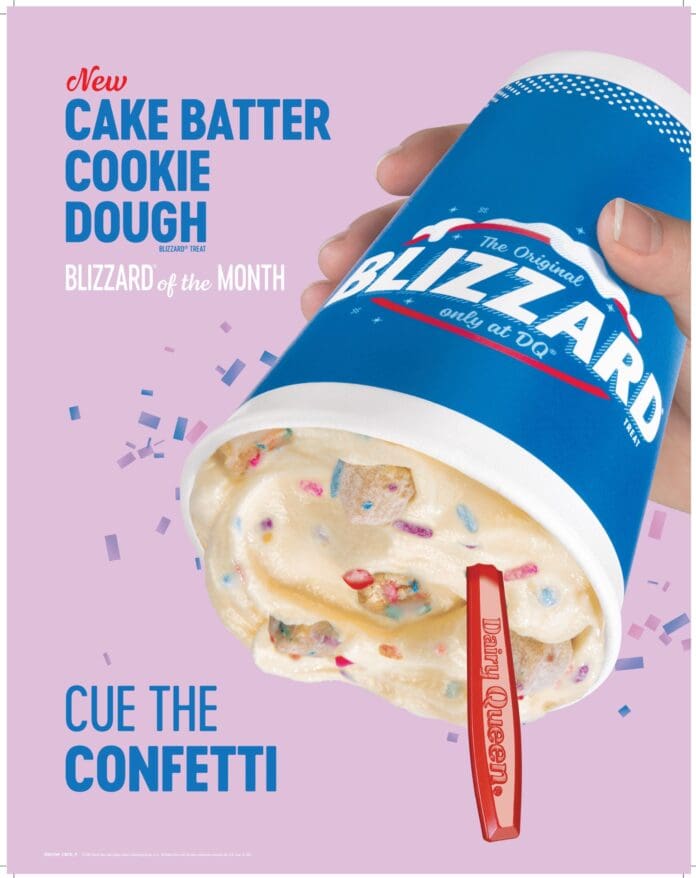 Cake Batter Cookie Dough Blizzard® Treat Featured In July
BEDFORD, Texas (July 6, 2023) – Cake Batter Cookie Dough Blizzard® Treat is the featured Blizzard of the month at DQ restaurants in Texas throughout July. For a limited time, fans can enjoy Dairy Queen's soft serve with cake batter flavor, confetti cookie dough pieces and DQ signature sprinkles.
This summer, participating DQ restaurants in Texas also will feature the NEW Peanut Butter Puppy Chow Blizzard®, the NEW! Oreo® Brookie; Cotton Candy; S'mores; and Choco-Dipped Strawberry.
For more than seven decades, Texans have been enjoying the delicious Treats & Eats® at DQ® restaurants. Memories have been made with family and friends throughout the Lone Star state on the first day of school, after a football game, on a family road trip or celebrating a special milestone. Along the way, Texans became big fans of DQ classics such as Blizzard® Treats, the Hungr-buster®, the Steak Finger Country Basket®, and the Dilly® Bar among others. Now, the hunt is on to find "The Biggest DQ Fan in Texas."
DQ fans can make their case as to why they are "The Biggest Fan in Texas" by visiting dqtexas.com/biggestdqfan. Whatever their story, the Texas Dairy Queen Operators' Council wants to find the number one fan in Texas.
There are few brands as iconic as the DQ brand. Innovative DQ treats and eats, along with the unique DQ restaurant concepts, have positioned DQ restaurants in Texas as a leader in the quick service restaurant industry. The Texas Dairy Queen Operators' Council is a nonprofit organization made up of DQ franchisees operating in Texas. The Council develops the advertising and marketing program for DQ franchisees in Texas and controls the Texas Country Foods menu along with managing supply/distribution for the nearly 600 DQ restaurants in Texas. The DQ restaurants in Texas are franchised by American Dairy Queen Corporation and the DQ franchise system includes approximately 7,000 franchised locations in the United States, Canada, and more than 20 other countries, including the nearly 600 DQ restaurants in Texas.
For more information about the Texas Dairy Queen Operators' Council, visit dqtexas.com or follow us on  Instagram,Twitter or Facebook.