LANCASTER—With a little less than a month left until the Lancaster High School Senior Prom Night, more than 200 LHS students have already selected their special suit, or found their perfect dress at the Lancaster ISD Strengthening Families Prom Pop-up Shop and Giveaway.
"This is a blessing to me. I found two blazers that are my two favorite colors and they fit perfectly," LHS senior Paul Hamilton said. "I really feel like these were just for me."
For two days in April, the Strengthening Families Prom Pop-Up shop was open at LHS and fully equipped with new and donated evening gowns, dresses, men suits, blazers, shoes and an assortment of jewelry. While called a "shop," all of the items were free to students.
Sponsors in the community, parents and other supporters donated the items. The goal of the pop-up shop is to provide students the opportunity to have access to clothing and accessories that they may not normally be able to purchase just in time for prom.
LHS senior, LaToddric Thompson, was very appreciative of this service.
"The shop is needed because everyone is not able to purchase a new suit for prom," he said. "I will always remember this day because someone was generous enough to donate suits for students like myself."
Community Closet Helps Lancaster Students Prepare For Special Evening
LHS senior Tatiana Dawson said that she was truly grateful for the opportunity to decrease the cost of her prom experience and still have the perfect dress.
"I have been struggling to find a dress, and with all the other expenses that are involved, having this shop takes one major expense away from me," she said. "If it was not for this pop-up shop, I would probably get a dress that I was not comfortable with. Now, I am able to find a dress that I love and upcycle."
Lancaster ISD Director of Family Engagement and Behavior Support, who also created this service, Dr. Kanesha Waites was overjoyed as she saw the students making their selections.
"I am so excited! I don't know how you really explain the feeling of a cup running over — but my cup is literally running over," she said. "I am just looking at these beautiful gowns and I know that [a couple of years ago] I started with only a few dresses.
This year, Dr. Waites is able to see the growth.
"My biggest joy and what I am most excited to see this year is a whole section of clothing for the young men."
The young men had a larger selection of clothing that included complete suits, dress shirts, and blazers. Dr. Waites explained that last year, a father called and said that the male students needed some help with clothing, so he dropped off a few suits.
"And now we actually have a whole section for our young men. So many came in for coat jackets and shirts, she said. "With the opportunity to give to both male and female students now, I know that we are growing and it makes me extremely excited."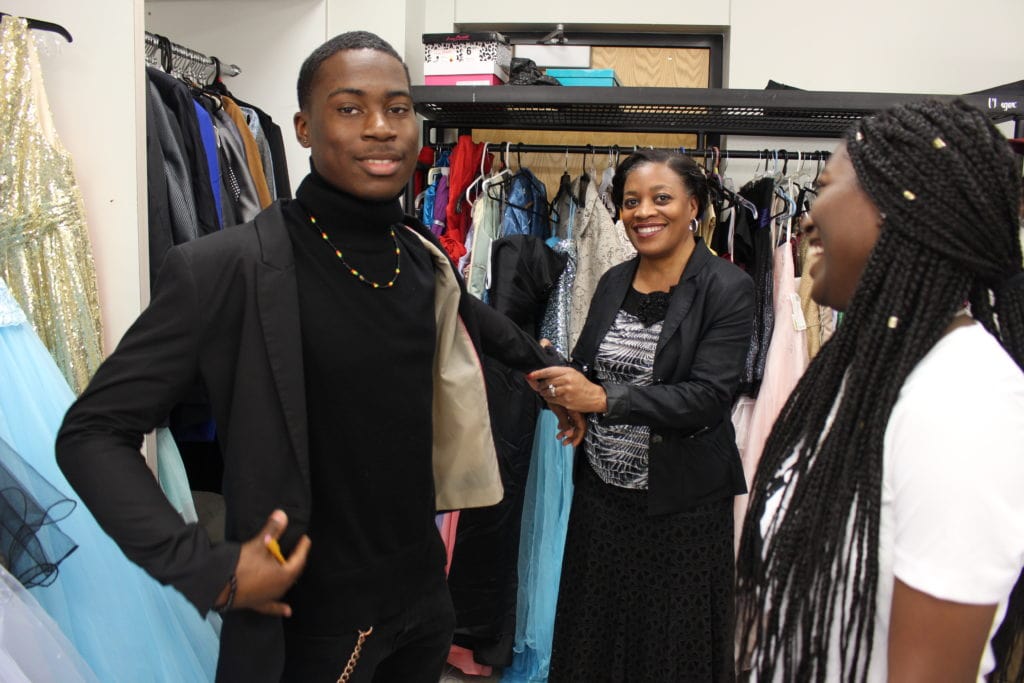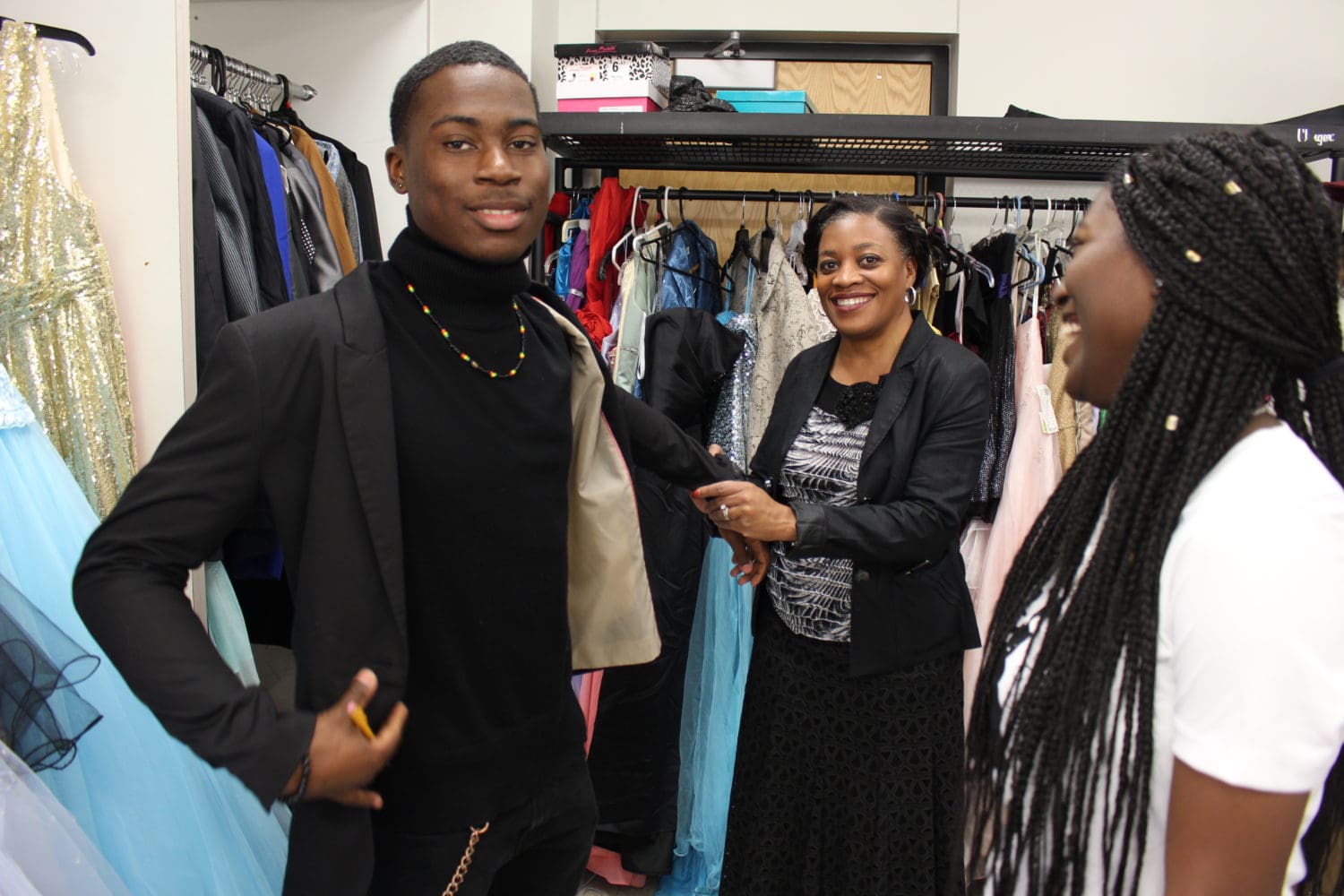 The Beginning
The Prom Dress Giveaway began in 2012, after Dr. Waites had a candid, but emotional conversation with some young ladies who expressed need for support with preparation for the prom.
So, Dr. Waites began to contact people in her personal circle who could assist and asked for help. She garnered support from family and friends to do makeup, hair, nails, purchase dresses and shoes for just a few young ladies.
In the last few years, she has served up to 90 students through the help of local sponsors who provide the clothing accessories and in some cases the "whole package."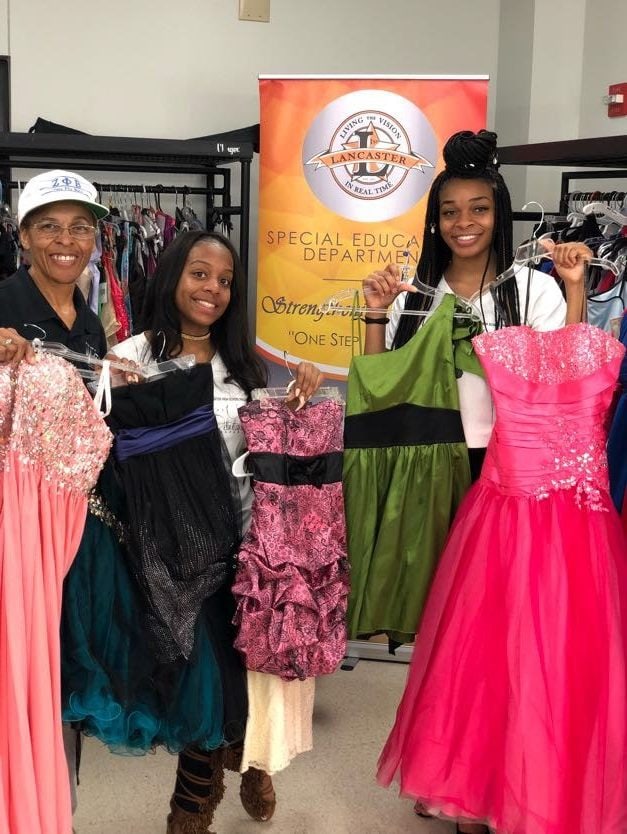 The Growth Continues
This year, items for the students' selections were virtually all around the room. Dr. Waites had to borrow and tightly pack the clothing racks to display the items.
Also, sponsors, volunteers and community members were on hand to help the students. The students were able to mingle with Ms. Queen Plus of Texas and her ambassador who came to support the project. A new sponsor, Denise McPetersen of the Lady Cobras of Dallas Texas, a local arm of a national women empowerment group, supported the effort by sponsoring the accessories and a spa day for two LHS young ladies.
The event has now incorporated a new layer as a service-learning project for the LHS Debutantes, a girls mentoring organization on the campus. The debutantes actively requested the donations, promoted the event, helped to set up the event and even tended to the students to select and package their special dresses.
Dr. Waites shared that up to the day of the prom, donations and support are still welcomed.
Members of the community can still donate in the following ways:
1. Donate your Clothing: Dresses, suits, shoes and accessories
2. Donate your Talent: We need hairstylist/barbers, make-up artists, and nail techs.
Learn more about this community effort or lend your support, contact the Lancaster ISD Special Education and Special Programs Department at 972-218-1635 or Info@lancasterisd.org.