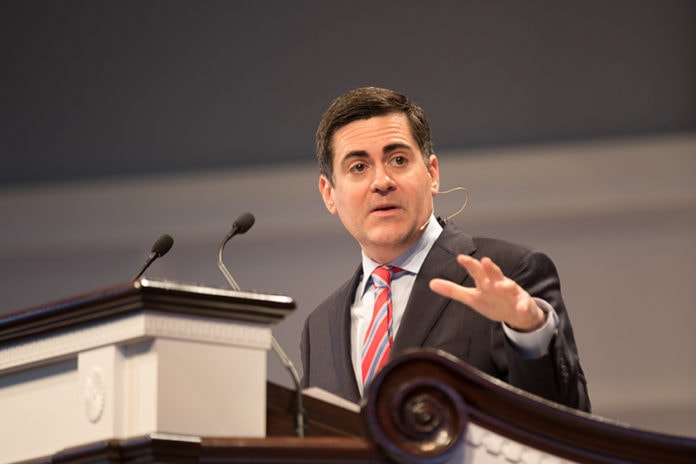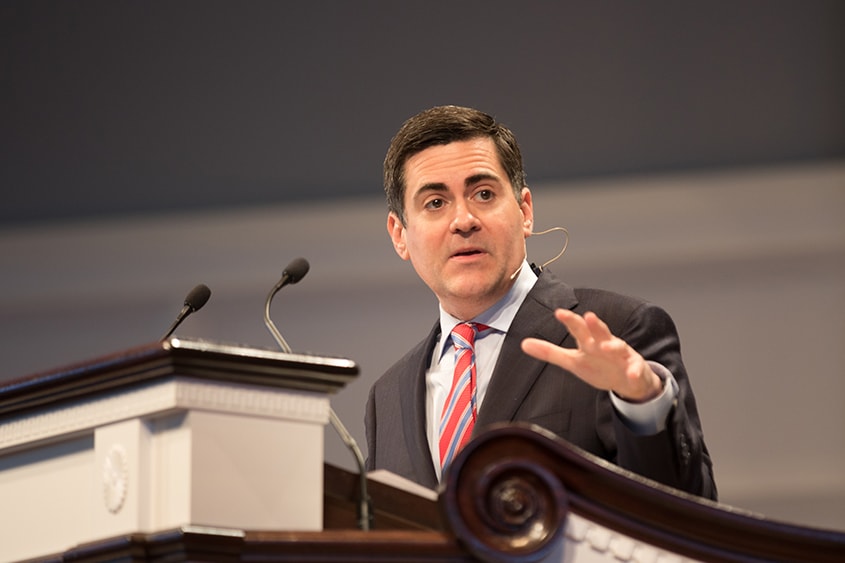 Gallup Lecture Series: Dr. Russell Moore at DBU
Recently Dallas Baptist University had the privilege of hosting Dr. Russell Moore on campus as part of the Gallup Lecture Series. The eighth president of the Ethics and Religious Liberty Commission of the SBC.
At the same time, Moore regularly consults out by many media outlets, organizations, and political figures about cultural and political issues. He helps provide the framework and knowledge for how believers should approach contemporary topics.
"How do you develop faith that will carry you to the end?" Moore asked the student body. Challenging the students, he told them to remember "who they are and where they are going" to develop a faith capable of withstanding the pressures of the culture. Moore warned against simply developing patterns of a "life of immorality hidden in the appearance of morality."
Referencing Matthew 4, Moore pointed out Jesus' response to differing worldviews. Specifically, he spoke on our desire for absolution by "building patterns around performance and the voices we want to say, 'You're in the club.'"
"We don't have to be proven right in the short term because Jesus has been proven right in the long term," Moore stated.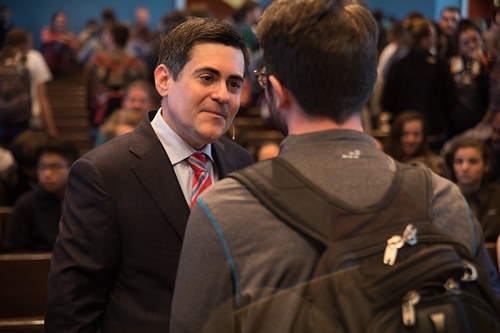 A Transcendent Truth
The Lecture Series continued with a special luncheon as Moore also spoke to the DBU faculty and staff. He told them of the need to concentrate on the broader implications that the shifting culture has placed on the church.
"Do we treat Christianity as a transcendent truth or just a useful means to prop up southern culture or a tradition simply useful to society?" Moore asked.
He further explained that the modern church finds itself in the tension of holding traditional values amidst a culture retreating from absolute truth.
Moore encourages them to create a "strategy that is provocative and welcoming at the same time." He notes that Christians should internally deal with the cultural issues that transcends generations, race, and social class.
Fianlly Moore's voice on campus was an incredible reminder of how truth can contain compassion. He challenged students and staff alike to have genuine faith in the redeeming power of Christ and to remain grounded in our identity in Christ.
"Satan does not fear traditional family values, a Christian worldview, or good intentions," he concluded. "What he fears is a group of people who say 'You're right. We are sinners, but everything we have is hidden in Him' (Colossians 3:3). That is the power that breaks the control of Satan."