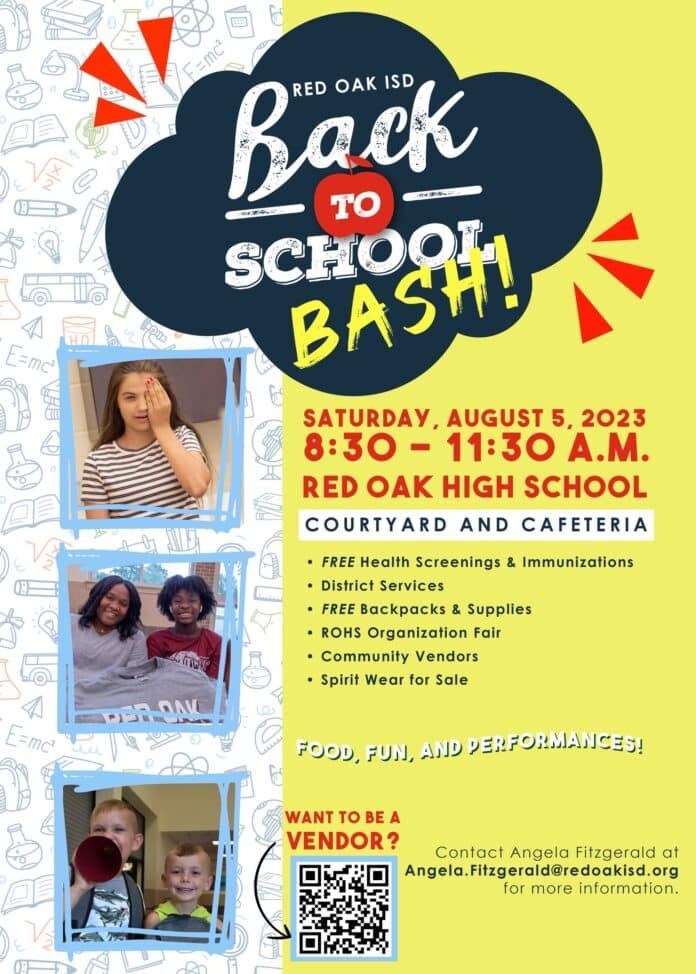 Red Oak ISD has partnered with area sponsors to provide backpacks and a starter set of school supplies to 1,000 students this year at the Back to School BASH. Students must be enrolled in ROISD for the coming school year and meet free- and reduced-priced meal criteria to receive the items. Students and families who attend the event can also participate in health screenings, immunizations, and food samples from student nutrition.
PRE-REGISTRATION FOR BACKPACKS/SUPPLIES
Eligible families MUST pre-register at the dates and times listed below. District staff will review registration and eligibility. Parents will need to bring their photo ID for verification.
Location: Red Oak Middle School – 154 Louise Ritter Blvd.
Monday, July 31, 2-6 p.m.
Tuesday, August 1, 7:30-11:30 a.m.
Pre-registration will be first-come, first-served; limited to the 700 elementary and 300 secondary sets of a backpack with supplies.
Students do not need to be present to pre-register but MUST be the ones to redeem the pre-registration voucher for the backpack and supplies on Sat., August 5. Adults will not be given backpacks/supplies.
ROISD BACK TO SCHOOL BASH
Date/Time: Saturday, August 5, 8:30-11:30 a.m.
Location: Red Oak High School – 220 South SH 342
The 2023 Back to School BASH will be held Saturday, August 5 from 8:30-11:30 a.m. for the Red Oak ISD community. We welcome all families to attend this fun-filled return-to-school party! Students and families can visit booths, sample student nutrition food, have their vision and hearing screened, acquire updated immunizations, and enjoy reuniting with their peers and meeting new friends. All activities, including bounce houses and food trucks, will be accessible from the back of Red Oak High School off N. Lowrance Rd.
"This year's event will be even bigger and better with fun and games, performances, activities including a climbing wall, area vendors, and District booths including campuses, programs, clubs, teams, and organizations with giveaways and contests," exclaimed Superintendent Brenda Sanford. "We are so thankful for our sponsors who have stepped up to assist our students in getting ready to start the fall semester!"
We want to thank our sponsors to date: City of Red Oak; City of Glenn Heights; Linebarger, Goggan, Simpson & Blair; Abernathy; Corgan; Joeris, Faith Fellowship, Ovilla Animal Hospital; Complete Logo Source; State Farm; and First United Methodist of Red Oak.