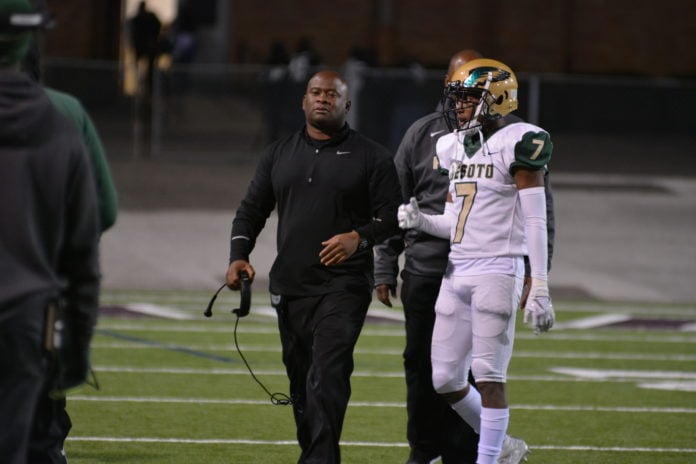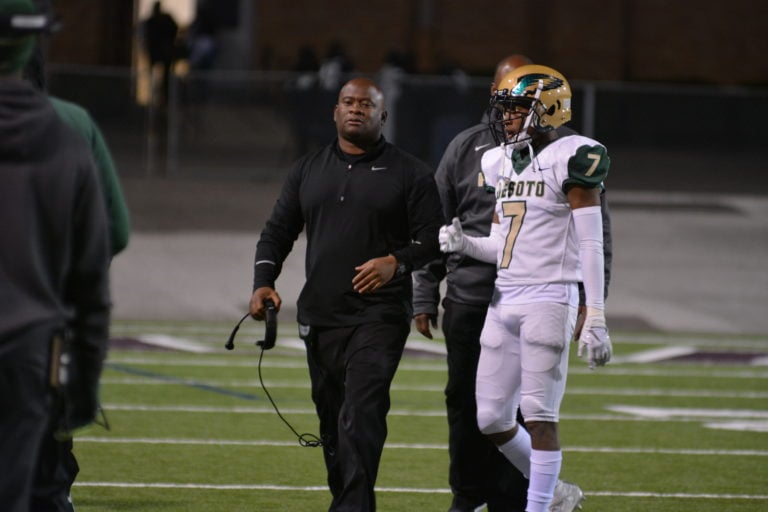 DESOTO—In the latest development affecting DeSoto High School football newly named Head Coach Michael Robinson announced that he would be relinquishing his varsity coaching duties.
According to a statement from DeSoto Independent School District, Robinson will now solely serve as an Assistant Athletic Director focusing on sports marketing and promotions.
Since coming to the district in February Robinson, lead the Eagles to a 9-3 season. DeSoto advanced to the second round of the playoffs where they fell to Southlake Carroll, 41-20.
In discussing the transition, Robinson said, "I am proud of the work that I have accomplished in my role as head football coach here at DeSoto High School. The opportunity to return to and serve the community in which I live was nothing short of an honor. I am enthusiastic about having the opportunity to further positively impact the district's athletics programs through my new assignment and am encouraged by the potential and possibility that exists in this program, school and community."
DeSoto ISD will form separate committees comprised of students, parents, community members and coaches from a range of participation levels to develop a profile for a new football coach. The district plans to identify an interim head coach in the near future that will guide the program through Spring activities until a permanent head coach is appointed.
"I want to personally thank each of you for your roles in serving this team and your contribution in trying to do something great–defy the odds even," Robinson said to his coaching staff. "However, I recognize that it might be in the best interest of the program for me to focus on supporting you in a different capacity."
Parents are invited to attend an informational meeting on the committee establishment, discuss the hiring process and communicate timelines for filling the head coach position at 6 pm, on Wednesday, December 12 in the Academy Cafeteria.

Coaching Credentials
Prior to his arrival in DeSoto Robinson served as a campus athletic coordinator and head football coach at North Mesquite High School. He arrived at North Mesquite High School in 2007.
During his tenure at North Mesquite he won the 2015 District 10-6A Co-Coach of the Year Award.
In 2006, he spent a year as the campus athletic coordinator and head football coach at Hillcrest High School in North Dallas.
From 2000-2005 he was athletic director and head football coach at Wilmer-Hutchins High School.
Prior to his head coaching appointments, Robinson served in assistant coach capacities at Lancaster High School, Commerce High School, Denton High School and Gainesville Middle/High School.
Robinson is a member of the Texas High School Coaches Association and a trustee of the Texas Sports Medicine Foundation.
Until an interim head coach is appointed, all parent concerns and questions may be directed to a member of campus administration or DeSoto Athletics Director Larry Davis at LDavis@DeSotoISD.org.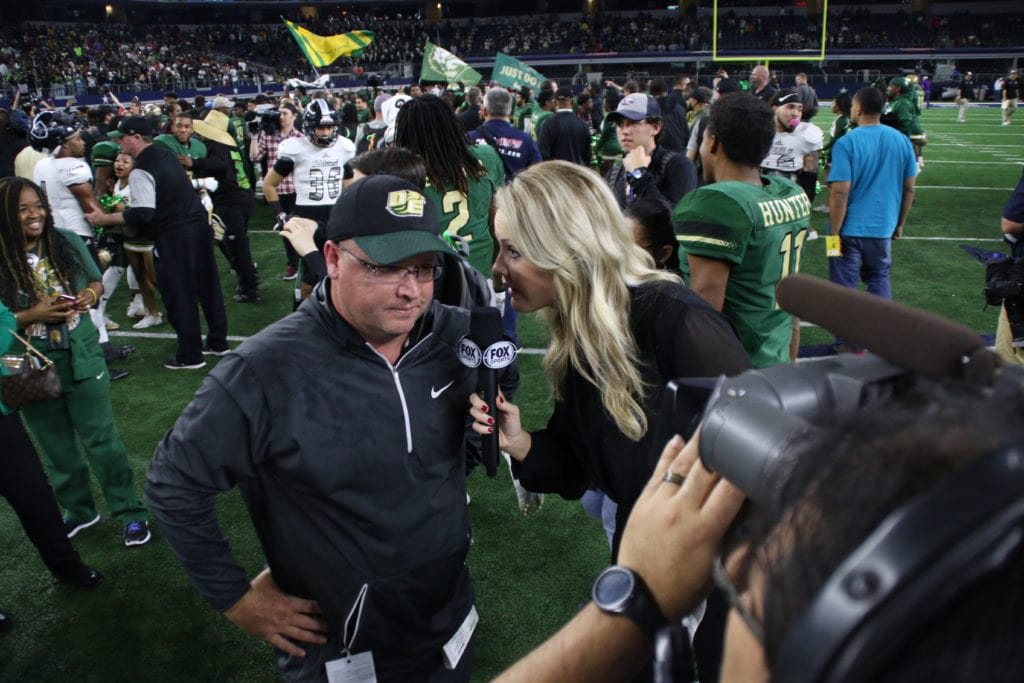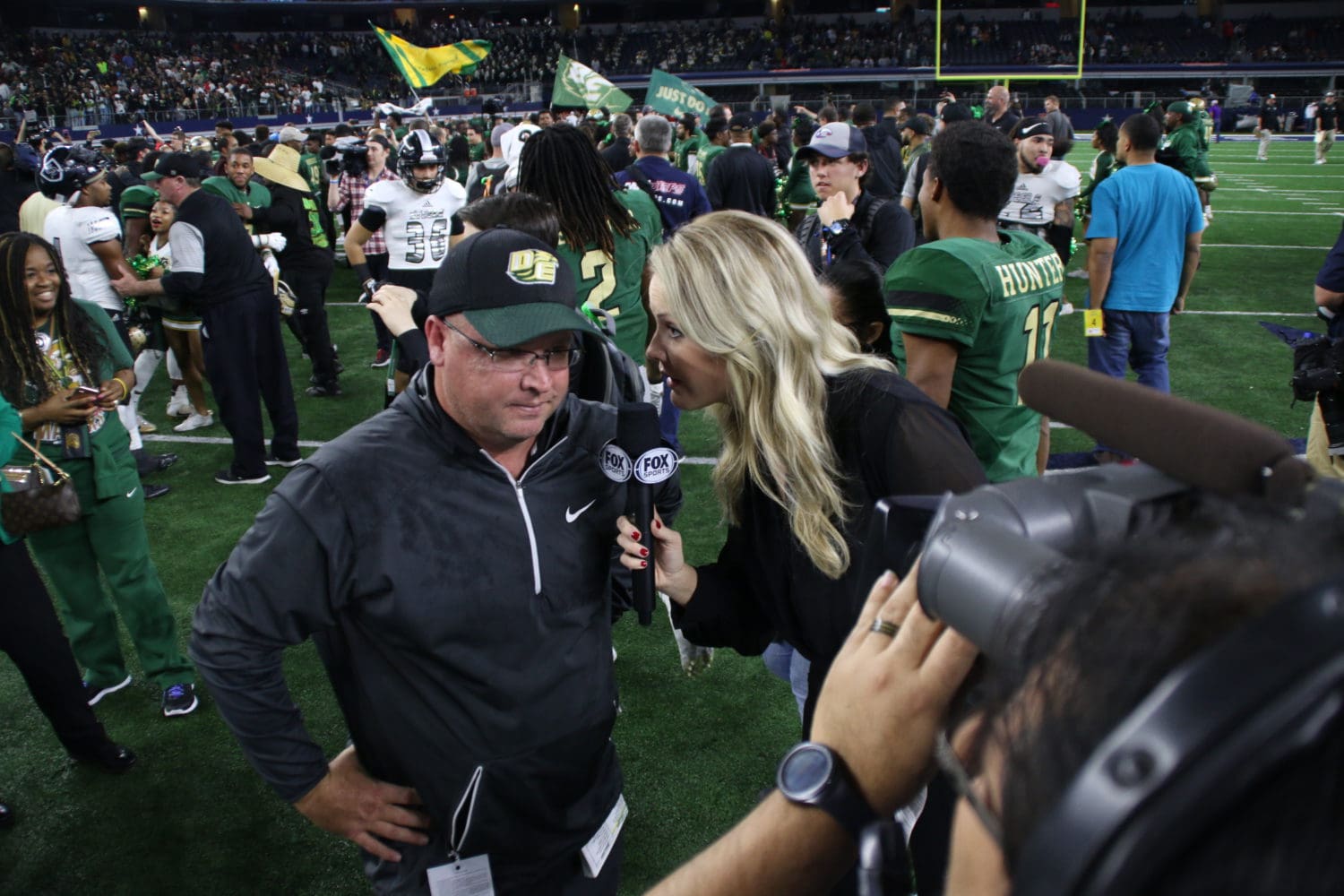 Coach Turnover Speculation
The restructuring of the athletic department has garnered headlines and sparked a number of conspiracy theories over the past two week due to manner in which championship Coach Todd Peterman left in June.
The 2016 District 7-6A Coach of the Year, Peterman has 25 years coaching experience, the past 10 in DeSoto.
Weeks following the title Peterman was the subject of an internal probe after allegations of UIL student athlete regulations were broken. UIL violations, including recruiting, and a violation of the eight-hour limit on practice time were all levied against Peterman.
University Interscholastic League (UIL), the governing body of almost all public school extracurricular activities denied receiving any official reports of misconduct from DeSoto High School. UIL Spokesperson Kate Hector did acknowledge that the UIL did receive one anonymous letter related to rule violations in January 2017.
Finally, following weeks of unconfirmed reports, DeSoto ISD Trustees renewed the contract of Desoto High School Head Football Coach Todd Peterman.
Since then he has been set to the task of rebuilding the Brewer High School football team. This year they ended the season with 6 wins, 5 losses. In 2016 when Peterman led DeSoto to a state title Brewer suffered through a 4-7 season.
The contract signed this Spring was for one year. The deal includes a $115,000 salary and $5,000 relocation stipend. No reports of contract renewals have been released by press time.