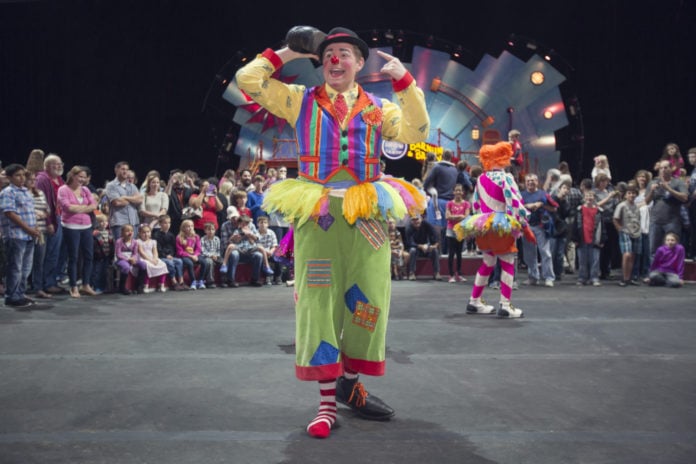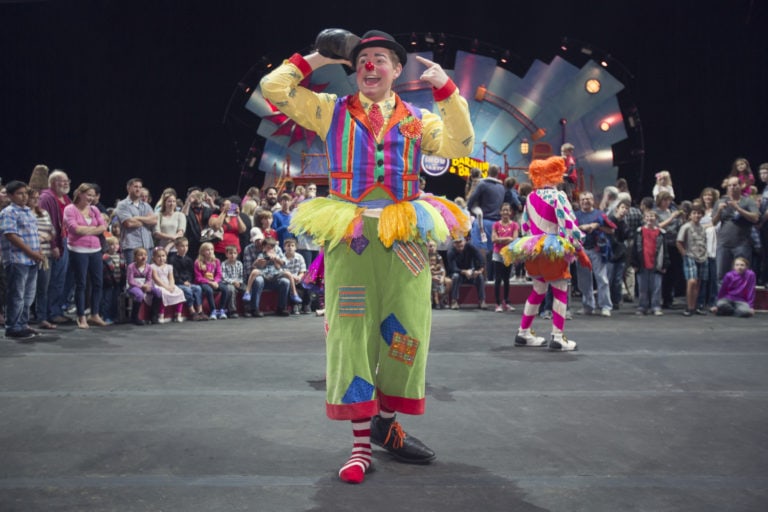 The Big Feat Ringling Bros. World's Largest Shoe Drive
DALLAS—Collecting more than 17,500 pairs of shoes for a charity is no easy feat. However, if anyone can, it would be Ringling Bros. and Barnum & Bailey® and the generous circus fans across the Metroplex as all participate in a Guinness World Records® attempt for 'Most Shoes Donated to a Charity in a 24-Hour Period' on August 8-9 at The Big Feat – The World's Largest Shoe Drive, a Ringling Bros.® Special Event.
Shoes collected at AT&T Plaza at American Airlines Center will be donated to Rockwall-based The Shoe Bank, a non-profit providing shoes to families locally and throughout the world. Once collected and tabulated, all shoes will be redistributed by The Shoe Bank as kids go back to school.
The current world record of 'Most Shoes Donated to a Charity in a 24-Hour Period' is 17,526 pairs of shoes and was achieved by Iglesias Ni Cristo (Church of Christ) in Manilla, Philippines on April 29, 2016.
According to the U.S. Department of Health & Human Services, in Dallas County alone, 30% of youth 18 and under live below the poverty line, which equates to 196,000 children in need. Because of this, the world famous Ringling Bros. Clown Alley know they even have big shoes to fill and are up to the challenge! It's time to put ourselves in the shoes of those in need by donating shoes that are in great condition. Shoes must be in New or Like New condition. Sneakers are preferable. All Youth and adult sizes are needed. Unfortunately, no sandals, open-toed shoes, flip-flops or high heels can be accepted.
How Do You Participate?
Circus fans may drop off shoes at the following locations beginning July 15th, with shoes collected in advance being delivered to The Big Feat – The World's Largest Shoe Drive on Tuesday, August 9.
• From now until Monday, August 8 at 94.9 KLTY studios and at KLTY events throughout the month of July. KLTY Studios is open Monday through Friday from 8:30am-5:30pm, and is located at 6400 Beltline Road, Suite 120, Irving, Texas 75063.
• The Shops at Willow Bend at the customer service kiosk during normal mall hours. The mall is located at 6121 West Park Boulevard, Plano, Texas 75093.
• Villages of Fairview/Allen Offices from 8am-5pm, Monday through Friday. The offices are located at 329 Town Place, Fairview, Texas 75069
• Dairy Queen, 1001 N. Oak Avenue, Mineral Wells, Texas 76067. During normal restaurant hours. (Hometown of Boss Clown Taylor Albin)
• American Airlines Center at the Administrative Entrance on the north side of the arena on Monday through Friday from 9am-5pm. The arena is located at 2500 Victory Avenue, Dallas, Texas 75219. There will be free parking at the Lexus Parking Garage, which is adjacent to the northeast corner of the arena at 2620 North Houston Street.
• AT&T Plaza at American Airlines Center on Monday, August 8 from 8pm to 10pm and on Tuesday, August 9 from 7am to 7pm.
• Additional drop-off locations listed at RinglingCharityShoeDrive.com.
Break A Guinness Record
The Big Feat – The World's Largest Shoe Drive is a great opportunity for families, scouts, churches, neighborhoods and co-workers to put their best foot forward and help the community. To learn more or ask for donation boxes for your group, visit RinglingCharityShoeDrive.com.
In addition to the world's largest shoe drive, there will be circus celebrations as Ringling Bros. attempts to break the world record. On Tuesday, August 9 from 5pm-8pm, circus fans are invited to bring pairs of shoes to AT&T Plaza at American Airlines Center, where there will be a host of fun activities for Children of All Ages including performances by the world famous Ringling Bros. Clown Alley, face painting, circus games, and more.
An adult 18 years of age and older must be present when shoes are being donated so that they can sign-off on the donation log for Guinness World Records. In addition to participating in a once-in-a-lifetime opportunity, those attending the Tuesday evening party will receive a Certificate of Participation, plus a free circus voucher (good for any D/FW performance) will be given out to the first 1,000 adults 18+ for each qualifying pair of shoes donated. Please donate shoes prior to 7pm so that shoes can be counted and logged for Guinness World Records prior to the end of 24-hour donation cycle, which ends at 8pm.