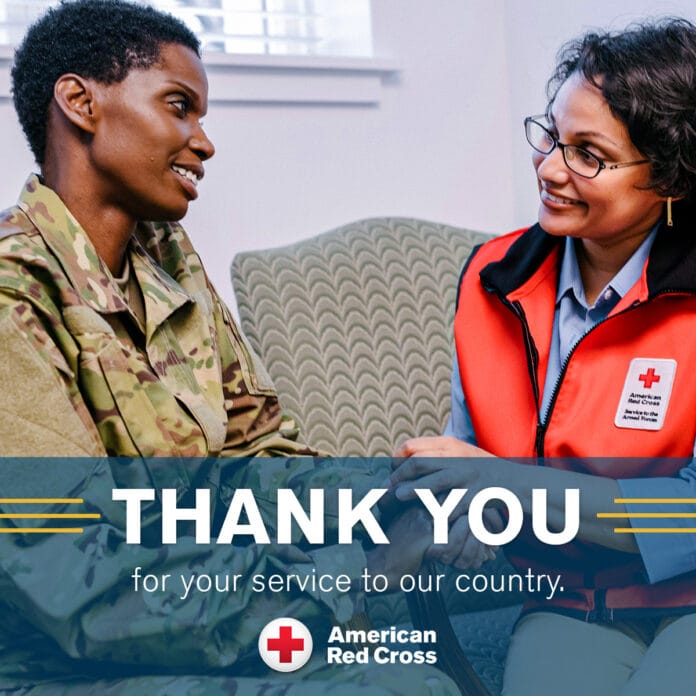 DALLAS (JULY 19, 2023) — Members of the United State Armed Forces and their families often experience highly stressful situations. To help them manage the challenges of military life, the American Red Cross North Texas Region Service to the Armed Forces is actively recruiting licensed mental health professionals to serve as Resiliency Workshop Facilitators.
These specialized volunteers offer critical mental health assistance and resources to service members, veterans and their families. Resiliency Workshop Facilitators provide topic-specific psychoeducation, facilitate discussion and teach resiliency tools to address the stress of military life, reintegration and other issues that may arise.
"The Red Cross is dedicated to the wellbeing of service members and their families," said Katrina Gonzalez, Service to the Armed Forces and International Services Regional Program Director, American Red Cross North Texas Region. "Our volunteer resiliency professionals provide them with support and resources to help them overcome life's emotional challenges."
Resiliency Workshop Facilitators must have an independent clinical license — LPC, LPC-S, LMFT, LMFT-S, LCSW, LCSW-S or psychology license — with previous experience working with or alongside service personnel. They will primarily focus on the needs of military communities in Abilene, San Angelo, Tyler and Wichita Falls. Facilitators can work in-person or virtually with the possibility of travel. Resiliency Workshop Facilitators must host a minimum of two workshops per year, either in-person or online.
Several free upcoming virtual information sessions will outline the Resiliency Workshop Facilitator role and the services the Red Cross provides to the military community. These sessions are open to anyone and will answer questions about how volunteer mental health professionals help.
July 19, 2023, at 10 a.m. CST
August 23, 2023, 10 a.m. CST
September 20, 2023, 10 a.m. CST
To sign-up for any of these sessions, please visit tinyurl.com/RedCrossNTX.
For over 135 years, the American Red Cross has provided critical assistance to military families — beginning with American Red Cross founder, Clara Barton, on Civil War battlefields. Employees along with thousands of volunteers help deliver services at Red Cross offices across the country and in more than one hundred military installations around the world.
About the American Red Cross:
The American Red Cross shelters, feeds and provides comfort to victims of disasters; supplies about 40% of the nation's blood; teaches skills that save lives; distributes international humanitarian aid; and supports veterans, military members and their families. The Red Cross is a nonprofit organization that depends on volunteers and the generosity of the American public to deliver its mission. For more information, please visit redcross.org/northtexas or CruzRojaAmericana.org, or follow us on Twitter at @RedCrossNTX.