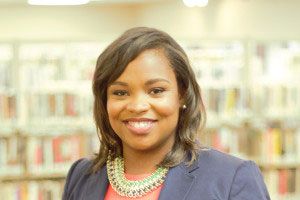 Meet Candice Quarles, DeSoto City Council Place 6
DESOTO—With the DeSoto City Council Place 6 seat recently being vacated when Curtistene McCowan moved into the Mayoral seat in that city, newcomer Candice Quarles was voted to fill that vacant seat when the Special Election was held earlier this month. Quarles, who has lived in North Texas for the past eight years, answered these questions for the paper after her recent win.
How long have you lived in DeSoto?
Almost three years.
Where did you grow up/where are you from originally?
St. Louis, MO. I've been in North Texas for eight years now.
Have you sat on any boards or commissions before running for the City Council if so, which ones?
The DeSoto: Zoning Board of Adjustment; DFW: Urban League Greater Dallas Young President- Past President, VP and Chair; Delta Sigma Theta Arlington Alum-Past Secretary, 1st VP and Chair; Alliance for Greater Works; League of Women Voters Dallas- Current Secretary; Nat'l Assoc. African Americans in Human Resources Dallas; Golden Circle DFW( AA Women's group)- Current Chair.
What is your day job when not working with the City Council?
I am a Business Owner, CQ-Human Resources Consulting and 9HappyPeople.com.
What made you decide to run for this position?
I've decided to run for office to ensure my daughter and your kid has a better community to thrive unlike the area I grew up. I know real change happens from the bottom up and millennials need to step up. Young families are needed in DeSoto and we should give input on how we want our city to be in the next 20 years. If you don't get involved, you can't complain about status quo.
What do you like most about this opportunity?
The opportunity to make real change. Local government affects you most. I'm grateful for the opportunity to serve.
What are some of the things you hope to see the DeSoto City Council accomplish this year?
I hope to see more job growth in DeSoto through strategic economic development. I would like see more partnerships with our neighboring cities, and more discussion on how we market our city throughout the region and a focus on attracting more entrepreneurs to the area.
What is your favorite DeSoto event?
DeSoto ISD sports. The kids dominate in everything and sweep state titles with ease and excellence is in them. They are the best, they own it. I'm here for it. So proud of the young men and women.
What do you do in your down time?
Traveling, Spending time with my adventurous child who is almost two years old.
Anything else you want to say about being elected to this position?
I'm here to serve the people. We need input, so share with me. I'm on all social media channels, or email/call me. I'm excited about the opportunity, DeSoto let's go!