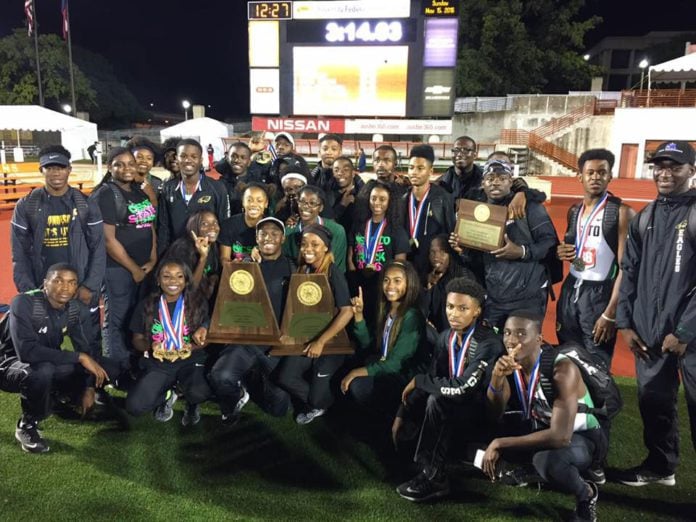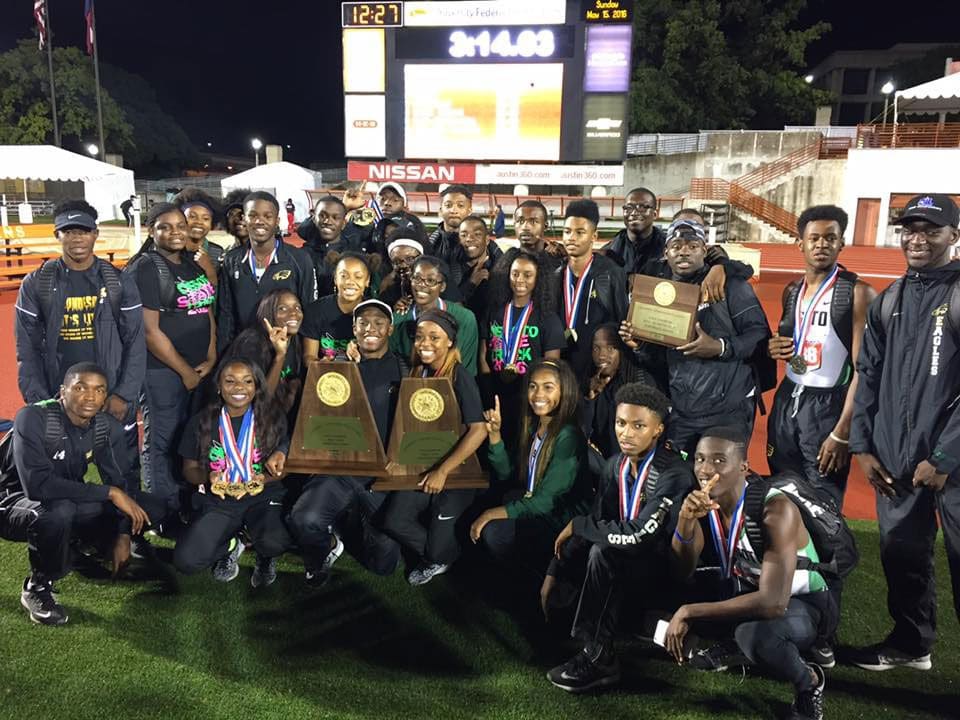 DeSoto Track Teams Finish Strong
DESOTO—Congratulations to both the DeSoto Women's and Men's Track Teams for winning the 6A State Track Meet at the University of Texas in Austin on May 14. The Lady Eagles won the first five races they competed in – 100M, 100M and 300M hurdles, 4x100M and 4x200M relays; the boys won their first two – high jump and 4x100M relay.
The women finished with 79 points (Cypress Springs in 2nd with 60) to win its first state title since winning three straight from 2011 to 2013. DeSoto finished third in 2014 and was the runner-up last year. Alexis Duncan set a new 6A State Record in the 100M hurdles as she three-peated in the 100M hurdles and repeated in the 300M hurdles – she is a five-time State Champion in the hurdles, and has several relay medals as well! The women earned points in all seven events!
The pressure was on for the men after winning the first two, they only had the 4x200M and 4x400M relays left to compete in and were behind Manvel entering the final relay. A second-place finish in the 4x400M secured the win and a sweep repeat of 2012. DeSoto is the only 'big' school to have won the men's and women's titles in the same year – and this makes it twice!
Track Meet Results
MEN – 54 points
HIGH JUMP
1st place CJ Gilmore, DeSoto, 6-9
4×100 RELAY
1st place DeSoto, (Savion Drake, Trevin Chambers, LaDarren Brown, London Dunn), 40.34
4×200 RELAY
4th place DeSoto (Frederic Williams, LaDarren Brown, London Dunn, Trevin Chambers) 1:26.58
4×400 RELAY
2nd place DeSoto, (Terrion Spivey, Evan Chambers, Darrin Jackson, Cameron Neely) 3:14.22
WOMEN – 79 points
100M
1st place Kira White, DeSoto, 11.63
200M
6th place Rosaline Effiong, DeSoto, 24.47
100M HURDLES (State and Meet Record)
1st place Alexis Duncan, DeSoto, 13.22
300M HURDLES
1st place Alexis Duncan, DeSoto, 41.88
4×100 RELAY (2016 Fastest in Nation)
1st place DeSoto (Shavonne Jackson, Kira White, Zaria Whittaker, Alexis Duncan), 45.13
4×200 RELAY
1st place DeSoto (Rosaline Effiong, Taylor Armstrong, Zaria Whittaker, Chloe Cavazos), 1:36.29
4×400 RELAY
4th place DeSoto (Taylor Armstrong, Zaria Whittaker, Mariah Crawford, Bryannia Murphy) 3:46