One of the hottest summers in DFW is coming to an end…we hope. This Labor Day, we'll spend time in the pool, enjoy some refreshing cocktails, have some friendly competition, and roast s'mores after cooking some wood-fired pizzas. We're sharing some of our favorite products for enjoying Labor Day weekend with friends and family, especially if you're entertaining guests.
SAXX Swimsuit
Say goodbye to those old-school mesh liners in men's swimsuits. SAXX took their BallPark Pouch technology and added it to their line of swimwear with a slim-fit liner to make swimsuits more comfortable. They also added some fun prints like lobsters, pineapples, bananas, and more. My husband tried on the Oh Buoy swimsuit SAXX sent us and has worn it ever since. He loves that they dry quickly and are comfortable to wear by the pool, in the pool, or for a quick trip to the store.

FOR THE BOAT-TO-BAR GUY
Go Coastal is a retro-inspired swim short that transcends activities in and out of water. It combines a slim fit liner that includes the BallPark Pouch with a quick-drying nylon shell, so you can go from cold dips to enjoying a cold one in a jiffy. Available in 5" and 7" inseam.
Price: $60 | Featured Print: Pineapple Flip
FOR THE POOLSIDE PARTIER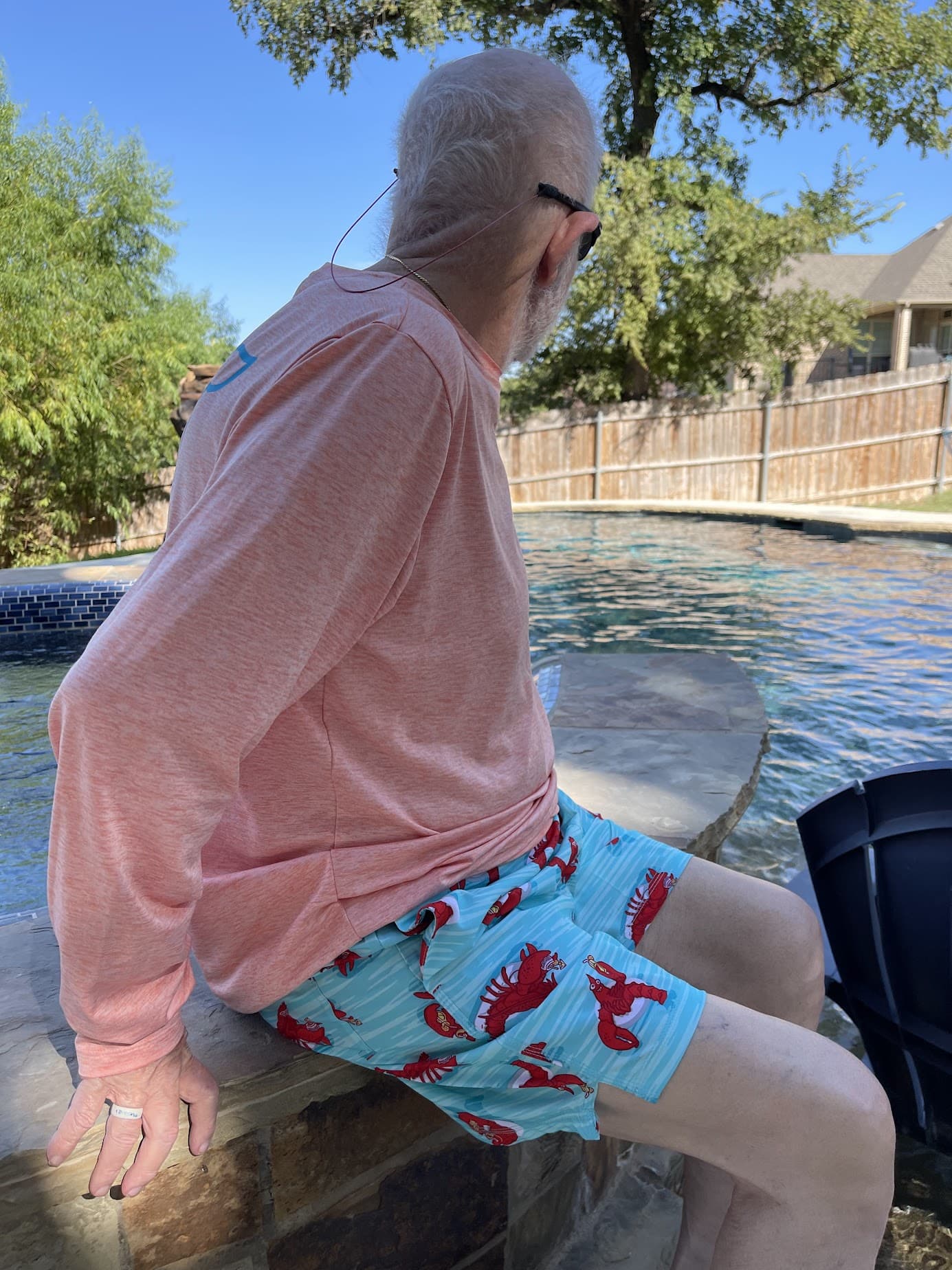 Oh Buoy is a 2N1 swim short that drowns out discomfort with a four-way stretch shell and quick-draining fabrics. Its integrated DropTemp Cooling Hydro Liner actively cools you down while the built-in BallPark Pouch offers unreal support in and out of the water. Available in 5" and 7" inseam.
Price: $70 | Featured Print: Lobster Lounger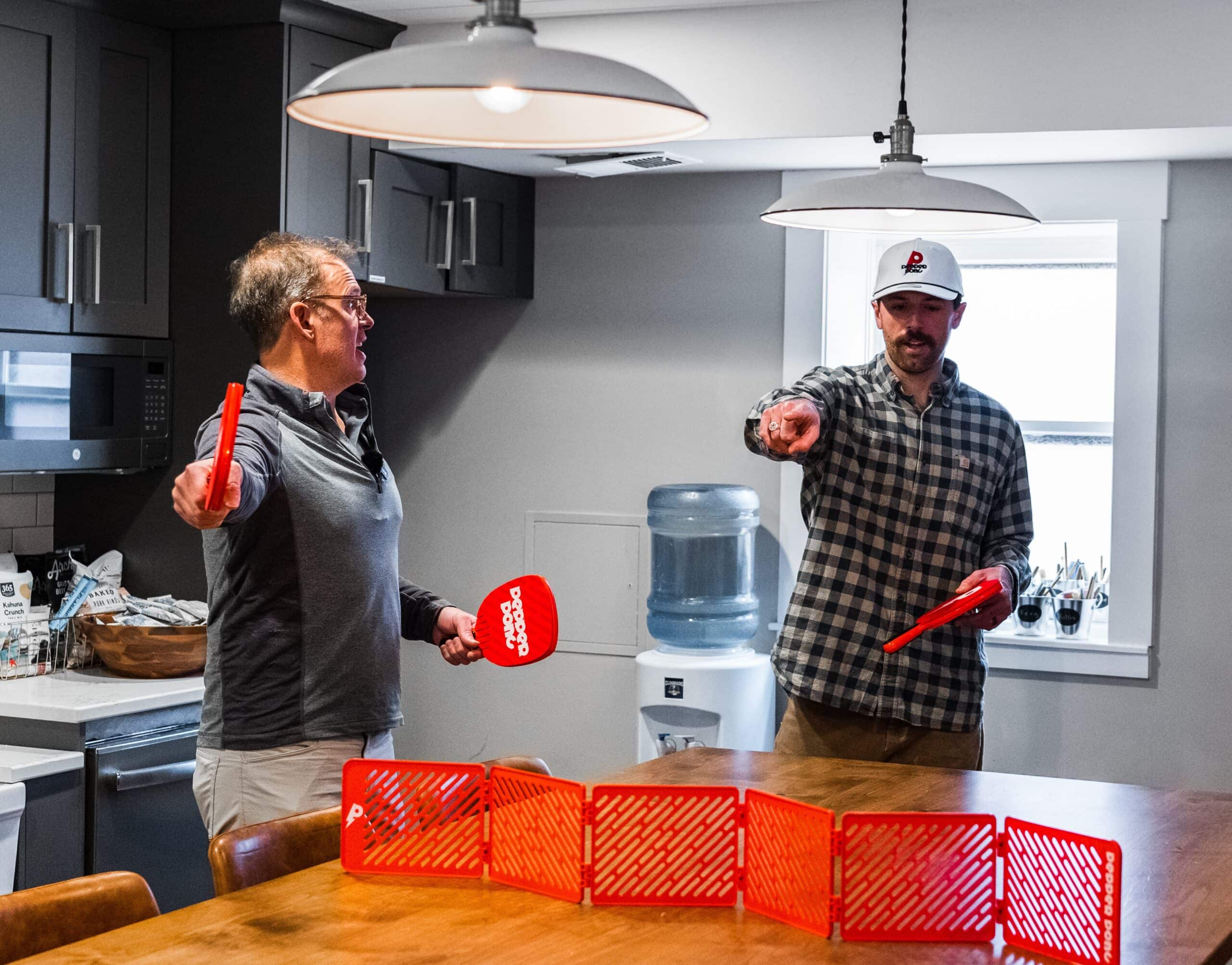 Our kids love to play games, board games, darts, indoor basketball and more. We've never played pickleball and don't play much ping pong, but Pepper Pong has brought some friendly competition to our dining room table. Although, we quickly learned the dogs can't be in the room when we play, or else the balls become fair game.
The quieter version of ping pong, Pepper Pong is like a hybrid combo of ping pong and pickleball. With the foldable fence (net) and carry case it is super portable and easy to carry with you to the neighbor's house or on your next road trip. Pepper Pong can be played on any flat surface-hood of your car, dining room table, etc.
The specially designed rackets have a foam like surface and the game uses a soft, foam like ball that is 30 percent bigger than a ping pong ball. We're practicing volleying for now, and honing our skills with the different balls. I love that the creator made a fun game that can be played anywhere, stores easily, and is quiet so the game can be played without disturbing the peace or creating distractions.
Toasting The End of Summer
We've discovered a new favorite adult beverage in ready to drink form with a delicious canned margarita by Margs! They sent us some samples to test, and it was love at first sip. I started with the Spicy Marg which has some extra jalapeno and yuzu spice and its my favorite! It has just the right amount of heat together with the carbonation for a light, refreshing beverage.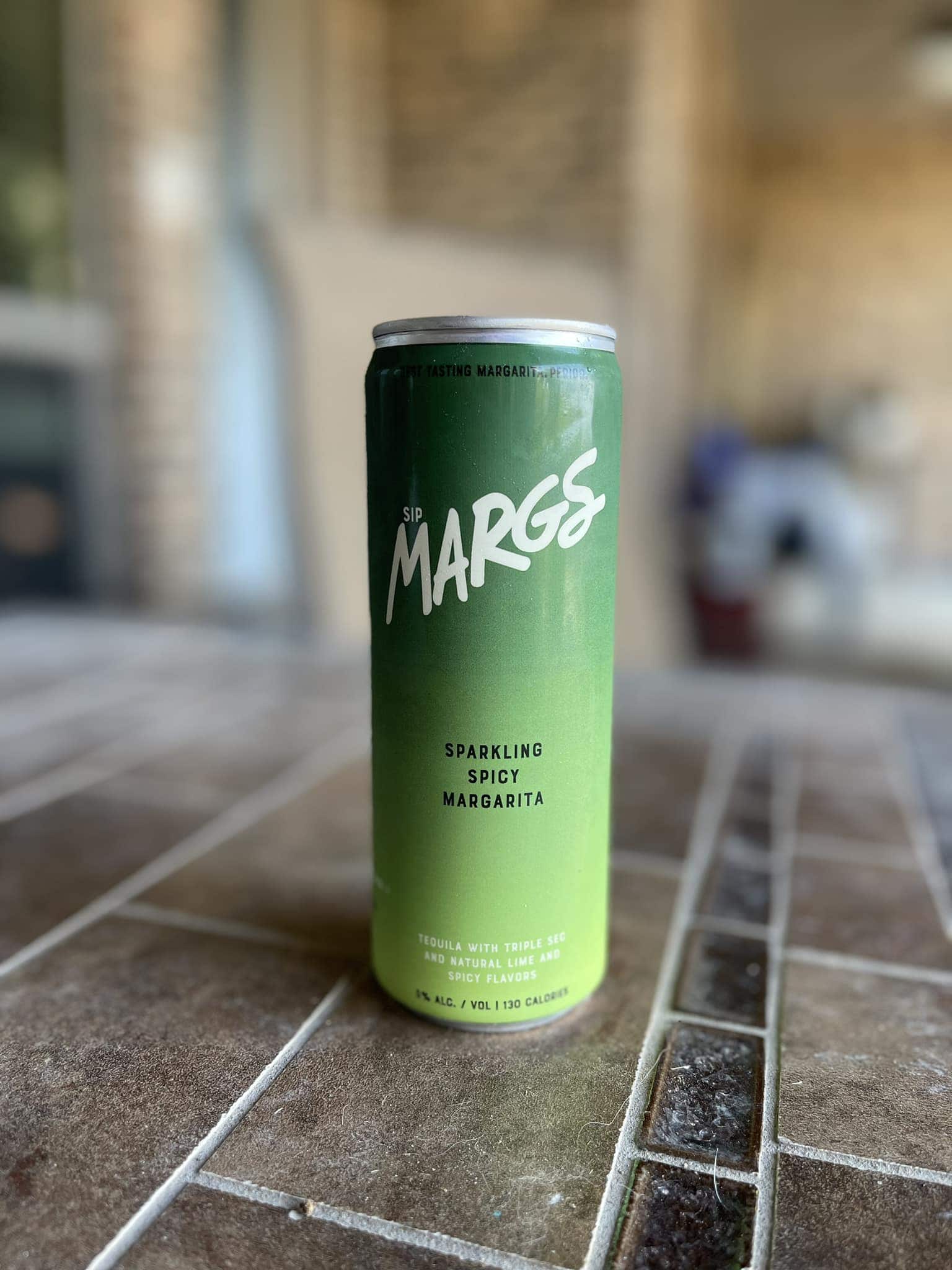 Margs are available in five varieties:
Classic: You know what they say – you can never go wrong with the classics! Bright flavors that taste like it's girl's night out.
Mango: Everyone's favorite tropical fruit – juicy and refreshing mango takes center stage here.
Coconut: Instantly transport yourself to an island paradise with a kiss of sweet coconut. I'm not big on Coconut but this was my second favorite followed by the Mango.
Mezcal: The MARGS Mezcal margarita brings the taste of Mexico's traditional agave spirit to a uniquely refreshing cocktail.
Spicy: The spicy MARGS flavor is a twist on the classic – just with some extra jalapeno and yuzu spice kicked in.
You can purchase a pack of 4 for $12.99 at SipMARGS.com, TotalWine.com and Drizly.com, and locally at liquor stores across the US in: NY, NJ, CT, FL, GA, IL, MA, MI, and TX.
If your bar is stocked but no matter what you're shaking or stirring you're always looking for new ways to make, mix and serve cocktails, Drink Mixy offers a pre-mixed jar with dehydrated ingredients ready to be infused with your favorite spirit.
I love how easy Drink Mixy jars are to use-you just add 12 ounces of the spirit of your choice to the jar and let it in-fuse in the refrigerator for 2-3 days. Shake, strain and serve over ice or with a mixer of your choice in a cocktail recipe! Each jar makes eight 1.5 oz servings, and once infused can be used a second time for 16 servings! Available flavors include: Flavors: Tejas (Spicy Margarita), Uptown (French 75), Sundance (Hibiscus Spritz), Skyline (Moscow Mule), Rambler (Ranch Water), Red Sangria, White Sangria, Pina Colada, Berry Lemonade.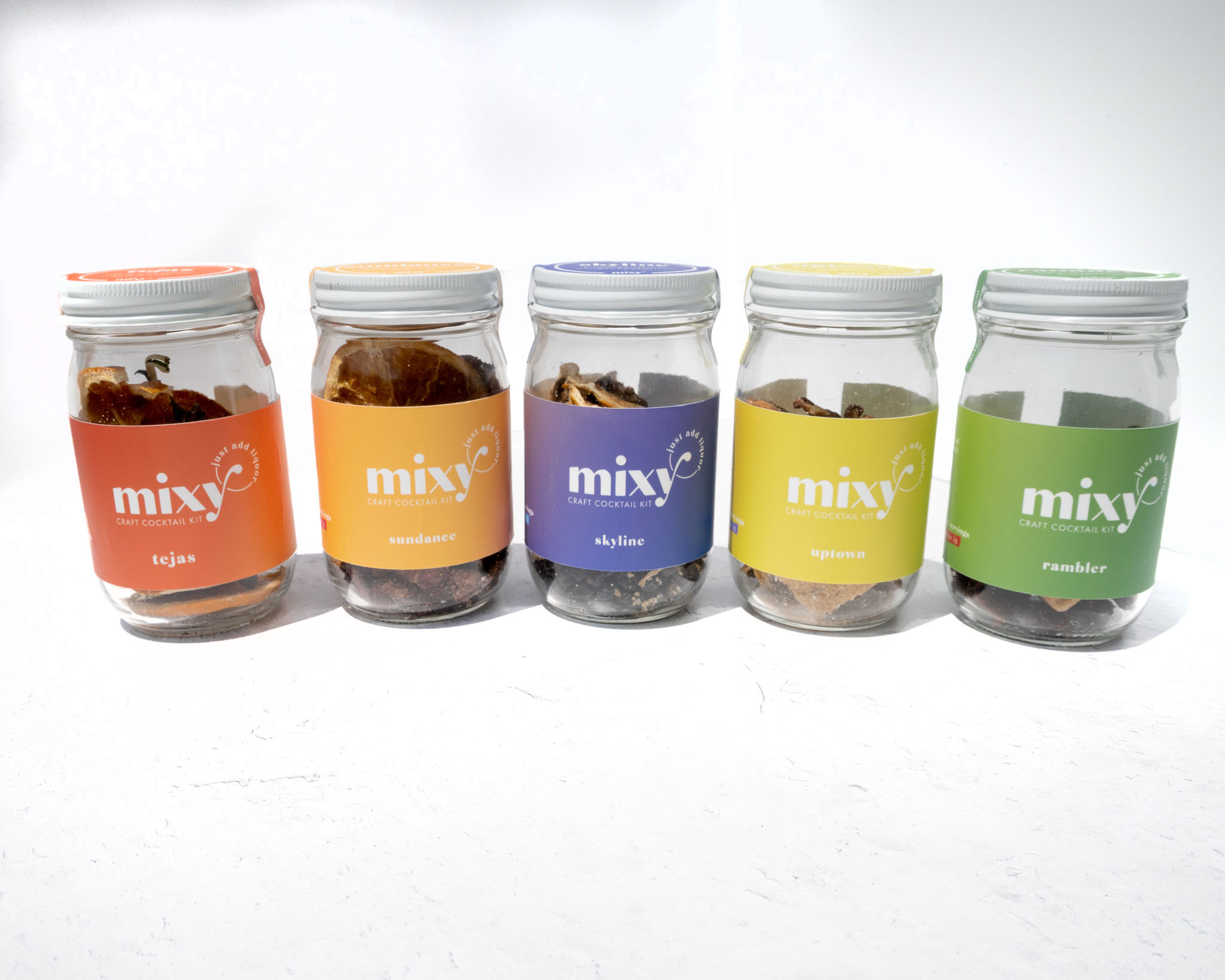 Drink Mixy sent us a jar of their The Skyline (Founder's Favorite) which contains Dehydrated ginger, lemon, blueberry and a turbinado sugar cube. Drink Mixy recommends you add vodka or bourbon, so we chose vodka.
They also sent us a jar of Sundance which contains dehydrated orange, dehydrated strawberry, hibiscus, and turbinado sugar. We served our Sundance with sparkling water over ice and muddles some strawberries for a refreshing cocktail. With the flexibility to add the spirit of your choice and additional ingredients, the cocktail creations can be made to your personal preference. Mixy jars are a great bar staple, but also a fun gift for friends.
Wood Fired Pizzas With Pi Fire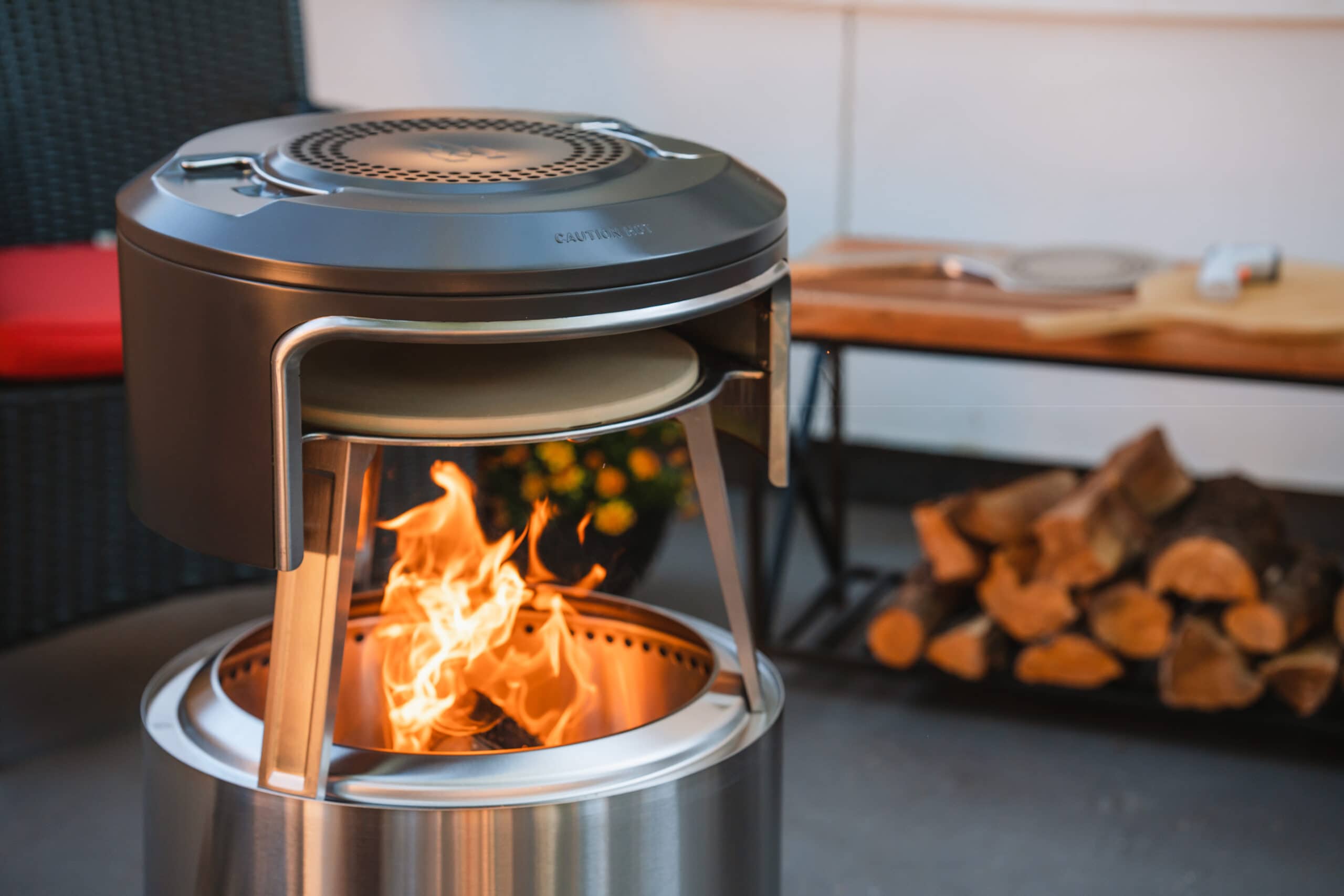 For our northern and midwestern friends, Labor Day means they're one day closer to the end of cooking outdoors without winter weather. Whereas in our neck of the woods, Labor Day, means the temps are starting to be more tolerable for cooking with our Solo Stove. We can sit around the Bonfire, listen to music, and when the flames die down throw a pizza on the Pi Fire. From building the fire to building the pizza, every step of the process is quality family time when we're away from the screens and making new memories.
Pi Fire is super portable and perfect for camping, or bringing with you to the AirBNB. And, when its not being used it nests inside your fire pit. When taking it with you, its easy with its own carrying case. With the Pi Fire + Tools you have everything you need to make a wood fired pizza on your Solo Stove firepit. With the tools you can measure the temp of the stone (you want it to be around 500-650), and a quality peel for building and launching your pie, the turner is perfect for turning your pizza.
We have the Solo Pi and the Pi Fire, and I think there's more of a learning curve with the Pi Fire. But, they make amazing, quality pizzas at home and the Pi Fire creates the perfect gathering place to visit with friends while the pizzas cook.
Pro tip: Solo Stove's Neapolitan dough balls are easy to use and make the perfect pizza crust.
If burgers, fajitas or steaks are more your thing, then be sure and check out Solo Stove's Cast Iron Cooktops (including a grill, griddle and wok) dock into a Hub, which locks into the fire pit and lifts the cast iron 6-8 inches above the fire pit surface – the ideal height for cooking. All cast irons are custom-molded, featuring a nonstick, pre-seasoned surface for an intuitive and flavorful open fire cooking experience.
S'more Summer With S'mores on the Mesa XL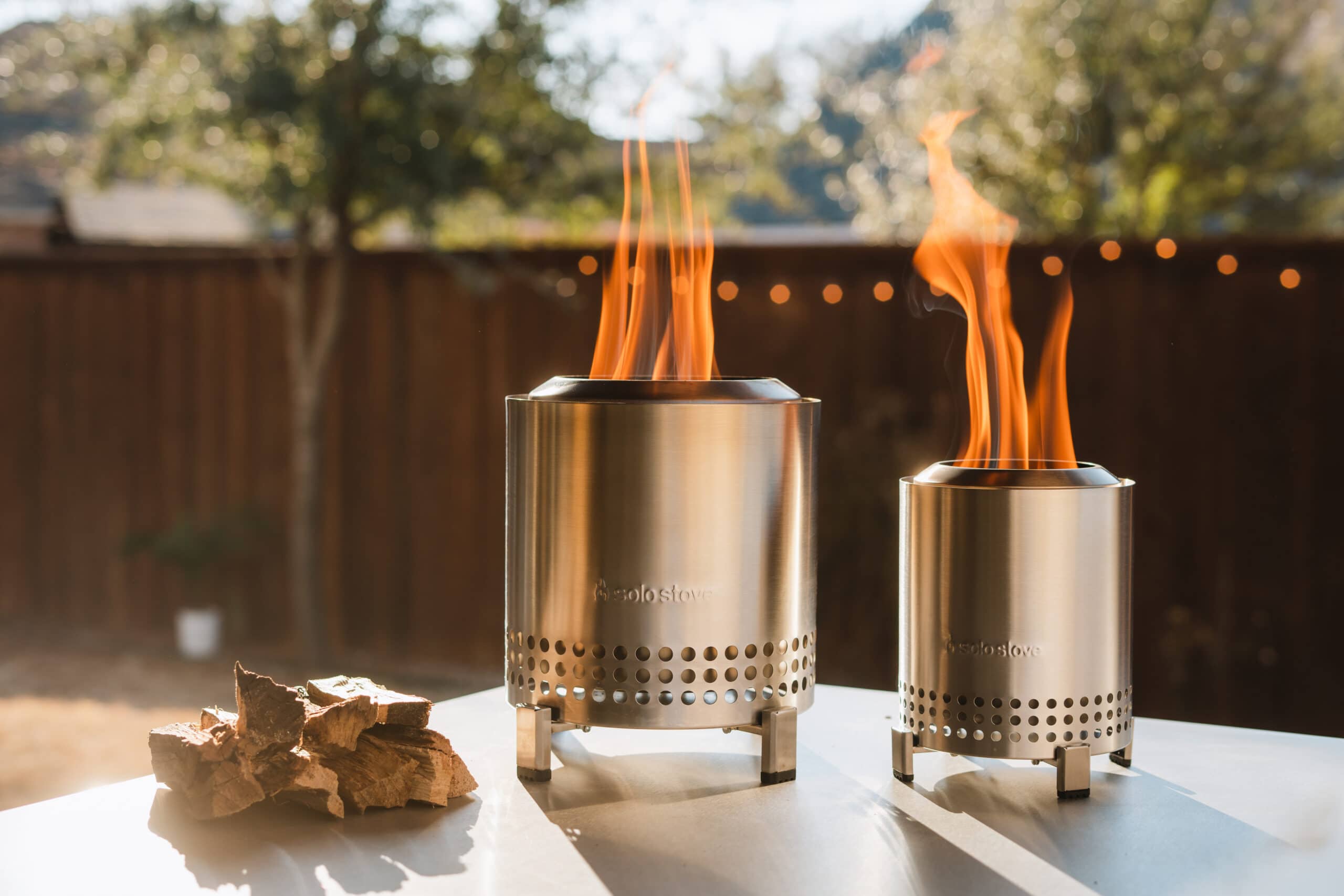 The OG Mesa was a big hit in our home because we could fire it up in the summer for some quick toasted marshmallows without overheating. Solo now has made a bigger, better Mesa with the Mesa XL.
It's mini but mighty, yet not too big for a tabletop fire. With the Mesa XL you can dine by the warmth of the fire, use it for roasting s'mores and easily move it around the yard or take it with you wherever you may roam.
Whatever and wherever you spend this Labor Day weekend, please drive safely, drink responsibly and enjoy your long weekend.