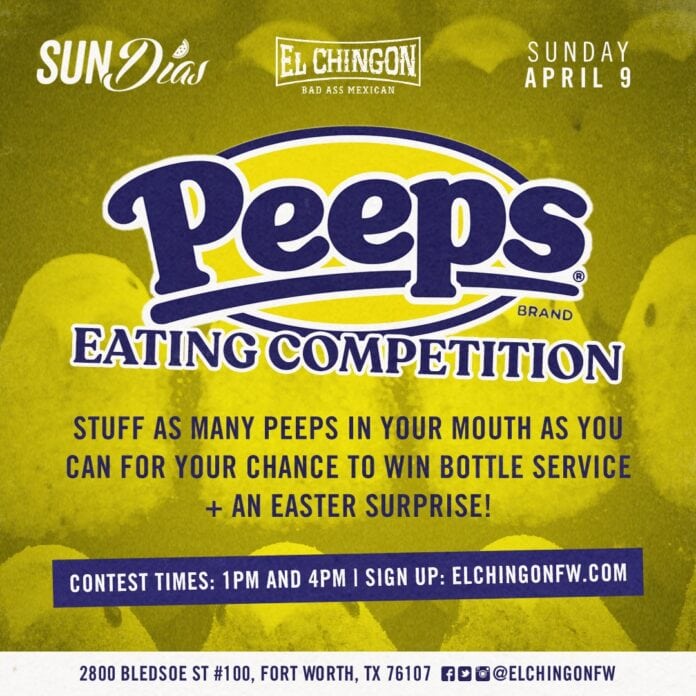 FORT WORTH, TEXAS – March 23, 2023 – El Chingon, the popular Fort Worth restaurant and bar located at 2800 Bledsoe St., Ste. 100 will put a "Bad Ass" spin on Easter with a buzz-worthy cocktail and Peeps eating competition, all set to a Bad Bunny soundtrack on Sunday, April 9.
A playlist of Puerto Rican rapper and singer Bad Bunny's signature Latin trap, hip-hop and rap songs will energize Easter brunch, available from 11 a.m. to 3 p.m. Guests may enjoy signature staples including the burrito clásico made with ham, bacon, scrambled eggs, sour cream and Chingón cheese blend; huevos rancheros made with fresh pico de gallo, eggs, chile toreado, flour tortillas, avocado and citrus crema; chilaquiles chingones made with homemade cut tortilla squares, over medium eggs, choice of red or green salsa, avocado, citrus crema, cotija cheese and cilantro. Brunch dishes are served with a choice of rice and beans, breakfast potatoes or fresh fruit on the side.
El Chingon's featured holiday cocktail, Buzzed Bunny, will combine Red Bull Red Edition Watermelon with Deep Eddy Lemon Vodka, festively garnished with a Peep and priced at $12.
The Bad Bunny-inspired Easter event will feature two Peeps eating contests, with the first at 1 p.m. and the second at 4 p.m. Guests will compete to see how many marshmallow confections can fit in their mouth for a chance to win bottle service, $100 in Chingon bucks, swag and more.
More information about El Chingon is available on the website at www.ElChingonFW.com.