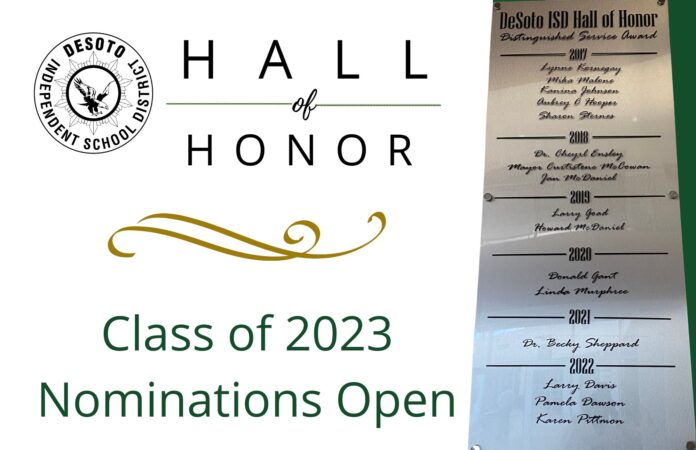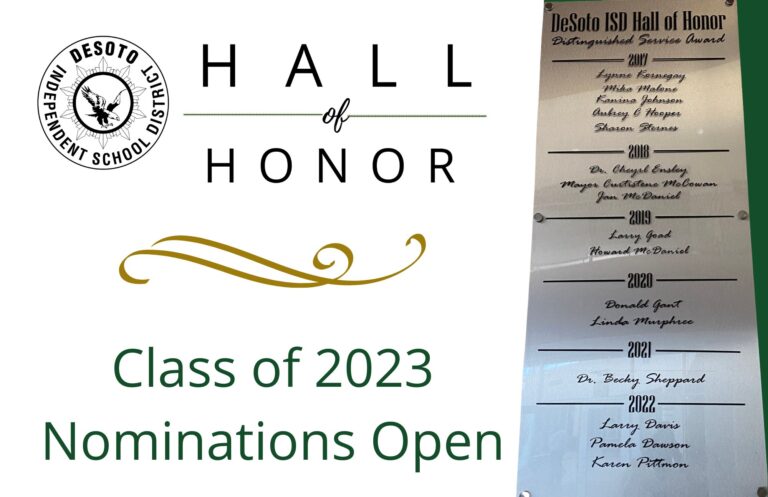 DeSoto ISD developed the DeSoto ISD Hall of Honor in 2012 to recognize alumni and those who have provided meritorious service to the district. The stated criteria, listed below and expanded on the district website, will be used to measure candidates for the Hall of honor in one of two categories – DHS Alumni Hall of Fame or DeSoto ISD Distinguished Service Award.
Nomination submissions
All nominations will be submitted online. You may download a draft word document to compile the required information for ease of submission. Nominations may be made by individuals or groups, or a person may self-nominate. Only one nomination is required per person; multiple nominations for a single person will be combined and evaluated as a single score.
HALL OF HONOR SELECTION CRITERIA
Distinguished Service Award (DSA) – Minimum 10 years of consistent contribution to the development and improvement of DeSoto ISD is required for nominees to be considered for the Distinguished Service recognition.
Alumni Hall of Fame (HOF) – Minimum 10 years since graduation along with outstanding achievement in their field of endeavor is required for a graduate nominee to be considered for Alumni Hall of Fame recognition (for the 2023 Hall of Honor class, the nominee must have graduated from DHS in 2012 or before).
Posthumous recognition is considered in either category.
All nominations are reviewed by a designated selection committee comprised of current and former staff, community leaders and alumni. Only the information included in the nomination is considered when determining the selection.
ALUMNI HALL OF FAME
2012 – Ellis Hobbs, III
2012 – Sgt. Jason Brown (posthumously)
2013 – Mark Brady
2013 – James P. Monkres, Jr.
2014 – David Plott
2014 – Casey Printers
2015 – Rachel Proctor
2015 – Mike Humphreys
2016 – Dr. Jelani Ingram
2016 – Warren Seay Jr.
2016 – Rachel Thomas
2016 – Christopher Vinson (posthumously)
2017 – Chief Fred Hart, Jr.
2017 – Rick Jaffa
2017 – June Villers
2017 – Byron Hanspard, Sr.
2017 – Ro Parish
2018 – Von Miller
2021 – Zachary Orr
2021 – Amanda Sargent
2022 – Dr. Tiffany Clark
DISTINGUISHED SERVICE
2012 – Laura Dooley
2012 – Dr. Janice Pettis Ingram
2012 – Judy Moss
2013 – Shirley Cooper
2013 – Frank Moates
2014 – Pamela DeBorde
2014 – Kathy Goad
2015 – Kathryn 'Kitty' Hickerson
2015 – Bill Hickey (posthumously)
2015 – Melvlyn 'Sissy' Lowe
2015 – Dr. Peggy Trammell
2016 – Karen Daniel
2016 – Chris Dyer
2016 – Beth Wright
2017 – Lynne Kornegay
2017 – Mika Malone
2017 – Kanina Johnson
2017 – Aubrey C. Hooper
2017 – Sharon Sternes (posthumously)
2018 – Dr. Cheyrl Ensley
2018 – Mayor Curtistene McCowan
2018 – Jan McDaniel
2019 – Coach Larry Goad
2019 – Howard McDaniel
2020 – Donald Gant
2020 – Linda Murphree
2021 – Dr. Becky Sheppard
2022 – Larry Davis
2022 – Pamela Dawson
2022 – Karen Pittmon