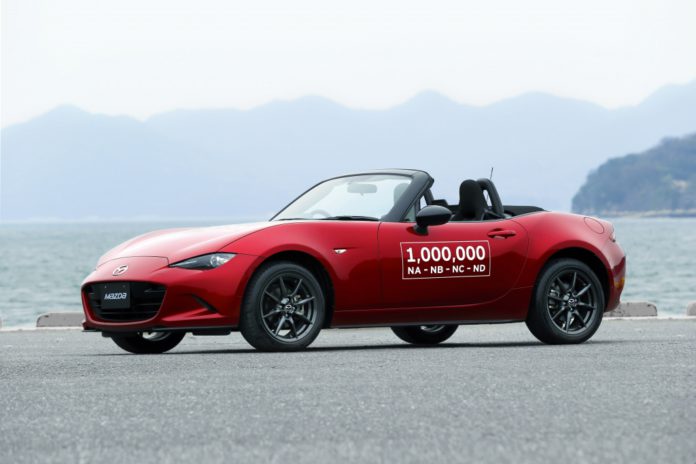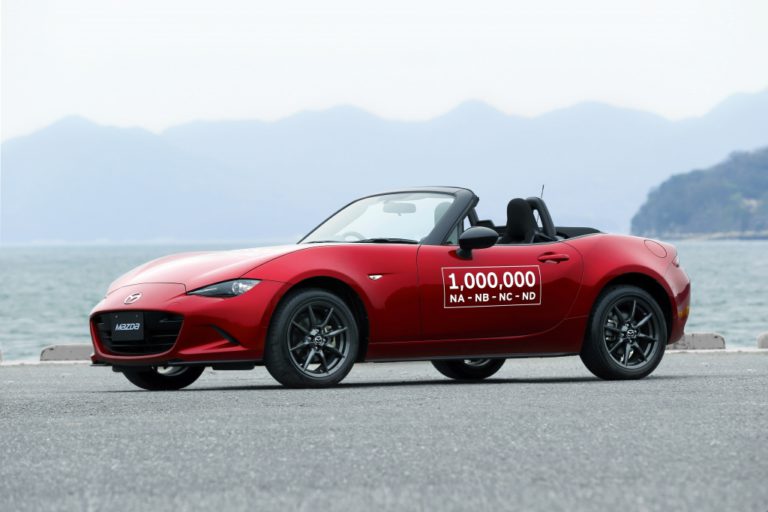 18-Stop Millionth Miata Tour Visits Austin, Dallas, Houston
My first encounter with the Mazda Miata was way back in the 1990s. We were planning an annual DeSoto Chamber of Commerce banquet, and the Chamber was raffling off a brand new Miata. Some had doubt, but wiser heads prevailed in assuring more $100 tickets were sold than ever before, as people vied to win this sexy roadster.
They were right. There were waiting lists "around the block" hoping for the opportunity to purchase a new Miata. Used models were commanding a premium over the new vehicles on dealer lots. This was the hottest vehicle on the market, and second place wasn't even close.
Fast forward to 2016. My first opportunity to drive a new Miata came in December of 2015. I have to say I absolutely loved the roadster. It held the road well and was a joy to accelerate around curves. The newest MX-5 was draws attention from anyone and everyone because of its raw sex appeal. A bonus, was the fantastic fuel economy.
Mazda MX-5 Miata Celebrates Success
We knew Mazda had a hit with the Miata back in 1990, but had no idea its appeal would continue to grow as it has. Mazda passed an important milestone with the Miata this April. They've scheduled a worldwide appreciation tour to celebrate that milestone – the production of the one-millionth Mazda MX-5 Miata. The millionth Miata tour is meant as a special thank you to fans and owners of what is now the best-selling roadster of all time.
This torchbearer of pure driving joy is coming to the United States from Japan on an 18-stop tour. The tour starts at Mazda Raceway Laguna Seca for the Monterey Motorsports Reunion on August 18-21. From there, the tour continues around the country before its conclusion at the Raceway in early October.
Long Live The Roadster
Texans can join the Millionth Miata Tour celebration in Houston, Austin or Dallas September 23, 24 and 25. The Houston event is at Grand Sport Speedway, Austin at Roger Beasley Mazda, and Dallas fans can see the millionth Miata tour at Globe Life Stadium.
During the stops along the tour, thousands of MX-5 owners and people influential in MX-5's early history and development—as well as those helping write the next chapter in the MX-5 Miata's destiny — will make the tour one to remember for a long time.
"Last year was the 'Year of the Miata' with the launch of the all-new 2016 MX-5, but even a year into the sales of the fourth-generation roadster, that momentum has continued. From winning the 2016 World Car of the Year and World Car Design of the Year, to the introduction of the all-new 2017 MX-5 RF, to our one-millionth Miata milestone, the MX-5 continues to symbolize the innovation and spirit that propels Mazda. With the Millionth Miata Celebration, we're excited to give back to those who, like us, continue to believe that driving matters." ROBERT DAVIS, SENIOR VP, U.S. OPERATIONS, MAZDA NORTH AMERICAN OPERATIONS (MNAO)
Halo cars of the tour are the one-millionth car and a classic red 1990 model that made its world debut at the 1989 Chicago Auto Show. The new Japanese-specification right-hand drive MX-5 is powered by a 1.5-liter SKYACTIV-G engine. Mazda North American Operations owns the classic 1990 model as part of the company's Heritage Collection.
At each tour stop, the first 240 owners and fans will have the opportunity to sign the one-millionth MX-5! Approximately 400 attendees at each tour stop will receive a commemorative "Millionth Miata Celebration Tour" T-shirt.
Millionth Miata Tour stops:
August 18-21 Monterey, California Mazda Raceway Laguna Seca
Rolex Monterey Motorsports Reunion
August 25 Boston, Massachusetts Quirk Mazda
August 27 New York, New York Wayne Mazda
August 28 Philadelphia, Pennsylvania Young Mazda
September 2 Cleveland, Ohio Classic Mazda
September 3 Chicago, Illinois Autobarn Evanston Mazda
September 6 Indianapolis, Indiana Tom Roush Mazda
September 7 Columbus, Ohio Germain Mazda
September 8 Charlotte, North Carolina Mazda of South Charlotte
September 9 Atlanta, Georgia Mall of Georgia Mazda
September 10 Jacksonville, Florida Duval Mazda at the Avenues
September 17 Daytona Beach, Florida Daytona Mazda
September 23 Houston, Texas Grandsport Speedway
"MX-5 Experience"
September 24 Austin, Texas Roger Beasley Mazda
September 25 Dallas, Texas Globe Life Stadium
September 27 Phoenix, Arizona Earnhardt Mazda
September 28 Los Angeles, California Galpin Mazda
October 1-2 Monterey, California Mazda Raceway Laguna Seca
Miatas at Mazda Raceway
Locations were chosen based on MX-5 sales history, as well as overwhelming enthusiasm from owners' clubs that expressed interest when MNAO announced the tour.
Track the one-millionth MX-5 on the tour and join the conversation on social media with hashtags #LongLiveTheRoadster, #MX5 and #Miata.