Midlothian- Midlothian Police Department investigators have arrested two more individuals related to the October 9, 2023 Robbery/Kidnapping that occurred in the 5000 Block of Vernon Point in Midlothian.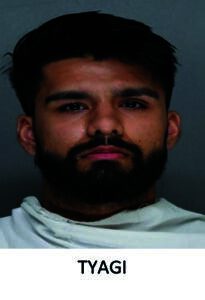 Jeffrey Stayns Fernando, 22, of Plano and Akash Tyagi, 22, of Frisco have been taken into custody on the following charges:
Two counts each of Aggravated Kidnapping with a Deadly Weapon
Two counts each of Aggravated Robbery
One count each of Engaging in Organized Criminal Activity with a Deadly Weapon
On Monday October 9, 2023 at 9:48 PM we were contacted by the DeSoto Police Department and informed of a kidnapping that allegedly occurred in our City. Officers from the Midlothian Police Department responded to the location of the incident, as well as to a location in DeSoto to meet with their officers and the two victims.
Our investigation revealed that three male subjects came to the victims' home and took them by gunpoint to an Airbnb rental house in DeSoto. While at that location the suspects tied the victims up and attempted to gain access to their online bank accounts. After being held for several hours, two of the three suspects left the location. The victims were able to loosen their restraints and subdue the remaining kidnapper after retrieving a knife from the home's kitchen. The victims fled from the home and ran to a neighboring residence where they were able to call 911. The remaining suspect fled the location prior to DeSoto officers' arrival.
On October 12, 2023, the Midlothian Police Department arrested Noah Solomon Gulzar on charges related to the incident. In the interim, investigators were able to obtain additional information and identify the second and third suspect as Fernando and Tyagi. We have executed warrants on both subjects for their involvement.
They are currently being held in the Ellis County Jail.