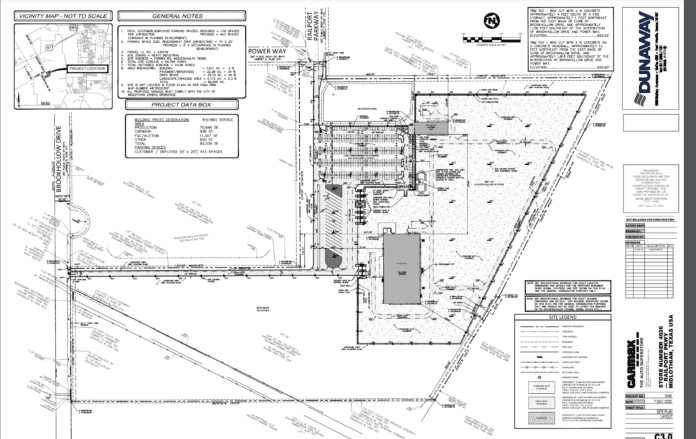 CarMax Requested Zoning Change From Heavy Industrial to a Planned Development District
MIDLOTHIAN – The Midlothian City Council voted Tuesday night for a zoning change that will allow CarMax, Inc. a company opening a location in the city where vehicle sales and reconditioning is permissible, to have an outdoor parking lot for storage of vehicles prepared for private auction.
The CarMax inventory center is set to be located in Railport Business Park. CarMax was asking City Council for approval for outdoor storage of vehicles and a basic reduction in landscaping.
The number of vehicles estimated to be stored in the outdoor parking lot will be around 3000 maximum, however, Mayor Pro Tem Justin Coffman said the outdoor parking lot storage will likely not be maxed out at this number since the vehicles will come and go.
Overall, the CarMax facility will sit on 40 acres and the company is looking at a $43 million investment according to a CarMax spokesperson Tuesday night.
The spokesperson also pointed out the company is not asking for relief on zoning or any tax sharing or incentives. According to them, CarMax is offering one-half million dollars annually to the city with an average job at the Midlothian facility paying around $50,000, which exceeds the Ellis County average.
"We are not asking for use waivers or modifications to the uses or increase of uses," the spokesperson said. "We are just asking for the storage and as was stated in the staff report the property does fit within the industrial module, which use is compatible with the future land use plan. It is intended for long-term industrial use and as far as the thorough plan goes the property is on the corner of two significant streets, Power Way and Railport, and these roads can handle a significant amount of traffic."
When answering questions posed by the council, they noted this is a fairly new concept for CarMax with other inventory centers being built. In a recent story by The Courier of Montgomery County, CarMax is working on a deal to build a $5.2 million auction facility in the Conroe Park North Industrial Park.
Staff notes reported that CarMax's inventory preparation process consists of two stages: inspection and reconditioning.  The proposed traffic impact is 15 to 20 truck trips per week, 1,000 cars estimated per week, and 400 to 500 cars estimated per auction and CarMax is estimating to hire approximately 225 associates for its reconditioning operations and 60 associates for its auction operations.
CarMax, Inc. is a used vehicle retailer based in the United States with two business segments: CarMax Sales Operations and CarMax Auto Finance.
The public hearing was rescheduled for this week from March 14 because a councilmember had been absent from the earlier meeting.
Zoning Change Was Approved Following The 2nd Motion
The original motion and vote after the Public Hearing was closed Tuesday night was to deny the zoning change. That vote lost 4 – 3.
The second motion was to approve the zoning change with Midlothian Mayor Richard Reno, Mayor Pro Tem Coffman, Place 6 Hud Hartson, and Place 1 Wayne Sibley voting yes for the approval in a 4 – 3 vote.
The three councilmembers opposed had different reasons for voting against changing the zoning of the Property from Heavy Industrial to a Planned Development District to allow for vehicle sales and reconditioning. Place 3 councilmember Anna Hammonds mentioned she had seen several different sets of numbers regarding the vehicle count and wanted to be sure she understood that portion of the requested change. Councilmember Wickliffe expressed concerns about not standing by the three standards the city has set: landscaping, outside storage, and parking.
Place 2 councilmember Walter Darrach said at the beginning of the public hearing that he did not think this was the highest and best use of the land. He also said he felt there were more questions than answers making it difficult to approve.