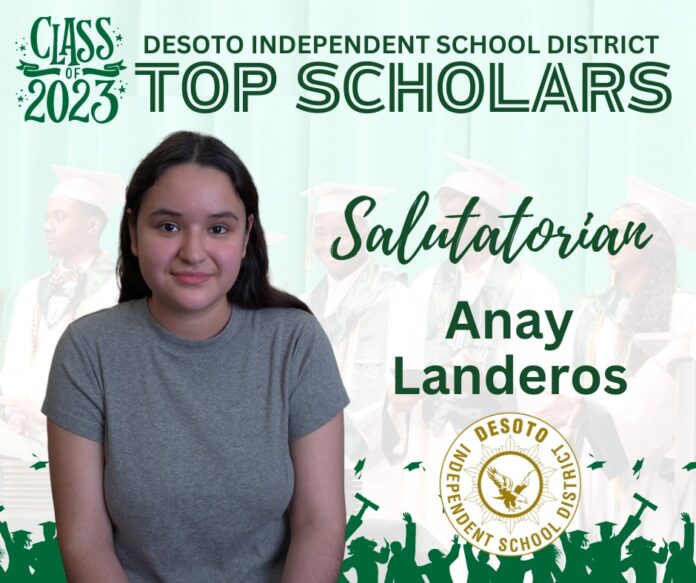 Meet DeSoto High School Class of 2023 Top Scholar & Class Salutatorian Anay Landeros
DHS Top Scholar and Salutatorian Anay Landeros plans to attend Southern Methodist University and major in Software Engineering/Pre-Law with aims to become a Software Engineering.
Anay shared "I enjoy reading and have read over 100 books. I hope to write a book one day, although I'm not sure what of yet. Another interesting thing about me is that I love helping people and participating in school events, such as the Back-to-School Fair and Campus Clean-Up activities. I like knowing I'm doing something productive with my time especially if it's helping my community."
While at DHS, Anay participated in National Honor Society, Math Honor Society, and Spanish Honor Society. Anay's most inspirational teacher was Ms. Garner because of her constant motivation to push herself and take risks." I have learned a lot about who I am because I have allowed myself to step out of my comfort zone and discover my talents and passions. One of the most important lessons I learned from Ms. Garner is that our personal impact, regardless of how small, has the potential to change lives. I strive to live by this and continue to do my best effort in everything I do in hopes of impacting at least one person. I am incredibly proud to know Ms. Garner as she continues to inspire me in my academic pursuits."
The most memorable experience Anay recalls being recognized with the Senior Superlative Award. "It was an impactful moment because it demonstrated that hard work and perseverance pays off, especially when you are passionate about learning."
Anay's advice to remaining DHS students is to get involved in their school clubs, extracurriculars, and community. By trying new things, it will help you figure out what you're passionate about. Don't be afraid to get out of your comfort zone and ask questions.