By: Typhani Bartholomew
LANCASTER, Texas — After months of hard work, dedication, and a surprise reveal, Lancaster High School has announced the top ten students for the class of 2023.
Parents, district leadership, and campus leadership met in the Lancaster High School lecture hall on Wednesday, May 10, as counselors revealed the top ten ranks. Students were emotional as their ranks were announced, and their parents presented them with an engraved top ten medallion. All top ten students are enrolled in Lancaster Early College High School for the first time in school history.
"I'm so proud of the students. I've been their counselor all four years, and it's wonderful to see them reach this level," said Delia Moffitt, Lancaster Early College High School counselor. "They have worked so hard to get to this point and are so deserving of their accomplishments. They're smart, bright, well-rounded, and overall awesome students."
The top ten students from the graduating class were treated to a special luncheon in honor of their outstanding achievements. The event created a lasting memory for the group, with the students' parents, school administrators, and Lancaster ISD leadership team members in attendance. The luncheon was organized by the school administration to recognize the accomplishments of their students and to encourage them to continue striving for excellence.
"Our top ten students are competitive but always push each other to succeed," said Anthony Thornhill, Principal of Lancaster Early College High School. "They deserve recognition and appreciation because they have been putting in the hard work. They've preserved through the challenges of high school and college academics, all while staying involved in extracurricular activities. I am happy to celebrate the students, and I'm very proud of all the seniors and grateful to be their principal."
During the luncheon, each student was given a commemorative class rank photo, a gift bag from the school counselors, and a few district-branded items. In addition, each student's table was decorated in Lancaster ISD colors and the colors of the university they will attend in the fall.
"It feels amazing to be ranked number three in my class," said senior Kalani Beck. "I put a lot of hard work into school and dedicated a lot of time into doing my work and sports, and now it's all paid off. I couldn't believe my family surprised me! I loved seeing them and celebrating my achievements."
Parents were also recognized and thanked for their support and guidance. They also reflected on the students' experiences and their academic journeys. Finally, they wished their children well as they prepare to embark on the next chapter of their lives.
"I'm incredibly proud of my daughter," said Shalundria Bell, parent of the class valedictorian, Saphyre Bell. "Time has gone by so fast, and I am excited for her future. It's hard to believe the moment we've worked for is almost here. I know she will go on to do magnificent things, and I can't wait to see what she accomplishes in her life."
During the reveal, the students were recognized for their academic excellence, leadership skills, and contributions to the school community.
"I was so surprised when the counselors revealed that I was ranked number two in my class," said salutatorian Reed Eastman. "I feel blessed to have made it this far. However, it feels a little nostalgic to be graduating soon. I remember elementary school like it was yesterday, and now we're about to close this chapter of our lives."
Superintendent of Schools, Dr. Katrise Perera, expressed her pride in the students and their accomplishments. She emphasized the importance of hard work and dedication in achieving success and striving to achieve their personal goals.
"I'm just amazed at the number of kids that have embraced the opportunities to challenge themselves," said Dr. Perera. "They're not only about to obtain a high school diploma, but also a college degree. In this case, before they even get their high school diploma. These outstanding students and seniors stepped up to the plate, making me very proud as their superintendent."
With all top ten students being Lancaster Early College High School students, they will graduate from Dallas College Cedar Valley on May 13 with an associate's degree. Then, they will walk the stage again on May 24 and receive their high school diploma.
The top ten rank announcement and luncheon were a great success, and everyone in attendance was impressed by the students' intelligence, creativity, and enthusiasm. The luncheon was an excellent way to celebrate the achievements of the top ten students from the Class of 2023. Congratulations to all graduating seniors!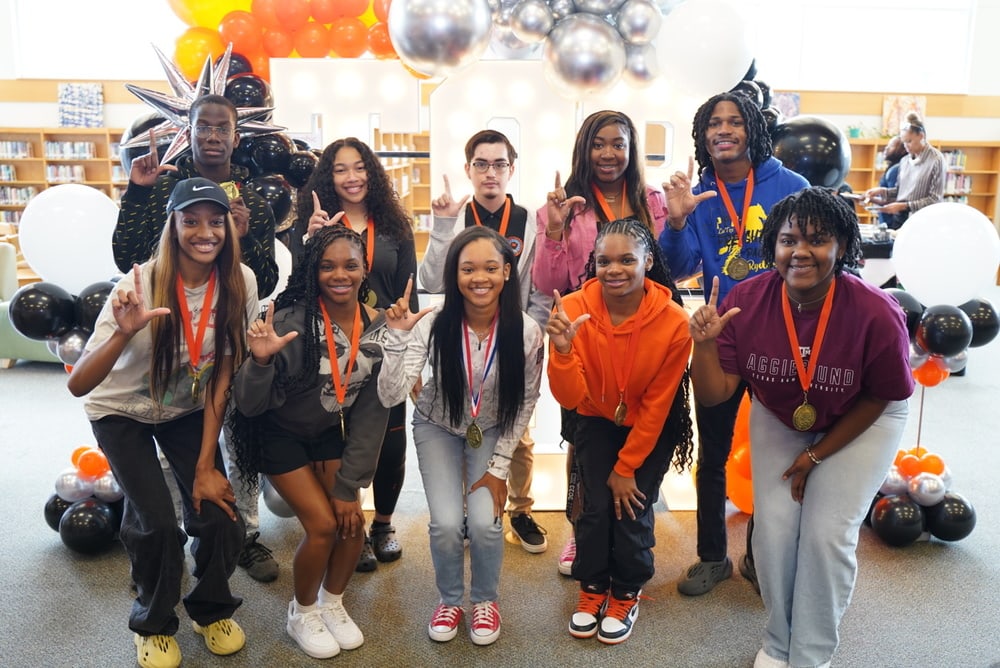 2023 Lancaster ISD Top 10 Students:
Valedictorian, Saphyre Bell
Salutatorian, Reed Eastman
Kalani Beck
Jordyn Loyd
Robyn Woodson
Emmanuel Garcia
Ravyn Woodson
Taylor Adams
Kelly Monroe
Artavius Snell Jr.