Louisiana Goes Lone Star is an epicurean experience from Louisiana Culinary Trails coming to Dallas Oct. 25. Top chefs from across the state of Louisiana are welcomed into the kitchens of 17 Dallas-area restaurants for one night only. See below for the final roster of participating locations for Louisiana's tasty takeover.
Roster of Dallas Restaurants
• Catbird at Thompson Dallas with chef Jeramie Robison and featuring chef Cory Bahr of Parish Restaurant representing Monroe-West Monroe, LA.
• Celebration Restaurant with chef Salvador Jimenez and featuring chefs Richard & Lori Hurst of Poor Boy's Riverside Inn representing Lafayette, LA.
• Charlie's Creole Kitchen with chef José Mauricio Cruz and featuring chef Grayling Thibodeaux of The St. John Restaurant representing St. Martin Parish, LA.
• Crossbuck BBQ with chefs Tim McLaughlin and Damian Avila and featuring chef Jason Derouen (a.k.a. "the Cajun Ninja") representing Bayou Country Crawfish Trail and Houma, LA.
• Dea with chef Roman Murphy and featuring chef Frederic Terluin of Rouj Creole representing Baton Rouge, LA.
• District Dallas with chef Aaron Staudenmaier and featuring chef Damien "Chapeaux" Chapman of Orlandeaux's Café representing Shreveport-Bossier, LA.
• Dock Local with chef M. Brett Curtis and featuring chef Angel Lombrage of The Bullfish Bistro representing Baton Rouge, LA.
• Dodie's Reef with chef Arturo Cruz and featuring chef Brent Daigle of Grady V's representing Louisiana's Cajun Bayou.
• Ida Claire with chef Ricardo Barcena and featuring chef Jeremy Langlois of Latil's Landing at Houmas House representing Ascension Parish, LA.
• José with chef Anastacia Quiñones-Pittman and featuring chef Ana Castro of Lengua Madre representing New Orleans, LA.
Roster of Dallas Restaurants Continued
• Lane's OAK'D BBQ with chef Michael Lane and featuring chef Owen Hohl of Hot Tails Restaurants – 2023's Louisiana Seafood King.
• Lounge Here with chef Gustavo Varela and featuring chefs Nealy and Keith Frentz of LOLA representing The Northshore.
• On Rotation Brewery & Kitchen with chef Mike Smith and featuring chef Desi Bourgeois of Grown & Grazed representing Ruston, LA.
• Restaurant Beatrice with chefs Michelle Carpenter and Terance Jenkins and featuring chef Holly Goetting of Charley G's representing Lafayette, LA.
• Roots Southern Table with chef Tiffany Derry and featuring chef Ross Dover of Palmettos on the Bayou representing The Northshore.
• Rye with chef Jager Shook and featuring chef Anthony Felan of Fat Calf Brasserie representing Shreveport-Bossier, LA.
• The Pelican House with chef Louis Rainey and featuring chef Lyle Broussard of L'Auberge Casino Resort representing Lake Charles, LA.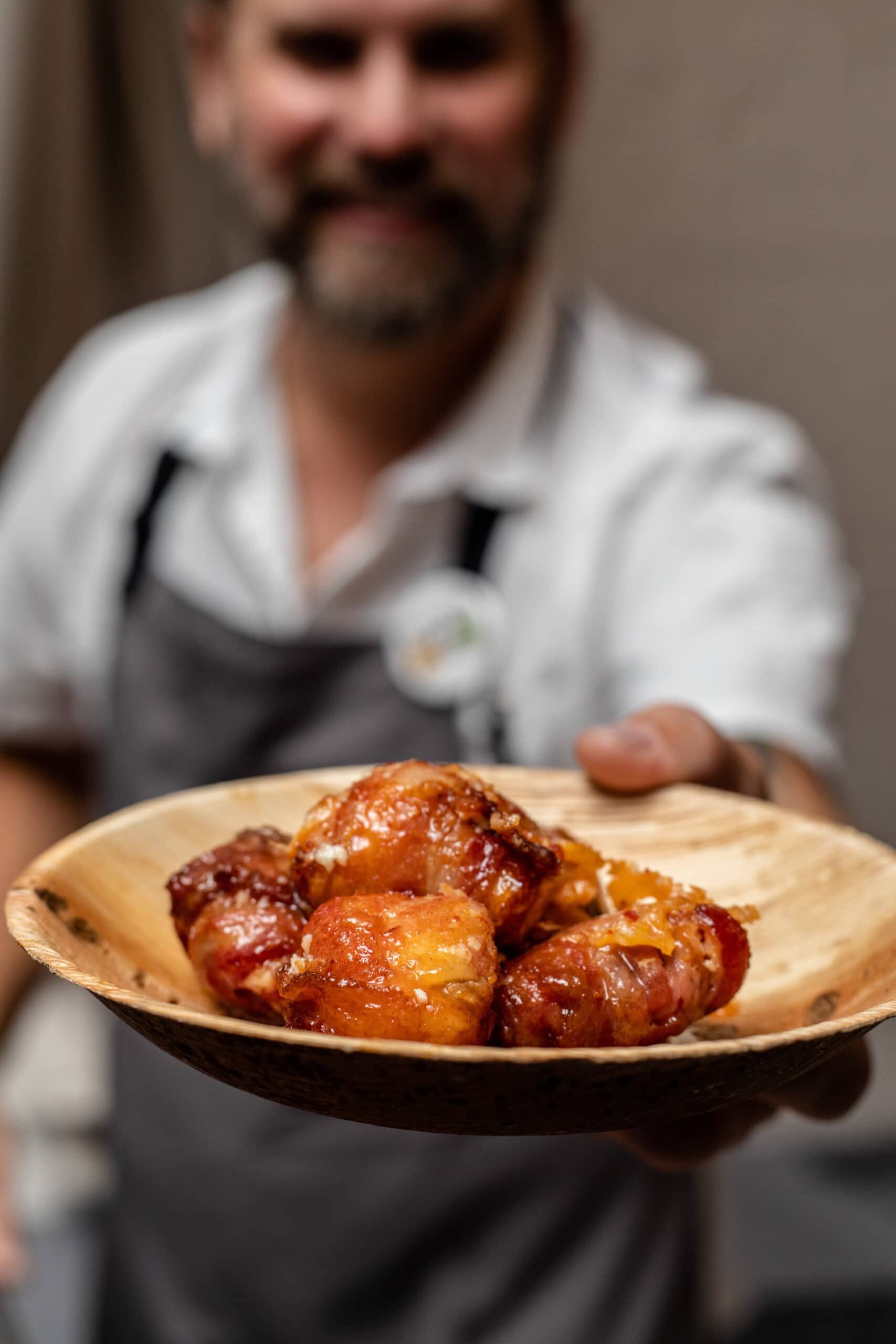 Louisiana Goes Lone Star Restaurant Formats
Event formats vary for each restaurant, from private ticketed dinners to special menus with no reservation required. Please make sure to check out the pairing details on the Louisiana Goes Lone Star website. For restaurants with private ticketed dinners or those that take reservations, booking in advance is strongly recommended.
October 25 will be an exclusive showing of Texas-Louisiana collaborative cuisine across Dallas. Expect dishes like Crispy Gulf Shrimp 'n' Grit "Fries" and Grilled Syracuse Andouille at District. Other dishes include Crab and Corn Anolini at Dea, and Crispy Gulf Oysters featuring LOLA pepper jelly, crumbled feta, crispy bacon, and pickled red onion from Lounge Here. Don't miss out on the Shrimp Etouffee Dumplings and Candied Yam Bread Pudding at Roots Southern Table, plus many more offerings around DFW.
LOUISIANA CULINARY TRAILS + LOUISIANA GOES LONE STAR
Louisiana Culinary Trails offers appetizing getaways and promotes Louisiana through its unique culinary scene in cities across the country. 'Louisiana Goes Lone Star' features 17 chefs from The Bayou State, melding culinary styles with restaurants across Dallas for a one-night-only event that explores the epicurean delights of Texas' southern sister.
More information and access to each restaurant's reservation procedure can be found at louisianagoeslonestar.com. To learn more about the Louisiana Culinary Trails program, please visit explorelouisiana.com/culinary.