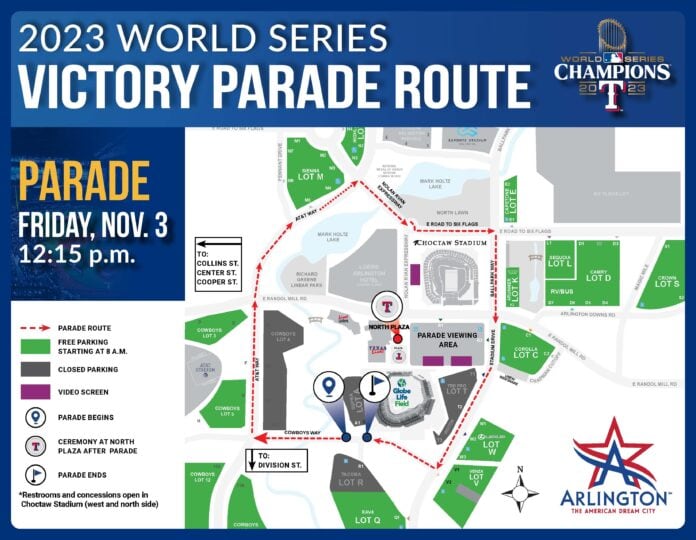 The City of Arlington invites fans from across North Texas to celebrate the 2023 World Champion Texas Rangers at a World Series Victory Parade on Friday, Nov. 3, 2023, in the Entertainment District. The free event is open to the public.
"The Texas Rangers' World Series victory is a dream five decades in the making," Arlington Mayor Jim Ross said. "Mayor Tom Vandergriff went to D.C. and convinced the Washington Senators to become the Texas Rangers and move to what at that time was a small bedroom community in the middle of the Metroplex. The Rangers have stayed with Arlington for 51 years. We've helped them build three stadiums here, the community has supported them, the City Councils have supported them, and the Rangers have reciprocated year after year with their commitment to the community. This year, they reciprocated with a World Series championship. We want fans to come out to the Entertainment District this Friday and really enjoy the moment, soak it all up and have a great time."
Parking and Street Closures
Free parking surrounding Globe Life Field and AT&T Stadium will be open to the public at 8 a.m. The Live! by Loews parking garage, Cowboys parking Lot 4 and Rangers' parking lots A, B, R and T, all of which are inside the parade route, will be closed to vehicles before and during the festivities.
Streets surrounding Globe Life Field and Choctaw Stadium will be temporarily closed for the parade route by 10 a.m.
Cowboys Way between AT&T Way and Stadium Drive
AT&T Way between Cowboys Way and Nolan Ryan Expressway
Nolan Ryan Expressway between AT&T Way and E Road to Six Flags Drive
E Road to Six Flags Drive between Nolan Ryan Expressway and Ballpark Way
Ballpark Way between E Road to Six Flags Drive and Cowboys Way
Randol Mill Road will also be closed between AT&T Way and Ballpark Way
Parade Route
The parade is scheduled to begin at 12:15 p.m. on Cowboys Way at Supra Lot A, just south of Globe Life Field. The route will loop around Globe Life Field and Choctaw Stadium in a clockwise fashion for about 1.9 miles, traveling north on AT&T Way and then east on Nolan Ryan Expressway and the connecting East Road to Six Flags. The route will continue south on Ballpark Way/Stadium Drive on the east side of Globe Life Field down to Cowboys Way, where it will end near Supra Lot A. The parade will include all Texas Rangers players, Arlington Mayor Jim Ross and the Arlington City Council, Arlington police and fire representatives, and local school marching bands.
Post-Parade Public Celebration
Parade goers are invited to gather afterward in the Globe Life Field North Plaza and the adjacent Tundra Lot B for a public ceremony featuring remarks from the Texas Rangers' executives, manager Bruce Bochy, and Rangers' players. The 30-minute program led by Texas Rangers Hall of Famer Chuck Morgan will begin following the parade conclusion.
Restrooms and Concessions
Public restrooms can be accessed through the north and west entrances of Choctaw Stadium. Concessions will also be available through these entrances.
Catch the Parade Action
Bally Sports Southwest will provide complete coverage of the parade and ceremony. Local media outlets will provide parade coverage as well. Follow the City of Arlington at @CityofArlington on Facebook, Instagram and X or at @ciudaddearlingtontx on Facebook for parade day photos and video coverage.