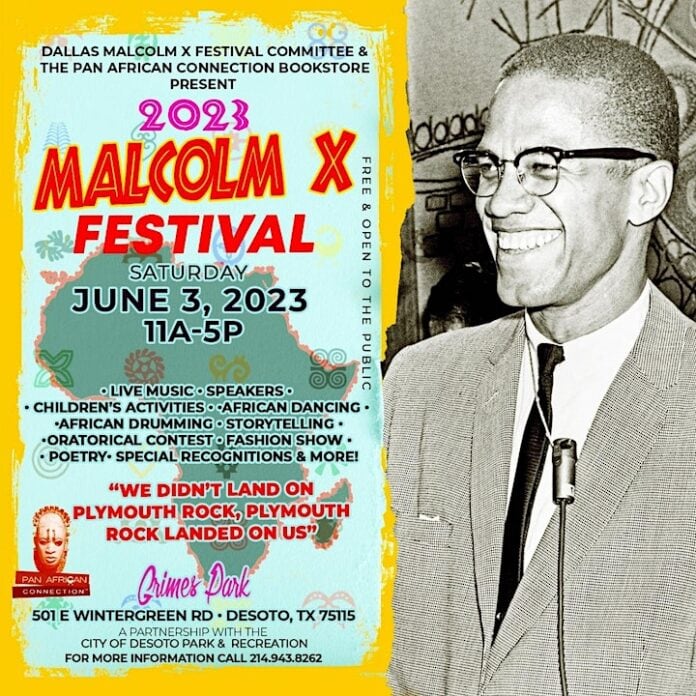 This family-friendly event with celebrate with children's activities live cultural entertainment, speakers, food, and fabulous vendors.
The Malcolm X Festival is Back!! This family-friendly event will celebrate with children's activities, live cultural entertainment, speakers, food and fabulous vendors.
This event is free to the public, but we would like for people to RSVP.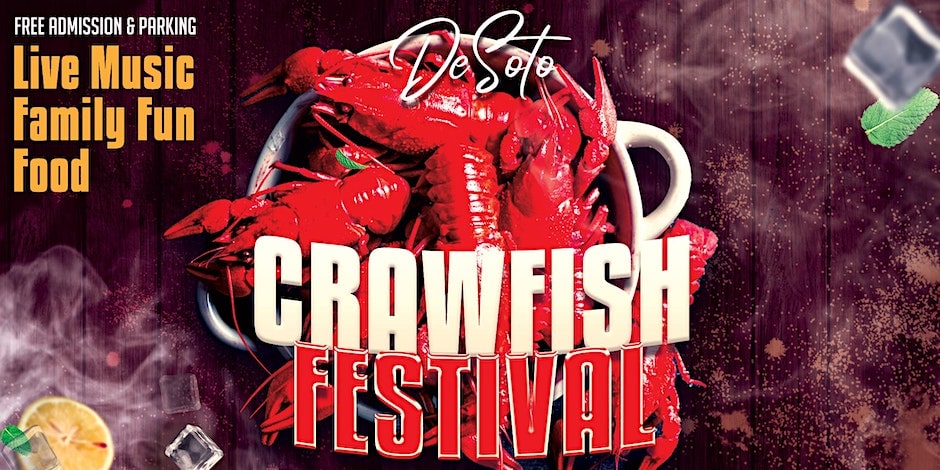 Come and enjoy tons of delicious spicy crawfish, great food, live music, vendors and games. Revel in the best blues and funk and enjoy the infectious rhythms. This will be a family-friendly, relaxed and fun community event.
***FREE Admission and Parking***
Grimes Park
501 E. Wintergreen Rd. DeSoto, TX
Live Performances by Willie Clayton, Drea Randle and The Odyssey Band and Audacity.
LIVE PERFORMING ARTISTS
Willie Clayton
Willie Clayton is an American Chicago blues and soul-blues singer and songwriter. He has recorded over 25 albums since the 1980s. He has been performing since the late 1960s. His chart successes span the decades from the 1980s onward.
Drea Randle and The Odyssey Band
Drea Randle is proclaimed the New Diva of Urban Contemporary Gospel Music. Drea was discovered by the Prince of Gospel himself, John P. Kee. Drea Randle has sung with the greatest and performed before the multitudes. Her first solo album "Oo-Wee " charted on the billboard. She chooses to sing a song that is uplifting and will compel her fans to live a life that is wired, fired, and inspired by the Holy Spirit!
Audacity
Audacity is an all-female variety cover band that will take you on a captivating journey from R&B, Soul, Pop, and Jazz to today's Top 40s. This band comprises the hottest musicians who will add quality, finesse, and your final entertainment touch. Audacity has performed for numerous events across the DFW metroplex.
Are You a Vendor? Here's an Opportunity
Community participation is the key to making this event a success. The City of DeSoto would like to invite your organization to be a part of this fun-filled event through active participation or financial support. Opportunities are available for community non-profit organizations for fundraising or to promote your organization. Email specialevents@desototexas.gov for more information.
Be Apart of the Fun, Sponsor our Event
The DeSoto Parks and Recreation Department has a unique opportunity for you and your business. Click here for Sponsor details.
For more information call 972.230.9650 or email specialevents@desototexas.gov.
Crawfish Festival – Weather Policy
In the event of inclement weather, the decision to relocate to the Recreation Center will be determined by 2 pm on the day of the event. Updates will be available by calling 972-230-9652.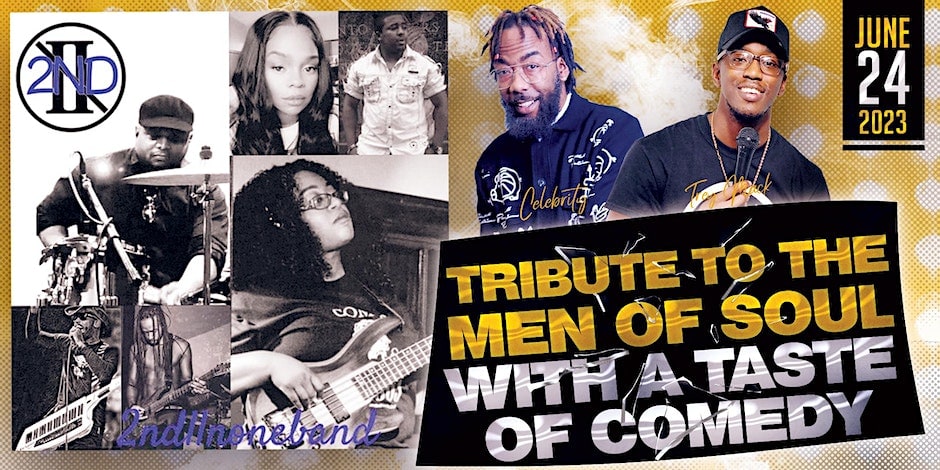 Join us for an evening filled with music by the 2NDIINone Band and comedy by Celebrity and Trey Mack
DeSoto Corner Theatre
211 E. Pleasant Run Road DeSoto, TX
*** FREE PARKING***
TICKETS $25 Early Bird before 5/27
Expected to be a SOLD-OUT show
There will be no refunds for this event.
Mayor's Summer Reading Club Opens June 5, 2023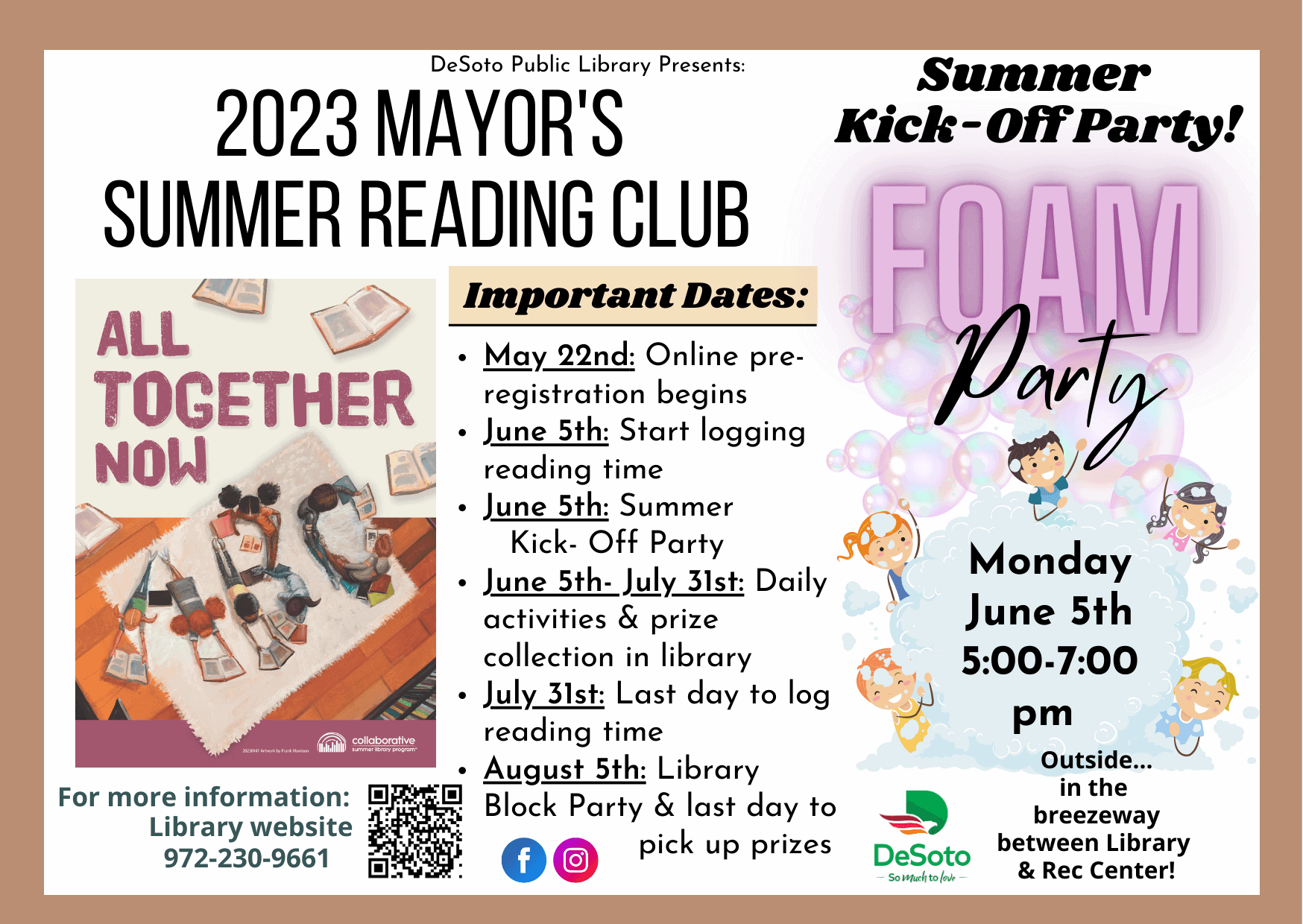 Monday, June 5, 2023 5-7pm
Ready to start with the 2023 Mayor's Summer Reading Club at the library? Log points, earn free books, enter the raffle prize contests, and more!
Saturday, June 10, 2023 Situational Awareness for teen girls 12-2pm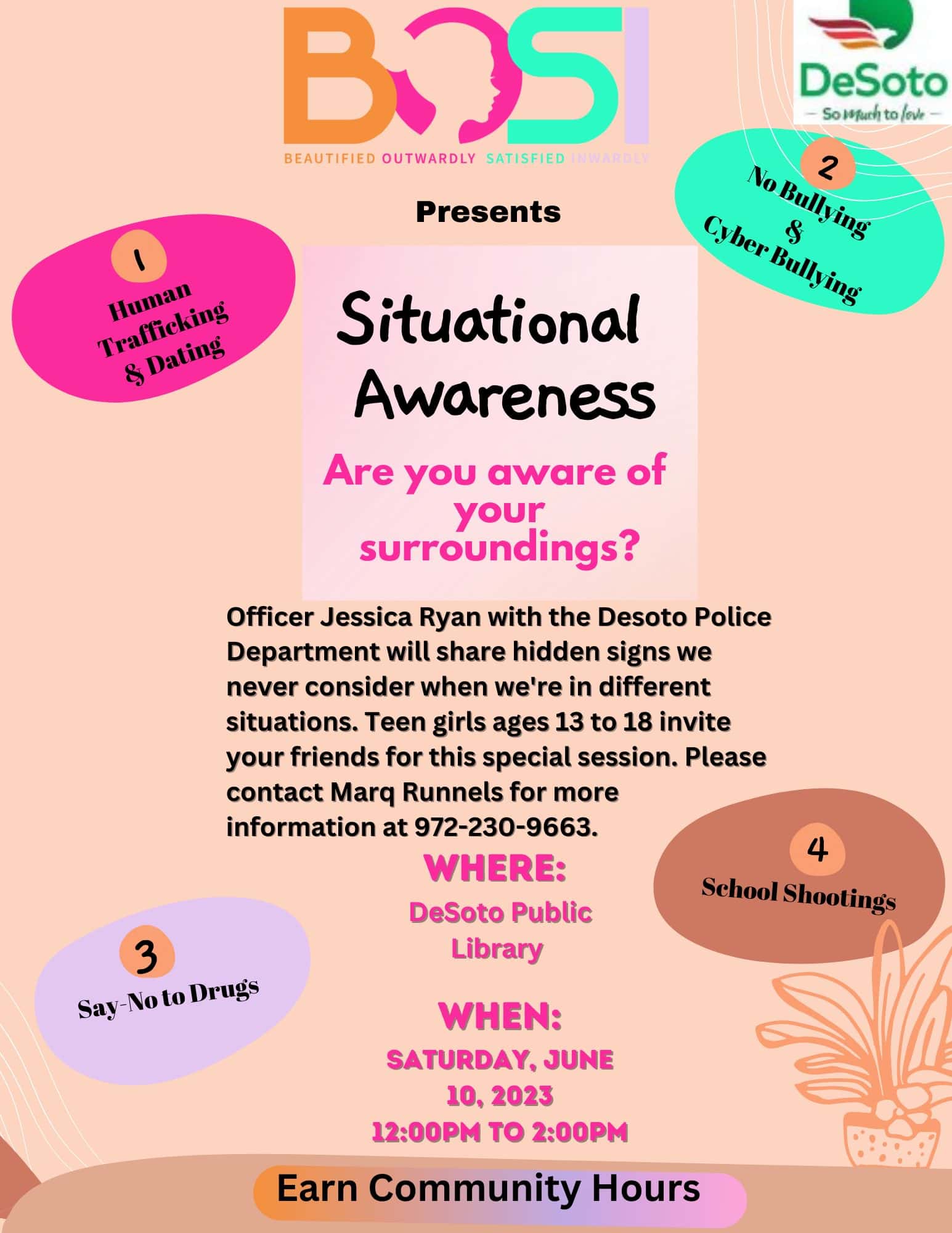 B.O.S.I. Teen Girl's Mentoring Presents "Situational Awareness: Are You Aware of Your Surroundings?" — Teen girls ages 13 – 18 are invited to join Cheryl Washington and Officer Jessica Ryan with the DeSoto Police Department at the DeSoto Public Library on Sat. June 10th from 12 – 2 P.M. to share hidden signs they never consider in dating, human trafficking, cyber bullying, and various other situations. Teens earn community service hours for participating! No reservation required. For more information contact Marq Runnels at 972.230.9663.