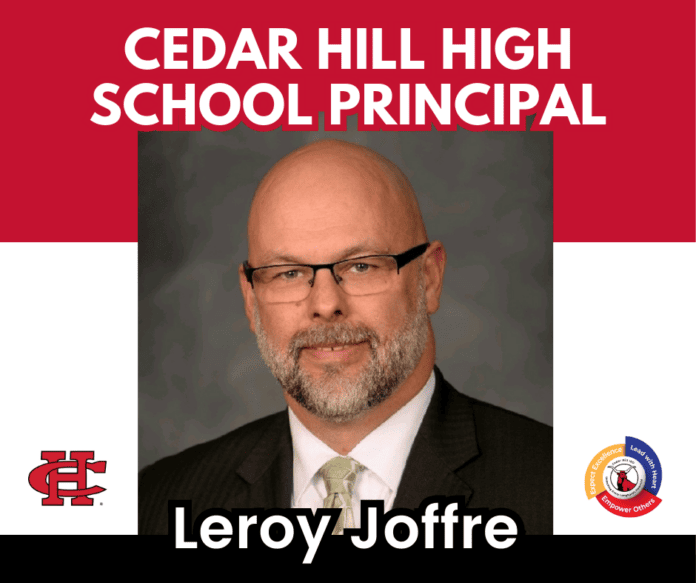 (CEDAR HILL, TEXAS) Lee Joffre is honored to be the new Principal of Cedar Hill High School. He understands that the campus, and the district, are still mourning the loss of the late, great former CHHS Principal Shay Whittaker.
"The legacy that she has started is one of high excellence," Joffre said. "It's very important to realize she was a loved member of the community. I can't replace that. It's not my intention to replace that. She was a great relationship builder, and I want to continue building those relationships and continue all of the great things she started."
The CHISD Board of Trustees voted to hire Joffre at its meeting on Monday.
"Cedar Hill ISD gladly welcomes Lee Joffre as the new Cedar Hill High School Principal," CHISD Superintendent Dr. Gerald Hudson said. "He has demonstrated the ability to lead with heart and to expect excellence from our scholars and staff."
Joffre was the Principal of Ferris High School, a 4A district located in southeastern Dallas County and northern Ellis County, for the 2022-2023 school year.
"I'm very excited to be coming to Cedar Hill – it's a prestigious school, and I look forward to being part of the community," Joffre said. "We have to ensure that collaborative learning and collaborative work is happening. I truly believe that 'a leader eats last'. That is a concept that I learned in the military. You make sure everyone else is taken care of before you take care of yourself."
Joffre grew up in Akron, Ohio and graduated from high school in Mandeville, Louisiana – just north of New Orleans. He honorably served in the US Navy from 1991-1993 and then earned a Bachelor's Degree and Teacher Certification from the University of Texas at El Paso.
He taught Mathematics in Tornillo ISD, near El Paso and relocated to the Metroplex, where he taught in Arlington ISD.
Joffre earned his Master's of Education Administration, Principal Certificate and Superintendent Certificate from the University of Texas at Arlington, and he's currently working on a Doctorate in Educational Leadership from Liberty University.
Joffre, who has four children and four grandchildren, has worked in campus or district administration since 2006, and he served as the Superintendent in two districts – Mabank (4A) and Italy (2A).
"The Superintendency, although it's a great challenge, took me away from scholars, and I want to be with the scholars," Joffre said.