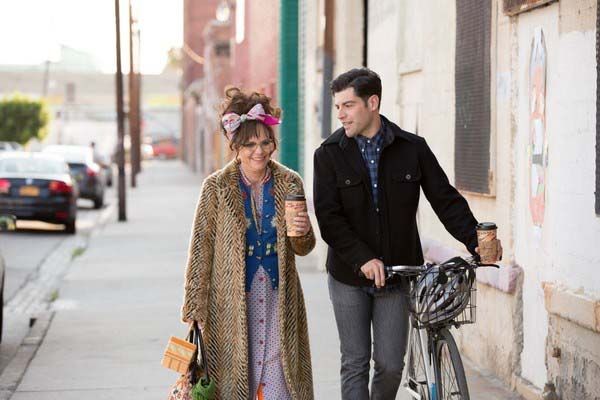 Hello My Name Is Doris-Sally Field Is Fantastic
Red Crown Productions independent film, "Hello My Name Is Doris", was a big hit at Sundance Film Festival, where it was picked up for distribution, opening in Dallas March 18. The poignant drama is written by Laura Terruso and Michael Showalter, directed by Showalter, and rated R for language. It runs 1 hour 35 minutes.
The best thing about the film is Oscar-winning star Sally Field. She is endearing, vulnerable, and totally appealing as Doris Miller. A middle-aged spinster who's spent her life taking care of an invalid mother and being overlooked by most of the world.
Doris let romance pass her by while trudging to and from work, going immediately back to the cluttered house she shared with her mom. After her mom's death, and despite her relatives' urging Doris to sell the house and move into the city, the shy recluse refuses to give up even one piece of paper or stack of books… much less consider any move.
Taking a ferry to work at a downtown ad agency every day, frumpy Doris is an object of pity by her much younger co-workers. As the lone holdover from the previous agency, Doris is totally out of step with the trend-setting group she works with.
Enter Prince Charming (Max Greenfield as John Fremont, a handsome new art director half her age). His friendly smile makes Doris think he's interested in her. Inspired by a self-help seminar, Doris seeks help from a friend's 13-year-old granddaughter and begins to "cyber stalk" John to find out his interests.
Soon she starts following him, bumping into him at some of the places he frequents, including a punk rock band's concert where she sticks out like an alien. Surprisingly, her odd, eclectic look inspires John's Williamsburg friends to praise her vintage style. A fashion photographer even shoots photos of Doris for an ad campaign.
It's certainly obvious to those in the audience that there's not going to be a "happy ever after" ending for our heroine. But you'll root for Doris to come out ahead, maybe with hope and strength to look toward the future, even if she doesn't find true love.
You'll be glad to be able to take this journey with Doris; she's one of the most unforgettable characters seen on the big screen this year.
Along with Sally Field's heartbreakingly brave performance, several other talented artists featured in "Hello My Name Is Doris" are, Tyne Daly as Doris' best friend Roz; Beth Behrs as John's "real" girlfriend; and Peter Gallagher as the Self-Help author and guru who convinces the suggestible Doris she should go after her heart's desire.